Understanding Your Bill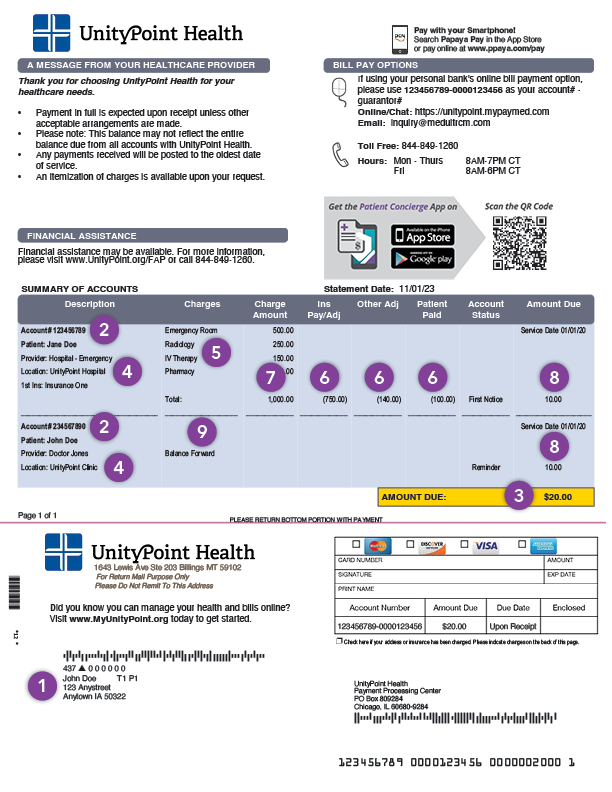 Billing Address (Guarantor): The person designated to receive the monthly billing statements. This person is responsible for coordinating the billing, payment and insurance coverage for the account.
Patient Account Number: The account number of the person who received services. Refer to this number when calling with questions.
Current Amount Due: This is your total balance for services received at UnityPoint Health.
Facility Name: The location where service was provided.
Services Provided: Description of services provided.
Adjustments/Payments: Payments and adjustments applied to the account.
New Charges: Charges incurred for new services during the past month.
Visit Balance: The current balance of each account.
Balance Forward: Description of services from your previous statement.
Contact Our Billing Department
For questions about your hospital or clinic bill, please call 1-844-849-1260.
Hours (Central Time)
Monday - Thursday: 8 a.m. - 7 p.m.
Friday: 8 a.m. - 6 p.m.
Additional Types of Bills
Have a homecare, hospice or UnityPoint Health – Meriter laboratory bill? Follow the steps below and read the FAQs for information on how to pay.
Homecare or Hospice Bills
Paying your UnityPoint at Home or UnityPoint Hospice bill online is easy and secure.
Step 1: Locate your account information on your UnityPoint at Home or UnityPoint Hospice billing statement.
Step 2: Select the service that matches your statement, below the name of the state where you received care.