Younker Rehabilitation
Get Back to the Life You Love

The Leader in Physical Medicine and Rehabilitation
Younker Rehabilitation, a service of UnityPoint Health – Des Moines, is committed to helping you improve your ability to function and become as independent as possible. As a regional leader in the physical rehabilitation field, we offer an acute inpatient rehabilitation hospital that can manage complex patient needs as long as it does not impede on the patient's participation in their rehabilitation plan. We serve our patients throughout their physical rehabilitation journey, from an inpatient stay to outpatient rehabilitation at our Younker Rehabilitation Clinics, to therapy and physician care. 
By providing highly specialized care, advanced treatment and cutting-edge technologies, we help individuals with spinal cord injury, brain injury, amputation, stroke, complex medical conditions, neurological diseases and musculoskeletal or orthopedic trauma to rebuild their lives.
Comprehensive Care
Our team works with you and your family to set goals for improved function and prepare you for a successful discharge. Our primary emphasis is on empowering you with the tools and education you will need to maximize the amount of function you can regain through rehab and work to address and overcome fear and anxiety that may interfere with daily living.
Physical Medicine and Rehabilitation Specialties
If you or a loved one has sustained a debilitating injury or illness, has complex medical conditions or experienced worsening of a chronic condition and is ready for an aggressive program of therapy and patient/family education to improve the quality of life, Younker Rehabilitation is here to help.
Choosing a Physical Medicine & Rehabilitation Facility
Younker Rehabilitation is an acute rehabilitation unit specializing in complex medical and therapeutic needs. As part of UnityPoint Health - Des Moines and an extensive healthcare system, Younker Rehabilitation offers services to meet a variety of rehab or medical needs both while you are an inpatient rehabilitation patient and following your discharge. Your rehab may continue in one of our many outpatient therapy clinics or a network of physician offices. We also offer assistance with medical equipment, home care and numerous other options. As part of UnityPoint Health, we provide a network of healthcare services throughout Iowa and parts of Illinois and Wisconsin.
For a referral to Younker Rehabilitation, contact us at DM_RReferrals@unitypoint.org or call (515) 241-4499.
Interdisciplinary Team Approach
As an interdisciplinary team, each caregiver reinforces the teaching done by other health care disciplines. Our dedicated team works together to improve the functional independence and quality of life for our patients. We partner with you and your family to set goals for improved function and prepare you for a successful discharge. The rehabilitation team meets formally each week to share progress toward goals, discuss any barriers and make new goals for the coming week. Discharge planning occurs both at this meeting, after initial evaluation by team members and throughout a patient's stay.
Meet the Medical Director of Younker Rehabilitation
Dan Shamir, MD
Dr. Dan Shamir
comes to UnityPoint Health – Des Moines from the Cleveland Clinic where he served as medical director for several rehabilitation centers in Cleveland, Ohio. He received his medical degree from The Ohio State University College of Medicine. He is board certified by the American Board of Physical Medicine and Rehabilitation. His medical interests are EMGs, stroke and gait analysis. Dr. Shamir is a diplomat of the American Board of Physical Medicine and Rehabilitation, the American Board of Electrodiagnostic Medicine and the National Board of Medical Examiners.
Physical Medicine and Rehabilitation Team
Rehabilitation Therapies & Services
We specialize in rehabilitation services for individuals aged 14 and older who require:
An inpatient hospital setting with 24-hour rehabilitation registered nurse care.
At least two therapy disciplines (physical therapy, occupational therapy and/or speech therapy) for three hours per day, five days per week.
A rehabilitation physician (physiatrist) to lead the interdisciplinary team and assess progress and goals via face-to-face visits with the patient three times per week.
Our facility also offers a full recreation therapy program for its residents.
If the patient is cognitively unable to make decisions, a family member or legal representative must be identified to speak on their behalf prior to the decision for admission. Patients and families are the focus of our physical rehabilitation team. We know you have experienced a life-changing event and your family is important in your recovery.
Therapies
Physical Therapy
Physical therapists work with patients so they can maneuver within their environment more independently. This may include:
Getting in and out of bed
Accessing the shower/tub and toilet
Going up and down stairs
Getting in and out of chairs and other furniture
Getting in and out of the car
A physical therapist who is a wheelchair specialist will evaluate patients to determine the best wheelchair or other assistive mobility device. Our therapists are skilled in fitting the best solution to each patient, whether it is a manual wheelchair or customized power wheelchair. Pressure mapping may be performed to determine what cushion is best for each patient to reduce potential sources for pressure ulcers or wounds.
Our therapists have many tools they can use in your physical rehabilitation. When working with patients who have had a stroke, we work to improve strength and control of parts of the body that need physical therapy.
Electrical stimulation is sometimes used to "facilitate" or excite the muscle, so it contracts more fully during muscle training.
We have the Bioness L300, which is a device that delivers electrical stimulation in a way that assists with gait training, or walking.
An electrical stimulation bike (RT300 Arm and Leg FES) may be used to strengthen and retrain muscles after a stroke, or spinal cord injury.
Patients who are beginning to walk and need support may work with the Lite Gait, which is an overhead harness system to reduce the weight bearing through the legs during walking.
Occupational Therapy
Our occupational therapy programs focus on techniques to become more independent with daily living tasks. This includes commercially available adaptive equipment or equipment fabricated for a specific person's needs.
Occupation therapists specialize in helping patients regain use of their arms and hands.
Using equipment like the Deltoid Aide or the SaeboMAS allows the patient to work on strengthening and control of the arm even if they are not yet able to lift against gravity.
Electrical stimulation may be used to strengthen a muscle contraction during neuromuscular training.
We may fit patients with a lightly compressive glove, position the arm on an elevating arm rest or perform massage to reduce swelling in the hand.
After an injury to the brain or a stroke, an occupational therapist may screen the patient for visual and perceptual changes.
We involve both the patient and their family in our visual assessments to help educate everyone about how to make the home environment easiest to navigate for the patient.
We'll help to maximize vision, train the patient in methods to reduce the effect of a visual field cut or neglect or inattention to one side, and work toward restoration or compensation for visual/perceptual changes.
We use a variety of assessments to look at your visual skills, like the Dynavision D2™. The Dynavision helps with visual skills, weight shifting, use of one or both arms and improving attention and concentration.
Sometimes simple changes to the home environment can improve a patient's vision. We make suggestions to improve lighting so our patients can avoid harsh glares, see books and magazines more clearly and walk feeling safe and independent when they return home. Our occupational therapists work with patients, families and staff to see what types of aides they might need. We call these, "environmental controls and assistive technology." Sometimes these aides are high-tech, like a voice-activated controller for lights, TVs and phones. Other devices are very simple, such as a pointer for people who have trouble bending or using their hands and arms.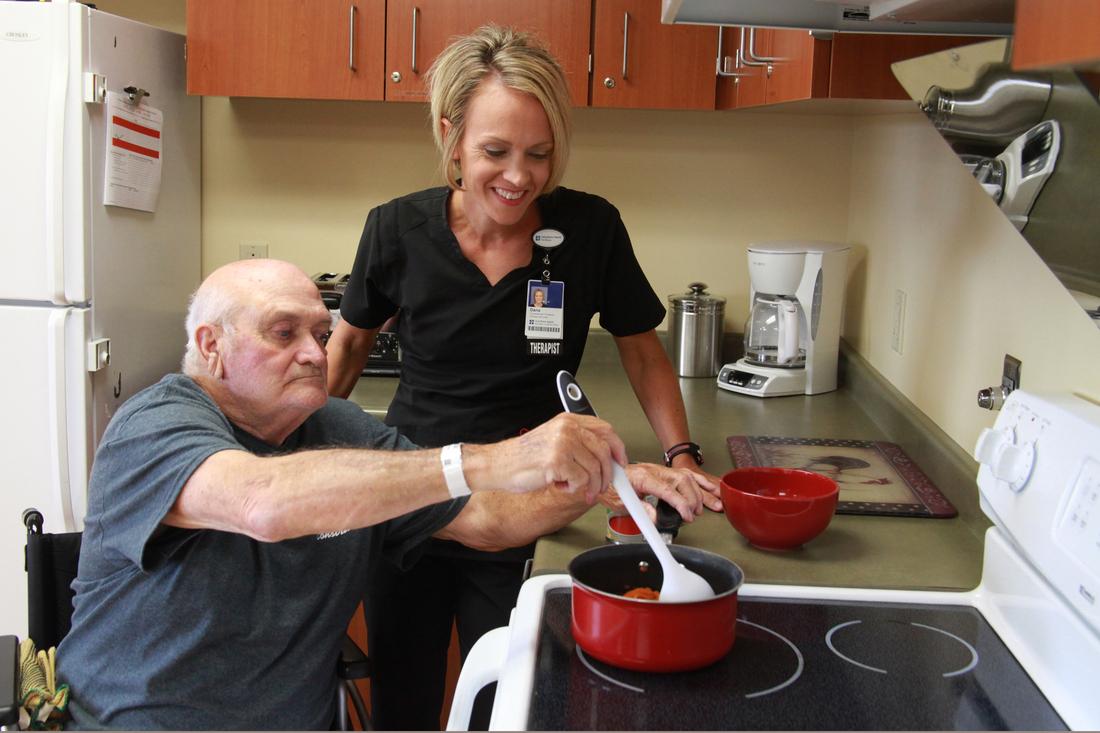 Speech Therapy
Speech therapists, speech-language pathologists, evaluate and treat communication and swallowing disorders.
The speech therapist will sometimes do a test called a videofluoroscopy with a radiologist present. This records a person swallowing, which allows the speech therapist and radiologist to see if the patient is swallowing safely. Based on the test's findings, speech therapists recommend food and liquid with the safest consistency for the patient's differing needs. Mealtime observations give us the chance to monitor patients and teach or help them work toward feeding themselves.
Much of a speech therapist's time is spent assessing cognition.
Cognition, or thinking skills, can be affected by an injury to the brain such as anoxia, seizures or stroke. Cognition can also be affected by dementia, alcohol or drug use/abuse, medications and metabolic imbalances.
Speech therapists plan an individualized program to focus on improving thinking skills so patients can quickly return to caring for necessary things like managing medication or paying bills.
A stroke or brain injury sometimes changes how people talk, sound or receive information from others. It may be hard to understand them when they speak or read aloud.
Speech therapists train and educate patients in the use of techniques and exercises that help them maximize or regain their ability to communicate. iPad programs may be used to work on certain cognitive skills or to compensate for cognitive losses.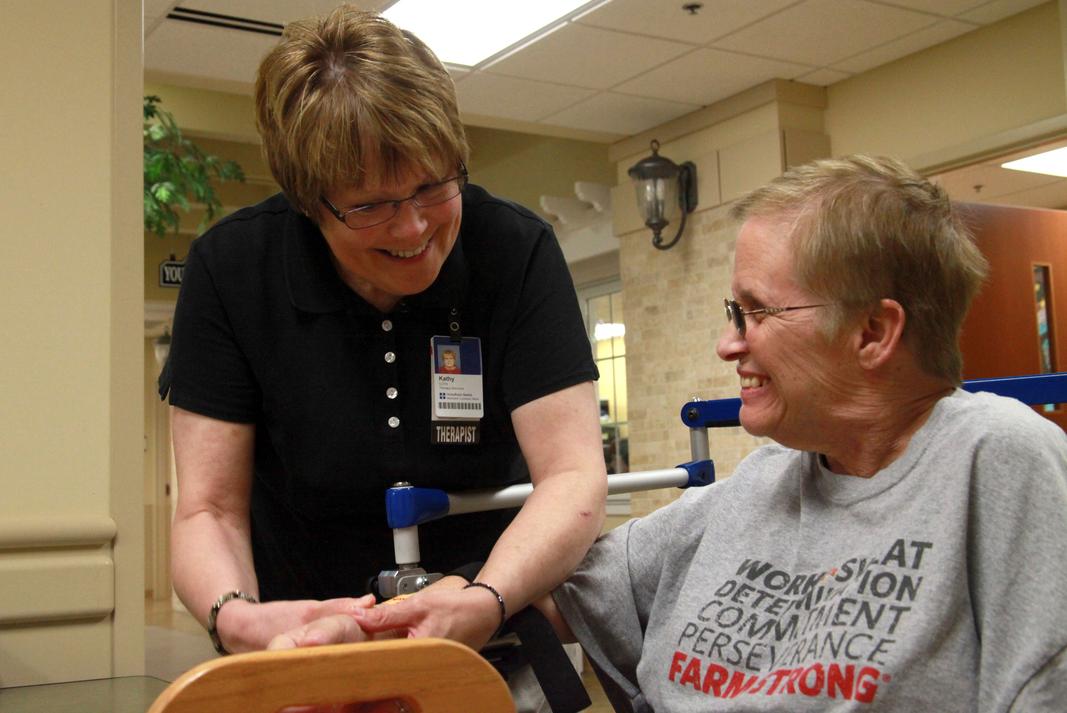 Understanding Our Levels of Patient Care
Level of care is used to describe the type and intensity of medical care you will receive. The determination of your level of care is made by you and your family, the admitting facility and/or physician and insurance provider. You are the center of our team. It's important to understand the different levels of care and the specialized treatment, care, services and equipment provided at each level. During your time with us, you may receive one level of care, or transition to a different level depending on your condition. We strive to bring the best outcome for every patient, every time, with our patient-centered and physician-driven system of care.
Levels of Care
Inpatient Rehabilitation
Amount of Rehabilitation Therapy Provided
Customized care to fit patients needs depending on diagnosis, severity of injury, medical complications and rehabilitation goals.
Patients are admitted into this program after a consultation with the rehabilitation referral team.
Patients must be able to tolerate three to five hours of therapy a day, five days per week, and be in need of at least two therapy services and rehabilitation nursing.
Younker Rehabilitation has recognized the importance of feeling at home when receiving your therapies, and helping achieve realistic results to help you regain independence.
Nursing Care
Requires 24 hours per day of specialized Rehabilitation Nursing.
Examples include: Patient/family education for managing life with new physical impairments, education for managing altered bowel and bladder function, urinary self-catheterization, medication management and skin care.
Reinforcing newly learned skills in safety, mobility and self-care.
Our team meets weekly to address the patient's plan of care, barriers and process to achieve the highest level of a recovery.
Physician Care
Physical Medicine & Rehabilitation physician actively involved in planning treatment and monitoring patient progress. Physician completes a face-to-face visit three times per week.
Communication with patient, family and caregivers is an important part of the process.
Likely Candidates
Individuals 14 years of age and older.
Individuals who have recently been affected by stroke, brain injury, spinal cord injury, traumatic injury, neurological condition or other disabling condition or disease process.
Individuals living with a disability who have had a recent change in condition, injury or illness that has impacted their ability to manage day-to-day activities.
Successful rehabilitation includes the active involvement of supportive family and friends. Patients who may be unable to vocalize personal needs will require a family member or legal representative to speak on their behalf.
The Younker Rehabilitation inpatient unit is located at UnityPoint Health - Iowa Methodist Medical Center. There is also a satellite unit at Iowa Lutheran Hospital.
Home Health
Amount of Rehabilitation Therapy Provided
Customized therapy for patients based on need.
Care delivered in the patient's home and is focused on creating safety and independence.
Therapy visits vary in length and each discipline visits 1-3 times per week based on patient need.
Therapy often focuses on fall reduction and home safety measures.
Services are provided in the patient's home.
Nursing Care
Nursing visits 1-7 times per week based on patient need.
Skilled nursing services including IV therapy, wound care, catheter care and ostomy care.
Teaching patients with new diagnoses or other changes in health status.
Observation and assessment of chronic conditions.
Physician Care
Home health Plan of Care is developed in partnership with the patient's primary care provider.
Likely Candidates
Patient's basic needs are met at home through self or other caregiver.
Patient requires nursing or therapy to recover to prior level of function or to help manage a chronic condition.
Patient is unable to travel to outpatient therapy.
Outpatient Rehabilitation Therapy
Amount of Rehabilitation Therapy Provided
One to three hours per day, therapies dependent upon patient need.
Two to three days per week.
Nursing Care
Physician Care
Routine office visits with primary care provider, and specialists such as orthopaedic surgeon, physical medicine and rehabilitation, neurologist and other providers that direct your care.
Likely Candidates
Patients whose physical disabilities and medical problems are stable enough to live in their own homes and can travel to get their treatment.
Many patients who have been treated in their provider's office, the hospital, inpatient rehabilitation or skilled nursing may transition their recovery plan to this level of care setting.
Patient Recovery Stories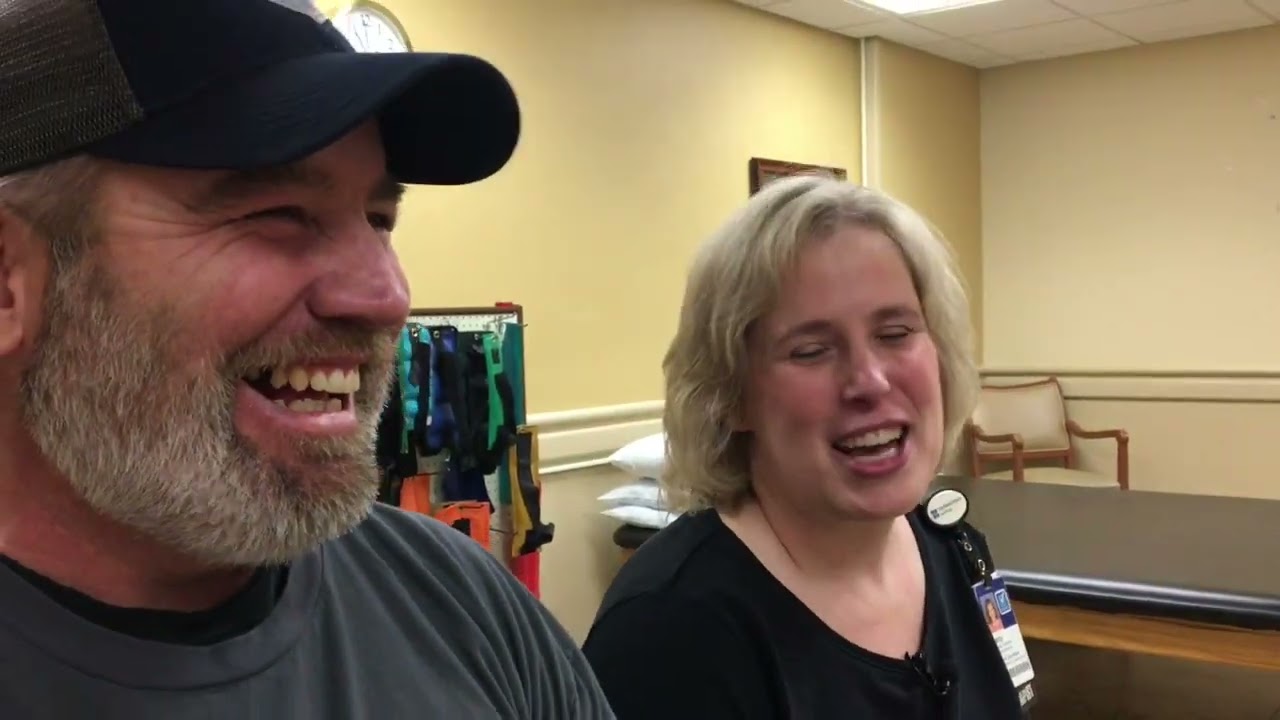 Curtis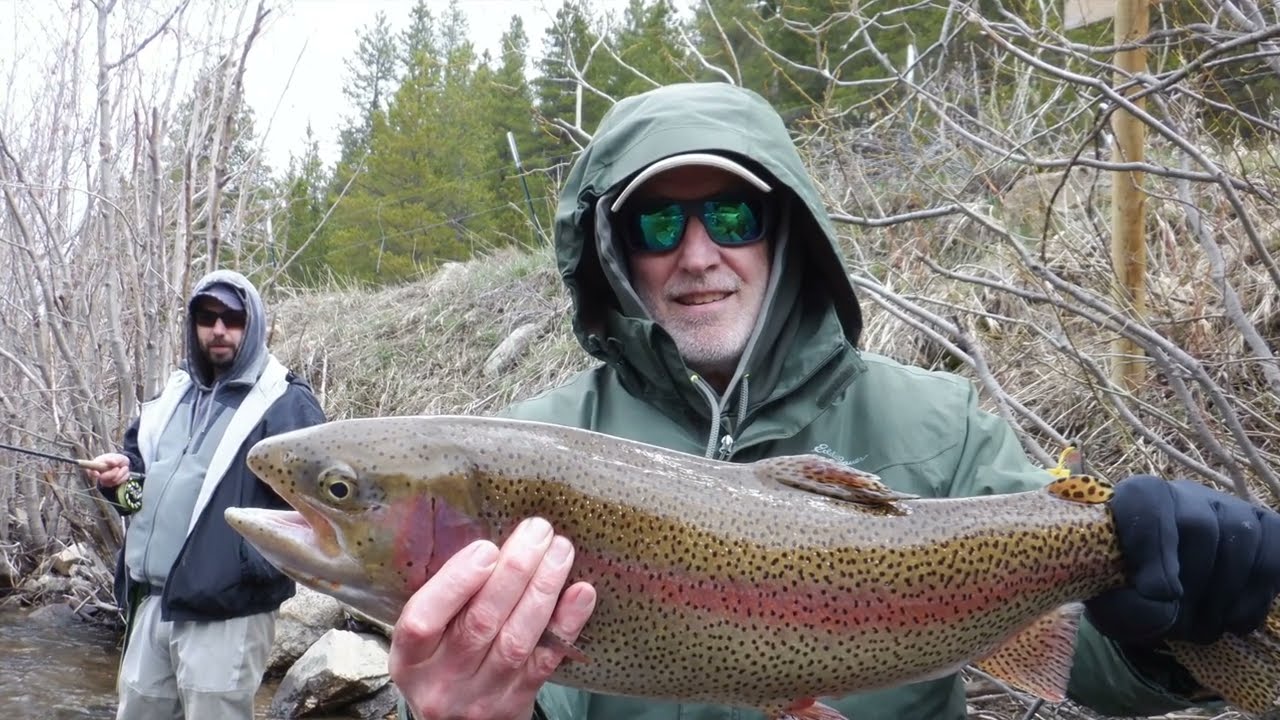 John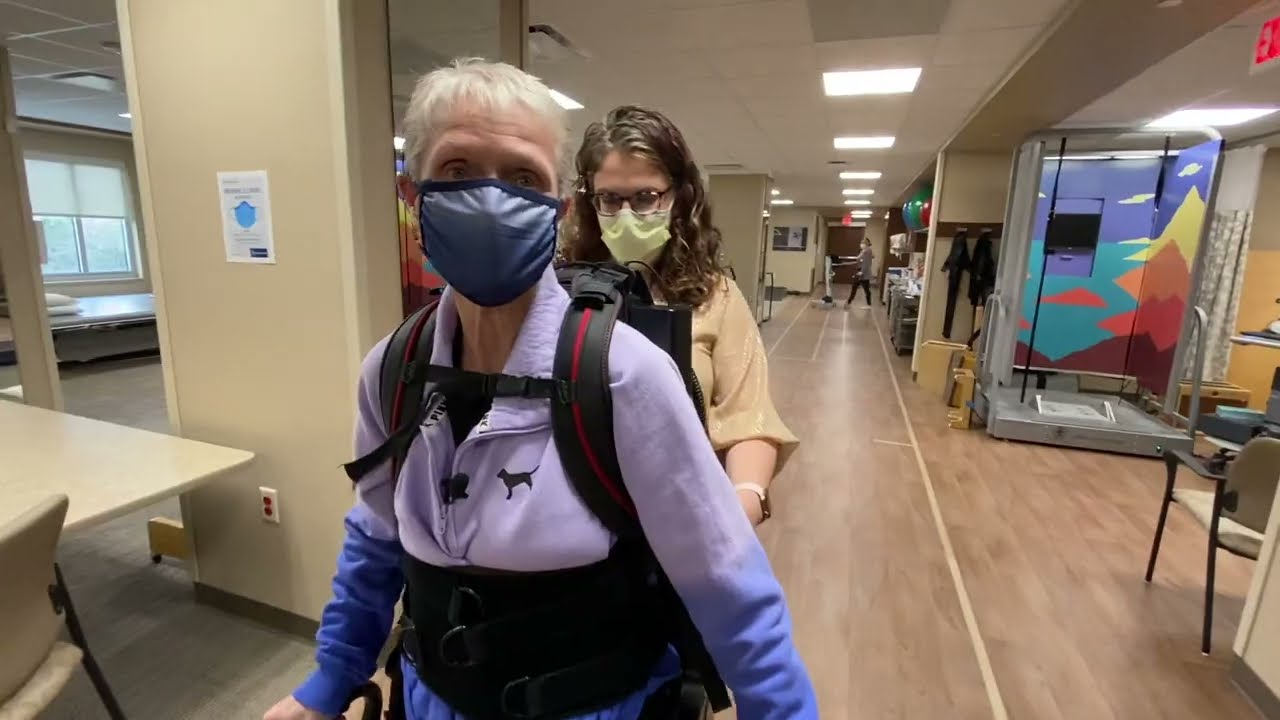 Jackie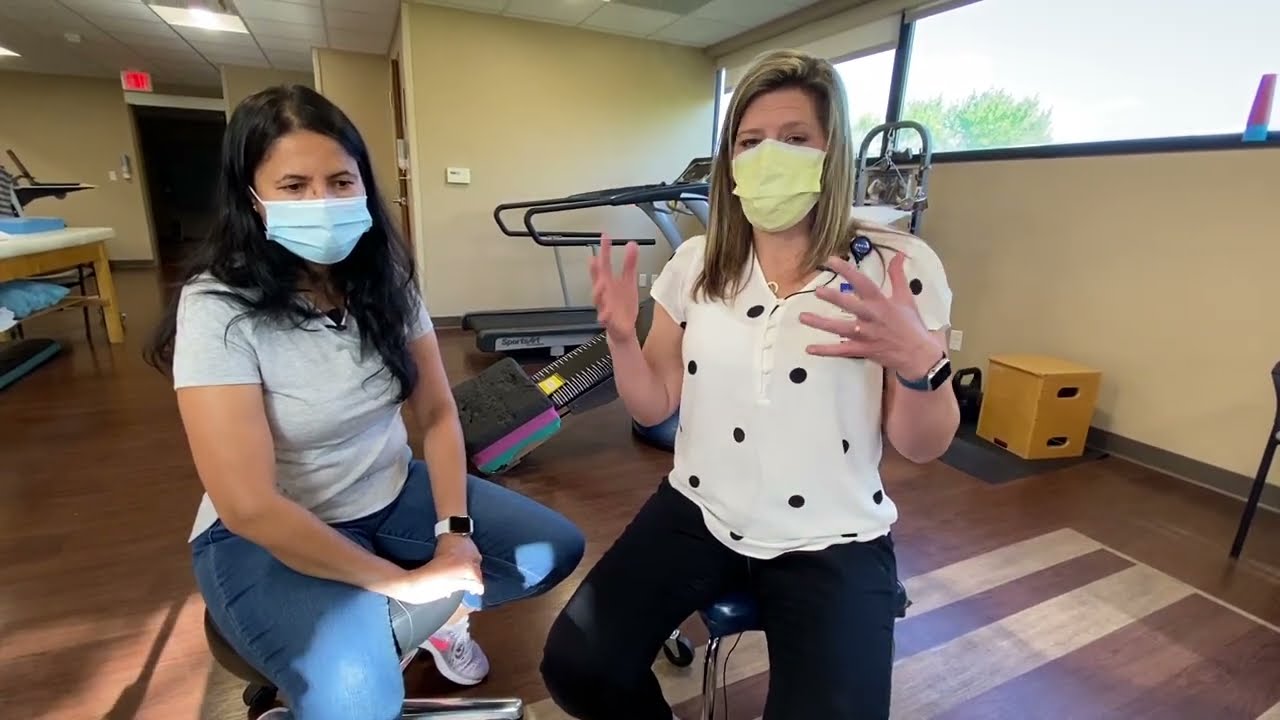 Concussion Rehabilitiation
Physical Medicine and Rehabilitation
Physical Therapy & Speech Therapy
Physical Therapy, Occupational Therapy & Speech Therapy