Patients and Visitors
UnityPoint Health - Finley Hospital
People are amazing — we help keep them that way.
Being admitted to the hospital can be stressful. We want our patients to be informed and to feel welcomed and comfortable while they're with us.
Our main focus is to assist our patients to a healthy recovery and to provide the best quality care possible. We know that the support of family and friends plays a vital role in the recovery process.
We've created a helpful resource for patients and visitors that will help make your visit to Finley Hospital as convenient and comfortable as possible. If you don't find the information you're looking for here, our hospital volunteers or staff members will be glad to help you.
Visitor Guidelines
Effective May 18, 2023
For the safety of our patients and staff, we are instituting the following visitation procedures. To arrange virtual visits, please contact the unit you would like to visit.
Visitors experiencing respiratory symptoms, have had a known COVID-19 exposure in the past 10 days, or have tested positive for COVID-19 should not enter the facility.
Caregivers: A caregiver is permitted to stay with a patient 24 hours a day, if deemed necessary for patient care.
COVID-19 Positive Patients: 1 visitor; visitors for COVID-19+ patients must always adhere to PPE guidelines. COVID patients may have 2 visitors if end of life.
Visitors to any patient in isolation must follow isolation guidelines. Patients with suspected TB will not be allowed visitors unless end of life.
The cafeteria and vending areas are open to visitors to purchase food; however, the cafeteria does not accept cash payments. Visitors can also order room service by credit card only.
All children must be accompanied by an adult who is responsible for the child at all times.
Disruptive visitors will be escorted from the facility.
Area Specific Guidelines
Inpatients (5 Med/Surg, 5 North, ICU): Patients may have 2 visitors in the room at one time from 8 a.m. to 8 p.m. The inpatient units observe Quiet Hour from 1 to 2 p.m., so visitors should refrain form visiting during this time.
Family Birthing Suites & NICU: 2 visitors may be in the room during labor and after delivery from 8 a.m. to 8 p.m. The unit observes Quiet Hour from 1 to 2 p.m., so visitors should refrain from visiting during this time.
Emergency Department: 2 visitors in the room with the patient. If the patient is admitted, the inpatient visitor policy applies.
Outpatient Areas, including radiology & laboratory: 2 visitors may accompany the patient.
End of Life Patients: Discretion of nursing unit.
Acute Rehab Unit: Due to ongoing therapies, only immediate family members or caregivers may visit between the hours of 8 a.m. to 3 p.m., Monday through Friday. After 3 p.m., other visitors are welcome.

Saturdays: immediate family members and caregivers only from 8 a.m. to noon.
Sundays: will have standard hospital visiting hours (8 a.m. to 8 p.m., 2 visitor limit).

Surgery Services: 2 visitors. If the patient is admitted, the inpatient visitor policy applies. All children must be accompanied by an adult who is responsible for the child at all times.
Behavioral Health: 2 visitors per day during the unit's visiting hours of 12:30 to 2 p.m. and 5:30 to 7 p.m.
Patients 17 years and younger: 2 parents/guardians may stay with the patient.
Employees who have hospitalized family members are not exempt from visitor guidelines.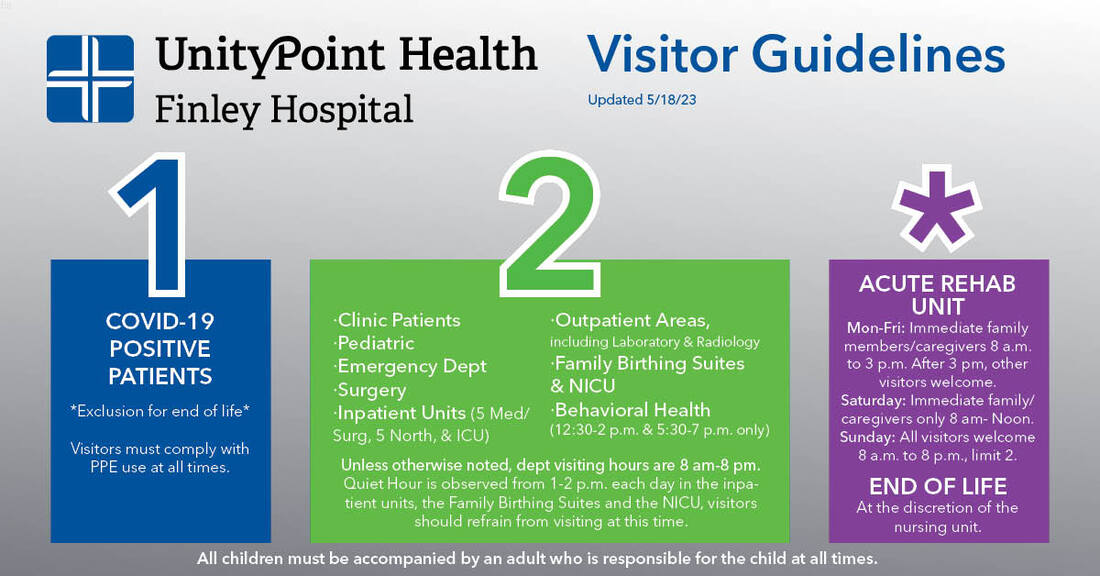 Hospital Amenities & Services
We Want to Exceed Your Expectations
When you receive care at UnityPoint Health Finley Hospital, you can set your expectations high. Our health care professionals work to surround you with care to help you get healthier sooner. We commit to your wellness, not just to addressing your illness, so you can live a healthier life.
When you experience care at Finley Hospital, you experience care that goes beyond traditional to the way it should be. We welcome you to share your story or recognize Finley staff who contributed to exceptional care.

Caring Heart Award
About the Award & How to Nominate
The Caring Heart Award is designed to recognize UnityPoint Health - Finley Hospital employees and volunteers, as well as Visiting Nurse Association employees, who exemplify the spirit of The Caring Heart.
Caring Heart award recipients personify our remarkable patient experience and our UnityPoint Health FOCUS Values: Foster Unity, Own the Moment, Champion Excellence, and Seize Opportunities.
Nominations can be submitted by any visitor or patient. The Caring Heart committee selects one winner each quarter from the nominations received. Winners receive recognition and are entered into a drawing for a designated parking spot.