Babka Surgery Center
UnityPoint Health - Finley Hospital
Finley Hospital's Babka Surgery Center houses all of the services provided by the surgery department. The entire surgery center is arranged to facilitate the efficient, comfortable and private flow of patients through pre- and post-operative phases of their surgical procedures. Private rooms in the Babka Outpatient Center are designed for patients requiring brief stays for minor procedures.
About the Center & Your Surgical Journey
Surgical Procedures
A wide range of procedures are performed at Finley Hospital.
Vasectomy
Cataract surgery
Hysterectomy
Colonoscopy
Orthopedic surgery (knee, hip, shoulder)
Endoscopy
Ear, Nose and Throat surgery
Mastectomy or lumpectomy
Laparoscopy
Appendectomy
Bowel or hernia repair
Gallbladder surgery
Pancreatic surgery
Trauma surgery
Surgical oncology
Aneurysm repair
Tumor removal
Splenectomy
Surgery Patient Checklist
We want your surgery experience to be a pleasant one. There are a few ways you can help. Please review the following information carefully. For your safety, we may have to cancel your surgery if the following guidelines are not met.
Orthopedic Surgery
Our orthopedic surgery experts are able to repair the bone, joint or ligament that has been damaged, whether from arthritis, an injury or other degenerative disorder.
Your dedicated care team of surgeons, nurses and therapists will help you prepare for your surgery and assist in a successful recovery.
Orthopedic Nurse Navigator
Your care team includes the support of an Orthopedic Nurse Navigator, who is able to assist patients throughout their joint replacement surgery. The nurse navigator's goal is to ease the process of surgery and recovery by offering:
Private sessions regarding your care plan
One-on-one educational discussions to help you understand your joint replacement journey – from preparing for surgery, arriving on the day of surgery and what your discharge plans are for after your hospital stay
Follow-up conversations after surgery in order to check in on your recovery
You can reach the nurse navigator at (563) 589-2603, Monday through Friday from 7 a.m. to 3:30 p.m.
Same-Day Joint Replacement
As a way to get you home sooner, orthopedic surgeons do offer the option for same day total joint replacement surgery. By working with a care team of your surgeon and physical therapists, you may be able to go home the same day as your joint replacement surgery. You and your surgeon will discuss if this option is best for you.
Hand & Upper Extremity Surgery
Whether it is carpal tunnel syndrome, a torn rotator cuff or any condition in between, the orthopedic surgery team is prepared to provide patients with the best quality of hand, arm, elbow and shoulder surgery. Our orthopedic teams provide care and guidance before, during and after surgery, giving you a comprehensive surgery experience.
Orthopedic Trauma Care
When it's an emergency, you can count on Finley. Our multidisciplinary team consists of the surgery department, emergency department, radiology, laboratory, physical therapy, and others. In an emergency situation, patients receive the full continuum of care.
Robotic-Assisted Surgery
If you or a loved one has been diagnosed with a condition that may require surgery, you owe it to yourself to learn about all of your surgical options, including the most effective, least invasive surgical treatments available: robotic-assisted surgery.
Less Pain
Less Invasive
Less Scarring
Possibility of Single Site Robotics
More Precise
Faster Return to Normal Daily Activities
Potentially Better Clinical Outcomes
The Right Robotic Surgery for You
CORI Surgical System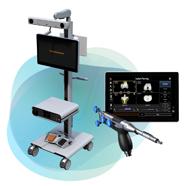 The CORI Surgical System is an advancement in the way orthopedic surgeons perform partial and total knee replacement. This handheld device works in conjunction with your surgeon's skilled hands to achieve accurate positioning of components during planning and surgery. The benefits of this surgical system include:
A unique plan: With 3D modeling, you get a surgical plan that's customized to your unique anatomy. This means your surgeon can perform your procedure efficiently and more accurately than traditional knee replacement surgery.
A natural fit: With a robotics-assisted procedure, your surgeon can help you keep more of your natural bone and ligaments, including the ACL. This means your body can maintain more of its natural rhythm and step.
A wide selection: Your surgeon is choosing from the widest selection of knee implants. This means your surgeon can choose the implant best suited to you and made from materials that are designed to last.
VELYS Robotic-Assisted Solution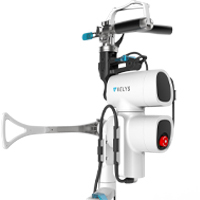 The VELYS robotic-assisted solution uses a variety of advanced technologies to ensure the surgeon has the information and tools needed to perform a highly accurate and precise knee replacement. This solution is designed to:
Aid your surgeon by accessing state-of-the-art technology to provide insights for real-time decision making.
Help your surgeon remove the damaged bone with accuracy. This robotic-assisted device does not move or operate on its own.
Use an infrared camera and optical trackers to help your surgeon gather the necessary data about your anatomy to achieve a high level of precision.
da Vinci® Robotic Technology
The da Vinci robot is used in several surgical specialties and conditions including:
Gynecologic Surgery
Gallbladder Surgery
Urologic Surgery
Surgical Patient Safety
The Sterile Processing Department (SPD) is a department that works behind-the-scenes to make sure all of the tools used in surgeries are sterile.

Day in the Life of a Surgical Technician

Robotic-Assisted Joint Replacements at Finley Hospital

Day in the Life of a Sterile Processing Technician