Birth Center
UnityPoint Health - Allen Hospital
Moms Are Amazing
You're going to be a BFF, a personal chef, tutor, healer, cheerleader... and so much more. You're going to be amazing. Choosing an amazing team to have your back in the doctor's office and at the hospital will help get you started.
At Allen Hospital, we have a team of expert nurses, doctors and health educators who will work with you during your pregnancy and post pregnancy to ensure a safe and healthy delivery for both you and your child.
Where You Deliver Your Baby Matters
Newly renovated private suites, comforting amenities and patient experience scores that rank in the top 10% nationwide will provide a stress-free environment to welcome your new addition.
Why choose Allen Hospital's birthing center?
| | Allen Hospital | MercyOne |
| --- | --- | --- |
| 24/7 Neonatal Coverage | X | X |
| Affiliation with Iowa Milk Bank | X | X |
| Birth Announcement Website | X | X |
| C-section Operating Room Located in Birthing Center | X | X |
| Care for Babies 30+ Weeks Gestation | X | X |
| DVD in Room | X | X |
| Evidence-based Developmental Care Services | X | X |
| Family-Centered Care | X | X |
| First Hospital in the Cedar Valley to Have Midwives (since 1994) | X | X |
| Free Community-based Breastfeeding Support | X | |
| Free Wi-Fi | X | X |
| Giraffe Isolettes for Every Patient | X | X |
| High-Risk Delivery Services | X | X |
| Keeping Babies Close to Home — patients 30 weeks and under transferred within UnityPoint Health system as appropriate | X | X |
| Lactation Consultant | X | X |
| Leading-edge Medical Treatments & Therapies (probiotics, Bubble CPAP, volume guarantee mode of ventilation) | X | |
| Level II NICU Center | X | X |
| NICU Transport Team | X | X |
| Patient Satisfaction in 99th Percentile (Press Ganey) | X | |
| Private NICU Rooms for Baby & Family | X | X |
| Room Service | X | X |
| Security Measures (advanced alarm infant security system) | X | X |
| Total Cesarean Section Rate 21.1% — our c-section rate is well below the national average of 32.7% (CDC data) | X | |
| VBAC Success Rate 94.7% | X | |
| Whirlpool Tubs | X | X |
This is where you will hold your baby for the first time. Whoa.
Come check out where it's all going to happen, so you know what to expect. Personal tours take 15-20 minutes, and one of our nurses will show you around, answer questions and even have a gift bag for you. Call (319) 235-3620 to let us know you're coming, or you can watch our video tour.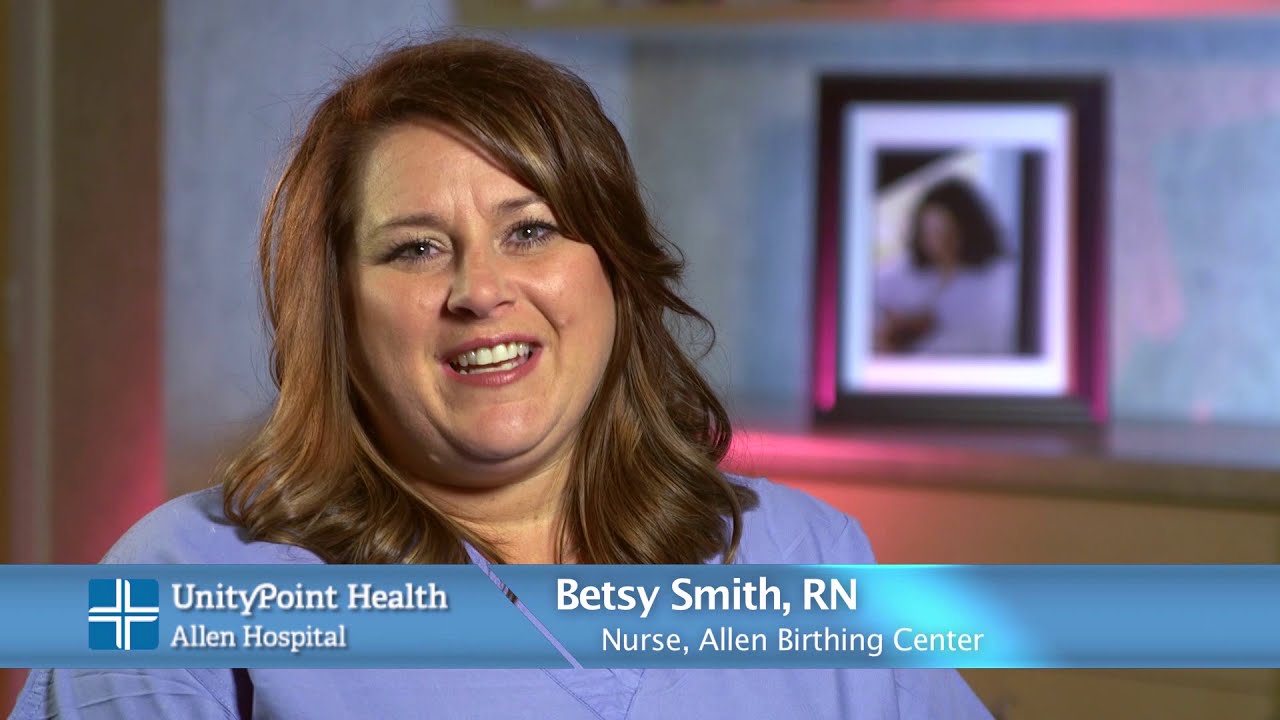 Welcoming your new baby into the world is an exciting time, but sometimes unexpected circumstances occur, and extra care is necessary. Allen's Level II Neonatal Intensive Care Unit (NICU) is for babies who need special medical attention after they are born, and sometimes, may have to stay a few days longer after mom goes home.
We serve the Cedar Valley region and other surrounding hospitals transfer moms and their babies to Allen Hospital when they need specialized care.
Our specially trained team will explain the intensive care routine and procedures to you, keep you informed of your baby's condition and answer the many questions you may have. In addition to our neonatal doctors and nurse practitioners, our team includes NICU nurses, respiratory therapists, social workers, lactation consultants, dietitians, pharmacists and support staff.
Whether you're just starting to plan or getting ready to meet your new baby, Allen Hospital is here with the classes, resources and support you need to feel prepared.
Meet the Midwives Video Series
Get to know UnityPoint Clinic midwives as they talk about some things that may be on your mind.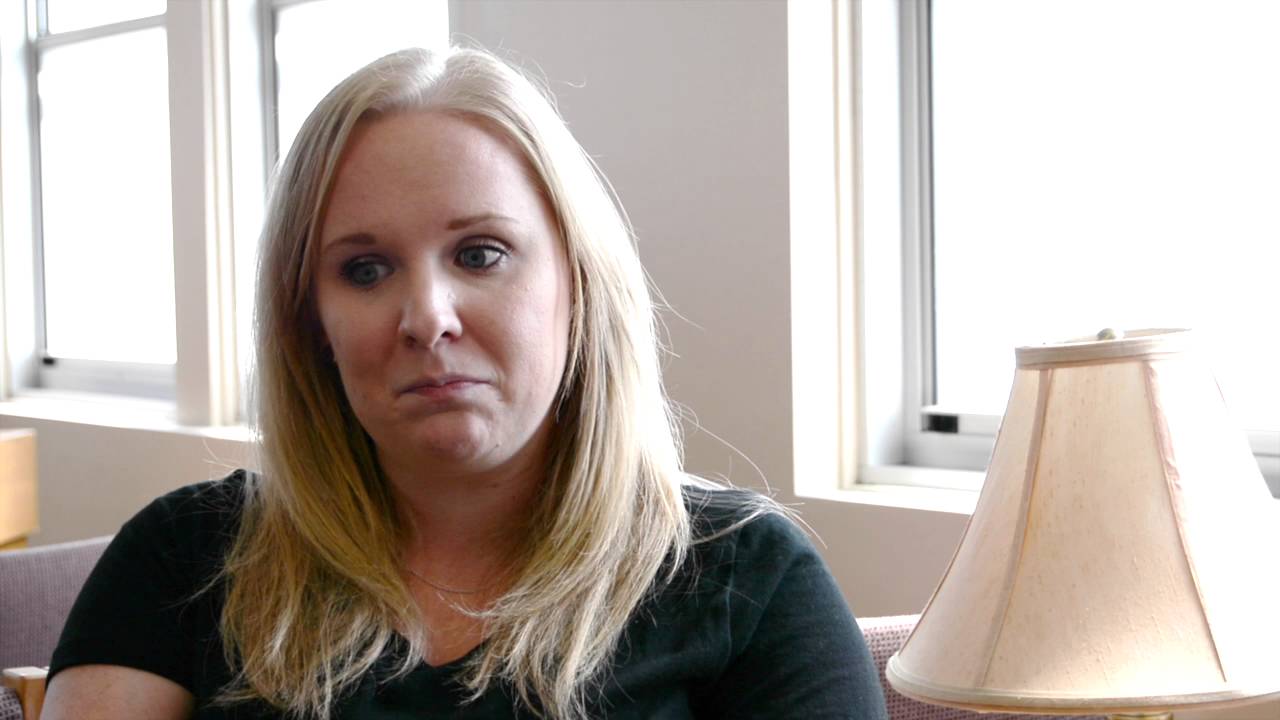 Episode 1: Midwives are Pretty Awesome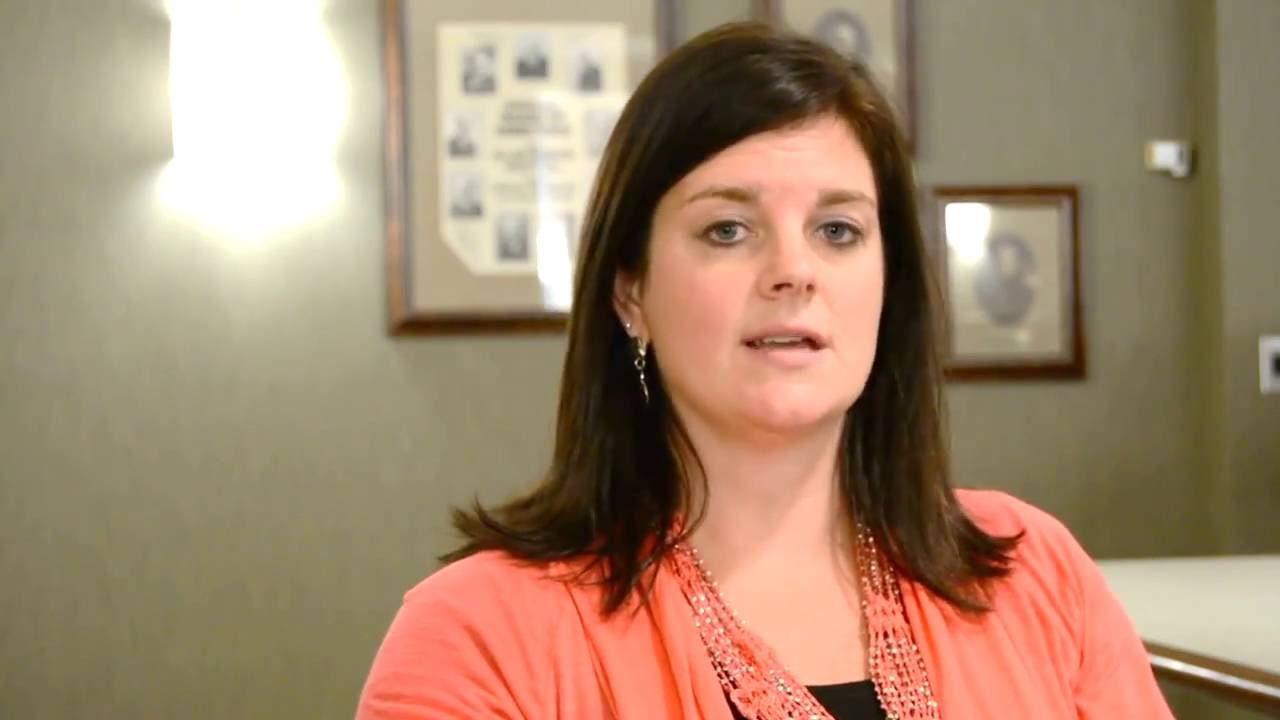 Episode 2: All About Babies

Episode 3: Caring for Women in All Stages of Life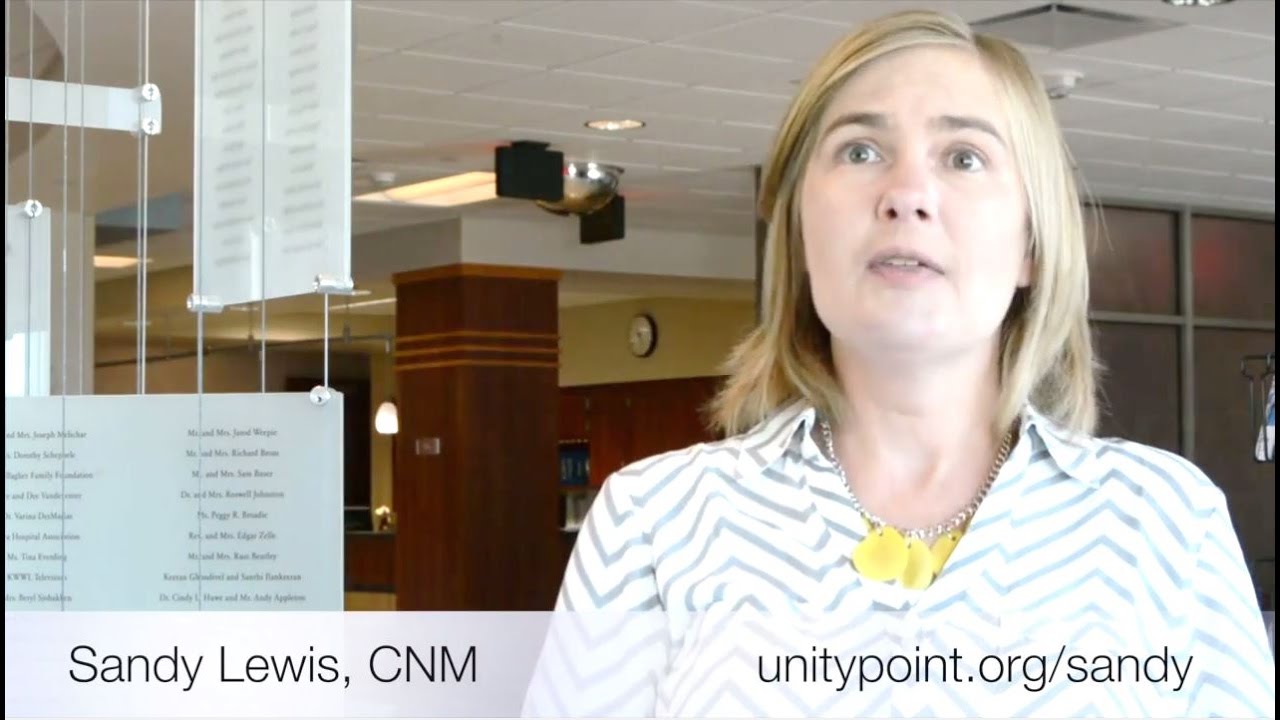 Episode 4: Your Birth Control Experts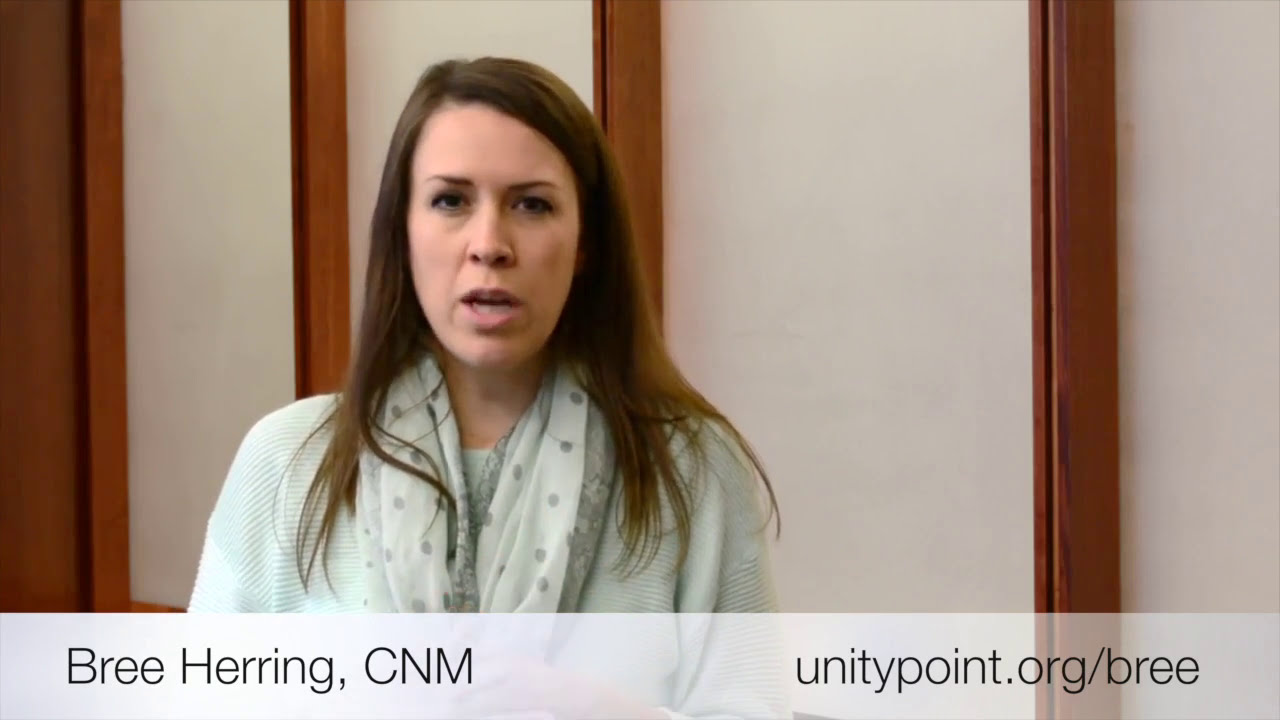 Episode 5: CenteringPregnancy® Group Prenatal Care
A better way for patient-centered prenatal care.
CenteringPregnancy is group prenatal care that brings 8-10 women with similar due dates out of the exam room and into a comforting group setting. Each group gathering lasts 90 minutes to two hours, giving each woman more time with providers and nurses within the recommended 10 prenatal visits.
Once health assessments are complete, UnityPoint Clinic providers and staff "circle up" with moms and support people for discussion and interactive activities designed to address important and timely health topics. Everything from nutrition, common discomforts, stress management, labor and delivery, breastfeeding and infant care are covered in group.
Providing care in this way allows moms and providers to get to know each other on a much deeper and meaningful level. Members of the group form lasting friendships and are connected in ways not possible through traditional care.
Centering groups that include women of different ages, races and socioeconomic backgrounds see those differences diminish in importance as they share the common experience of pregnancy, birth and family care.
Studies show CenteringPregnancy group prenatal care has resulted in significant beneficial effects on very low birth weight and fetal demise outcomes compared to traditional, individually delivered prenatal care.
Call (319) 235-5050 if you're interested in being part of the next CenteringPregnancy group!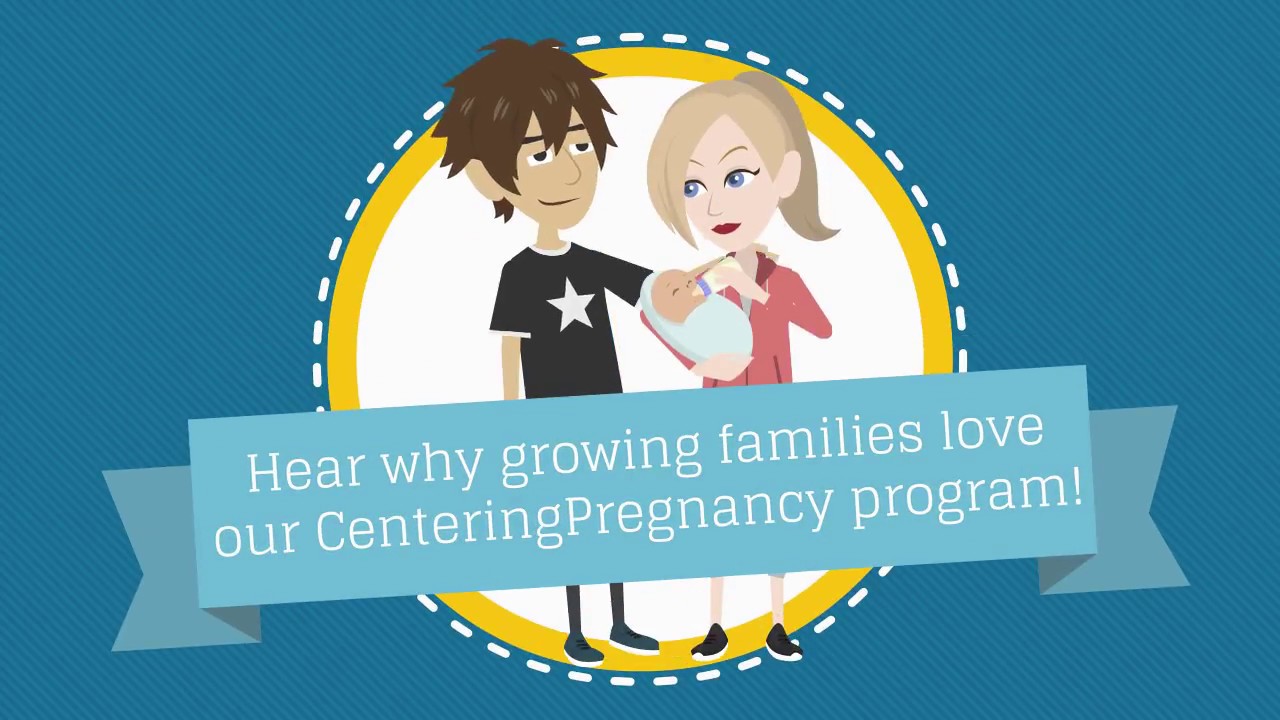 Breastfeeding provides numerous benefits for you and your baby.
Breastfeeding babies may have...
Less risk of SIDS (sudden infant death syndrome), illness and infections
Less gas, diarrhea and constipation
Less asthma and allergies
Less childhood cancers
Less diabetes and obesity
Better oral development, brain development and motor skills
Better response to immunizations
Better protection against diseases that last into adulthood
Our Lactation Consultants are board-certified by the International Board of Lactation Consultant Examiners and are committed to helping you have a positive breastfeeding experience. If you have any questions, please contact one of our Lactation Consultants by calling (319) 226-BABY (2229), ext. 2. Please leave a message and we will return your call as soon as possible.
Lactation Consultant Services
Mother's Milk Bank
What happens when the mother of a baby can't breastfeed, or can't produce as much milk as her baby needs?
Because decades of research have established that human milk is the perfect food for infants, the Mother's Milk Bank of Iowa collects, stores and distributes human milk to those who need it.
Through the milk bank, breastfeeding women have the opportunity to become human milk donors to help babies throughout Iowa, including our own NICU babies.
Allen Hospital gratefully accepts human milk donations in cooperation with the University of Iowa's Mother's Milk Bank of Iowa.
All the donated milk collected and stored by Mother's Milk Bank of Iowa is pasteurized. After pasteurization, it is tested for bacteria. Most immunologic and nutritional components of human milk remain intact after pasteurization.
For more information about becoming a donor, go to www.uichildrens.org/mothers-milk-bank/.
Baby ABCs
A
A is for Allen Birthing Center.
B
B is for Breastfeeding

Discover the benefits of breastfeeding and find out how to overcome challenges.
C
C is for CenteringPregnancy®

CenteringPregnancy allows moms to experience the journey together and form lasting friendships.
D
D is for Delivery

Did you know Allen Hospital has a c-section rate well below the national average?
E
E is for Education

If being a new parent has you overwhelmed, we are here to help with educational classes for parents including labor and delivery and breastfeeding support.
F
F is for First Aid
We're here to help with everything you need to know to keep your baby safe, from how to identify and treat common baby ailments such as diaper rash and colds, to how to help a choking infant.
G
G is for Growth

Check with your pediatrician on what's ahead for your little one for common baby milestones such as sitting up, crawling and walking.
H
H is for Home

We are dedicated to keeping families close to home, all from day one.
I
I is for Infant Care

Going back to work after baby can be stressful. Ask us for tips to select the right daycare provider for your family.
J
J is for Juice

Your pediatrician can help answer all your questions about starting solid food.
K
K is for Kangaroo Care

Immediate skin-to-skin contact, or kangaroo care, is greatly beneficial to both mom and baby.
L
L is for Labor

Get ready for the big day by learning labor signs and phases from your provider.
M
M is for Midwife

Check out the videos above to find out exactly what a midwife is and what they do.
N
N is for NICU

Welcoming your new baby is exciting but sometimes extra care is needed. Allen Hospital's Neonatal Intensive Care Unit (NICU) is ready for whatever you and your baby may need.
O
O is for OB

Our OB/GYN team is ready to help welcome your little one. Choose your provider today!
P
P is for Pediatrician

From birth all the way to adolescence, our pediatric providers are here every step of the way. Find yours!
Q
Q is for Questions

Pregnancy can come with plenty of surprises, but you aren't alone! Find out when to call your provider.
R
R is for Reflux

When it comes to baby bellyaches, reflux is often the go-to culprit. However, that may not always be the case. Your pediatrician can explain reflux and how it may (or may not) be affecting your little one.
S
S is for Suitcase

Don't let the big day catch you by surprise! Find out what to pack for your hospital stay.
T
T is for Teething

Talk to your pediatrician about what to expect and how you can help during this important baby milestone.
U
U is for Unexpected Crying

Learn more about the Period of P.U.R.P.L.E Crying and what it means for you and your little one.
V
V is for Vaccines

Can pregnant women get a flu shot? When will my baby receive their first vaccine? Your provider can help break down vaccine facts, myths and more.
W
W is for Wash

Rub-a-dub-dub, it's time for the tub! Out Allen Birthing Center nurses will demonstrate how to bathe your newborn before you go home.
X
X is for eXercise

Get tips and exercises from your provider to stay fit during pregnancy.
Y
Y is for Younger Sibling

Worried about how your child will react when the new baby arrives? Talk to your pediatrician about ways to help them cope with changes.
Z
Z is for Zzzz!

Send your little one off to dreamland safely with baby sleeping guidelines from your pediatrician.
Maternity News & Articles