Surgery
UnityPoint Health - Allen Hospital
Providing the Expertise You Expect
We perform a wide range of procedures, surgical therapies and leading-edge techniques, such as robotic surgery, rapid recovery joint replacement and minimally invasive as well as open-heart surgery on patients throughout Waterloo and the Cedar Valley area.
We're a Top 100 Hospital because we strive to give our patients the highest level of surgical care — the healthcare we'd like our loved ones to receive. It's no wonder Allen is known as the best surgery center in Waterloo, caring for more surgery patients than any other area hospital.
Do I need a referral to see a surgeon?
It's always best to start with your family physician and let him/her make that decision. If your family physician feels you would benefit from seeing a surgeon, he/she will refer you. The surgeon will then decide whether or not your condition would improve with a surgical procedure. If you agree with the surgeon that a surgical procedure is needed, the surgeon's office staff will contact our surgery scheduling department to schedule your procedure.
Exceptional Surgical Care in an Environment Dedicated to Comfort, Safety & Respect
We know that the idea of surgery and recovery can sometimes cause a lot of anxiety but know that your Allen team is here to relieve your fears and provide support and compassion to you and your family every step of the way. We are dedicated to making your surgical experience a successful one and we will try to make you as comfortable as possible during your stay with us.
Before surgery you'll meet with your doctor, discuss risks and benefits, pre-register and complete necessary tests and procedures. It is important that you get answers to all of your questions. Don't hesitate to ask your physician or the Allen Hospital staff any question you may have.
Experienced Staff
Our surgeons are highly trained across multiple disciplines, allowing us to perform surgeries ranging from the most microscopic and delicate procedures to those routinely done on an outpatient basis.
At Allen Hospital, we stay on top of all the newest advancements in surgical procedures with one goal in mind - your improved health and the professional quality in which we provide it to you. Allen Hospital invests in the continuing education of our staff, which provides the surgical team the latest advances in surgical treatments and equipment, and helps to ensure quality patient care.
Innovative Surgical Suite
Our surgical facilities have been fully updated and feature leading-edge technology and integrated information technology systems. The nine state-of-the-art surgical rooms have moveable ceiling booms that hold equipment that would normally be placed on the floor which reduces clutter in the rooms. The ceiling booms also contain electric power, medical gases and information cabling to create an integrated suite that contributes to the room's performance and operational efficiency.
Operating like a high-tech command center, our operating rooms are equipped with digital imaging equipment and three flat-screen monitors suspended from the ceiling and one 42-inch monitor hung on the wall. Through a high technology switching station, nurses access real-time images from endoscopic cameras, as well as stored digital images of x-rays, MRI and CT scans and can send the images to the screens located around the surgical table to meet the precise needs of the patient and surgeon.
The surgical suite has a sterile core providing a central storage environment keeping supplies and equipment within easy reach of staff. Patients are moved to and from the operating rooms through a separate corridor.
Our pre-surgery and post-operative rooms have also been updated and are all private rooms for the comfort of patients and their family members.
Patient Surgery Guide
We want to help you feel prepared and comfortable throughout your treatment. Be sure to discuss the details of your procedure with your doctor. It's important to get answers to all of your questions.
This guide will also provide tips and information for your surgical journey.
Tips for Preparing for Surgery
Before surgery you'll meet with your doctor, discuss risks and benefits, pre-register and complete necessary tests and procedures. It is important that you get answers to all of your questions. You should never hesitate to ask your physician, surgeon or the Allen staff any question you may have.
Talk to Your Doctor
Asking your doctor what you should expect before, during and after your procedure will help immensely as you begin preparing for surgery. Discuss any medications you're currently taking and those you may have to take after surgery. Your doctor may ask you to quit taking some medications before your surgery.
Pre-Surgical Appointments & Tests
To prepare you for surgery, a pre-surgical teaching nurse may meet with you or contact you by phone. This nurse gathers information regarding your general health. At this time, you may also be scheduled to meet with other health care professionals.
Routine tests and procedures may be required to determine your state of health. If you have had recent tests, please tell the pre-surgical nurse. Tests will vary, but may include blood and urine tests, an EKG for heart analysis, and a chest X-ray to determine if your lungs are safe for surgery and anesthesia.
Call Your Insurance Provider
Call your insurance provider to confirm the details of your coverage and pre-certification.
Arrange Transportation
Plan on arriving at the hospital one and a half to two hours before your scheduled surgery time unless you're directed otherwise. You can park in lots P8, P8a or P8c off of Donald St. Free valet parking is also available from 8 a.m. to 4 p.m., Monday through Friday at Entrance 8.
Follow Pre-Surgical Instructions
Quit smoking or at least cut down before surgery.
Stop drinking alcohol at least 24 hours before surgery.
Advise the pre-surgical nurse of any illegal drug use.
Ask your doctor about taking any medications (including herbal supplements) before surgery.
Arrange for rides to and from the medical campus.
Do not eat anything after midnight the night before surgery. You may drink clear fluids (apple juice, water, tea and coffee without milk, creamer or sugar) as directed by the pre-surgical nurse or your doctor.
If you get a fever, cold or rash, call your doctor. Surgery may need to be postponed.
Plan for post-surgery needs such as transportation, home care or skilled care.
Make changes in your home. For example, if you're told not to climb stairs, you may want to prepare a bed on the first floor.
Prepare food ahead or buy pre-made meals to reduce the amount of work you have after surgery.
Arrange for friends or relatives to check in on you after surgery.
Provide the hospital with a copy of your advance medical directive, if you have one. This statement describes the medical treatment you'd want or names the person you'd wish to make healthcare decisions for you if you could no longer speak for yourself.
Remove all jewelry and piercings (including wedding rings).
On the Day of Your Surgery
Medications
Make sure you understand the instructions your doctor or nurse gave for taking medications prior to surgery. There may be some medications you should stop taking.
Eating & Drinking
It is extremely important to follow instructions for eating and drinking because your surgery or procedure could be canceled or postponed if you don't observe the stated restrictions.
Adults (age 13+): Nothing to eat or drink after midnight. This includes gum, candy and water. No smoking the day of your surgery.
Children: No solid foods, candy or gum after midnight. Children may have clear liquids up to four hours before surgery unless otherwise directed. Clear liquids include clear carbonated beverages, water and apple juice (not cider).
Infants: If your child is nursing, you can breastfeed or give breast milk until four hours before surgery. Infants who drink cow's milk, soy milk or formula must stop drinking six hours before surgery.
Note: It can be hard to explain to children why they can't eat or drink on the day of surgery. Be prepared with plenty of distractions for your child, such as books, toys and hugs. It's also helpful to keep food and drink out of sight.
What to Wear
Shower or bathe yourself or your child.
Do not apply any lotions, powders or cologne to the body.
Do not use any hair products.
Dress in loose comfortable clothes.
Remove make-up and all nail polish.
Leave valuables such as jewelry (including wedding bands), cash and credit cards at home.
Wear glasses rather than contacts (contacts must be removed) and bring a glasses case.
What to Pack
You may want to bring a book or magazine.
If you'll be staying in the hospital overnight, please bring your own sleepwear, slippers, crutches and slings, CPAP/BiPAP supplies, inhalers, toiletries and loose comfortable clothes (to wear home).
For children, a special toy or blanket is suggested to help them feel more comfortable while in the hospital.
Insurance cards or forms.
Photo ID
All of your medication bottles which list the dosage and frequency.
Overnight clothes (if necessary), such as a robe and slippers.
A case with your name on it, for personal items that you may need to remove, such as dentures, glasses or contact lenses
Coming to the Hospital
Plan on arriving at the hospital one and a half to two hours before your scheduled surgery time unless directed otherwise. You can park in lots P8, P8a or P8c off of Donald St. Free valet parking is also available from 8 a.m. to 4 p.m., Monday through Friday at Entrance 8.
When You Arrive
When you arrive, you'll sign insurance release forms and a surgery consent form if you haven't done so already. If you are a minor, your parent or guardian will fill these out. To protect your confidentiality and privacy, your friends and family will be asked to wait in the waiting room briefly.
You'll be guided to a surgery preparation area. You'll change into a hospital gown and get an identification bracelet. You should remove your glasses or contact lenses. If you have a hearing aid or dentures, ask whether you should remove them for surgery. A nurse will go over your health history with you and have you sign your surgical consent. An intravenous line will be started in an arm or hard vein to provide medication and fluids during surgery, except in local procedures. Once you are settled into your admitting room, your friends or family will be able to visit with you.
Your Health Care Team
A team of trained professionals staffs the surgical suite or operating room (OR). Your surgeon heads the team, often assisted by a surgical assistant. A surgical technician sets up the instruments needed for surgery and assists in surgery. A circulating nurse is charged with your care and ensures sterile procedures are used.
A member of the health care team will take you to the surgical suite. Your blood pressure, heart function, and oxygen level in your blood will be monitored.
You may also be attended by an anesthesiologist who administers anesthesia during the operation.
After Your Surgery
Once your operation has been completed, you'll be taken to the recovery room and monitored as the anesthesia wears off. If you need pain medication, simply ask. You may even be given a device which allows you to control your own pain medication.
If you experience nausea or vomiting after surgery, medication may be offered. You might have a mild sore throat due to the tube placed in your mouth during anesthesia. Any soreness or bruising from IVs should disappear in a few days.
At first, you are likely to be unsteady on your feet. The doctor or nurse will tell you when to try to walk. Your goal is simply to become active as soon as possible and to gradually increase your activity, while giving yourself time to heal. Rest when you feel tired. A nurse will give you more specific information if needed. Healthy eating will speed your recovery. If you are in the hospital, you may be fed intravenously. When the doctor says you can begin eating, a dietitian will help you slowly ease back to a normal diet. If you are an outpatient, eat small amounts of easy-to-digest foods at first, or as directed by your doctor.
Tips to help your incision heal quickly:
Follow instructions provided by your nurse on how to care for your incision and the dressing.
To help prevent infection, wash your hands before and after touching the incision area.
Keep the incision area clean and dry.
Take warm showers instead of baths.
Refrain from smoking as this delays wound healing.
Going Home
Your doctor will determine when you should be discharged. Be sure you understand any instructions and ask any questions that you might have at this time. Please make arrangements to have someone drive you home as driving is usually inadvisable immediately after surgery and during the following few weeks.
Some topics you may wish to ask your doctor about include:
Medications
Incision care
Bathing
Pain control
Diet
Physical activity
Resuming sexual relations
Driving
Any follow-up visits
Returning to work
Reasons to call your doctor after you've left the hospital:
You have a fever over 101°F (38°C).
Your incision bleeds a lot, becomes more red, swollen or painful, or has a foul discharge.
Your incision opens. Lightly press a clean cloth to the incision to control bleeding.
You feel too sleepy, dizzy, or groggy (the medication may be too strong).
You have pain an hour after taking pain medication (it may not be strong enough).
You experience side effects from your medication such as nausea, vomiting, redness, a rash or itching.
Robotic Surgery
If you or a loved one has been diagnosed with a condition that may require surgery, you owe it to yourself to learn about all of your medical options, including the most effective, least invasive surgical treatments available.
With Allen's da Vinci robotic surgery you can expect significantly less pain, less blood loss, less scarring, shorter recovery time, a faster return to normal daily activities, and in many cases, better clinical outcomes.
Waterloo's leader in robotic surgery.
We've been the leader in robotic surgery in Waterloo since 2010, performing the most robotic surgeries in the Cedar Valley
Allen is the only hospital in the area that owns two da Vinci units with a dual console and training console
How Does It Work?
More and more top surgeons are choosing to perform surgery with the help of robotic tools. Allen Hospital performs the most robotic procedures in the Cedar Valley. Surgeries and procedures that once required large incisions and weeks of recovery are now minimally invasive, more effective and return patients to normal activities in a matter of days.
Robots in the Operating Room
The surgical robots in use at Allen Hospital allow doctors to operate with greater precision and minimal discomfort for the patient.
The Robotic Surgery Process: Robotic vs. Conventional Laparoscopic Surgery
Robotic techniques can overcome many limitations posed by conventional laparoscopic surgery.
While the procedures vary, the process of robotic surgery typically involves the following:
The surgeon sits at a special console throughout the robotic surgery.
A very small 3D camera and dime-sized surgical instruments are placed inside the patient through tiny incisions near the abdomen. The camera gives the surgeon a magnified 360-degree view of the operative field and offers incredible clarity with high-definition 3D pictures, resulting in better visualization and precision.
Using the console's hand and foot controls, the surgeon remotely moves robotic arms attached to surgical instruments. Fully articulating robotic arms mimic the motions of hands for better dexterity and control, whereas conventional laparoscopic instruments are scopes and long sticks that can't go around corners.
A certified nurse assists directly at the operating table to confirm the correct placement of the surgical instruments.
Many patients are back to doing what they love within a week after surgery.
Benefits of Robotic Surgery
Compared to traditional techniques, the very small incisions created by robotic surgery drastically reduce patients' time in the hospital and their risk of infections. The use of high-definition 3D cameras allows surgeons close-up views of areas they aren't able to see during open surgery. Fully articulating robotic arms mimic the movement of hands, allowing surgeons to have greater dexterity and control than is possible with conventional laparoscopic instruments.
Inside the OR
The diagram below illustrates the operating room layout for the da Vinci surgical robot.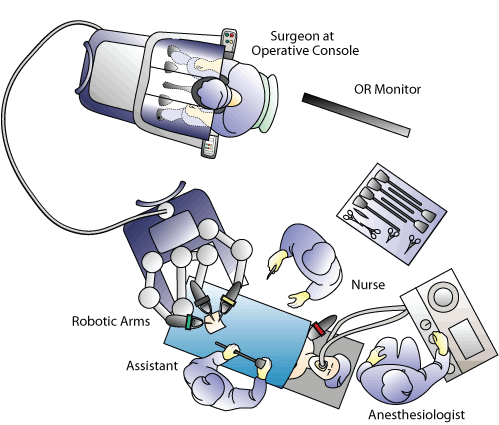 Allen's da Vinci® Robotic Technology
We're committed to bringing the best surgical experience to the Cedar Valley which is why we've invested in the newest robotic technology available since 2010.
da Vinci Si
The da Vinci Si has modified instruments that allow for greater range with larger and heavier patients and an enhanced viewing area for the surgeon, which is 20 percent larger and offers a high definition, 3D picture and side-by-side comparison screens. The most significant feature of this system is the dual console capability, which allows another physician to see and access the same screens and controls as the primary surgeon. Learn more about the da Vinci Si robot.
da Vinci Xi
The da Vinci Xi provides as even more natural extension of the surgeon's eyes and hands. This system is equipped with crystal-clear, highly-magnified 3D HD vision. It also provides surgeons with EndoWrist Instrumentation and intuitive motion which bend and rotate far beyond the human hand allowing them to operate with more natural motion. Learn more about the da Vinci Xi robot.
Advantages for Patients
Depending on the type of robotic surgery you have, you'll experience:
Low blood loss
Bowel function returns more quickly
Prompt return to diet
Minimal time in the hospital
Smaller incisions
Surgeons can remove cancer and surrounding affected tissue without damaging nerves
Better urinary control
Less nerve damage to maintain sexual function
Procedures
Robotic surgery is performed for a variety of conditions.
Colorectal
Colon cancer
Rectal cancer
Diverticulitis
Inflammatory bowel disease (ulcerative colitis and Crohn's disease)
Gynecologic
Hysterectomy for benign or malignant disease (common symptoms include fibroids, abnormal bleeding or endometriosis)
Adhesions
Myomectomy
Pelvic Relaxation Procedures (such as sacrocolpopexy, uterosacral ligament vaginal vault suspension)
Chronic Pelvic Pain Management
Urologic