Jones Regional Medical Center Emergency Medicine
Today's Hours: Open 24 hours
Information
Number of patients waiting reflects the current number of patients waiting to be seen. This number changes frequently and is not exact.
Hours of Operation
Monday:

Open 24 hours

Tuesday:

Open 24 hours

Wednesday:

Open 24 hours

Thursday:

Open 24 hours

Friday:

Open 24 hours

Saturday:

Open 24 hours

Sunday:

Open 24 hours
View Map
Don't Delay Emergency Care
We are fully equipped to provide care for all patients, in all situations, all the time.
UnityPoint Health emergency departments are open 24/7 and are designed to keep people with symptoms of respiratory illness and those with other ailments in separate areas. If you or a loved one experience symptoms of heart attack or stroke, do not hesitate to call 911 or visit the emergency department. Any delay could result in long-term health effects or even death.
Emergency Services at Jones Regional Medical Center
Immediate care for emergency and trauma patients is critical. That's why Jones Regional Medical Center's Emergency Department physicians and nurses are available 24 hours a day, seven days a week, 365 days a year. Their expertise and training allow the team to respond rapidly, appropriately and efficiently to get you the care you need sooner.
Our specially trained physicians and nurses will promptly and thoroughly assess and treat you so you can get back to doing what you love sooner. Upon arrival, all patients are triaged based on the severity of their illness/injury and will receive treatment based on this severity.
For patients arriving to Jones Regional's Emergency Room in critical condition or those who need transportation to distant facilities, we have ground and air ambulances available around-the-clock to help transport patients:
Jones Regional's Emergency Room is also a safe place for anyone needing help, especially victims of assault and human trafficking. Our team is here to care for you.
Additional emergency services at Jones Regional Medical Center include Laboratory, Radiology and Respiratory Care.
Unsure if you Need the ER?
It is important to know not all medical mishaps need to be treated in an emergency room. When your primary care provider isn't an option for minor illnesses and injuries, urgent care clinics are the best choice. Urgent care clinics are staffed with health care professionals who are available after hours, on weekends and during holidays. Urgent care can provide treatment for non-emergency situations, including fractures, infections, sprains and more.
What Type of Appointment Do I Need?
What Happens in the Emergency Room?
The Emergency Room is located right inside the main entrance of Jones Regional Medical Center. You will be greeted by our registration staff member, who will ask for your name and date of birth. You'll then be taken through the door next to registration to begin your treatment in one of the seven rooms that makes up the Emergency Department.
Our emergency team members will ask you questions, and you'll see a doctor who will provide treatment. Lab and radiology, including CT, are closely located to the Emergency Room to provide fast care to our patients.
If a patient arrives in critical condition and a higher level of care is needed, our ER team will stabilize the patient before making a safe and rapid transport to another facility.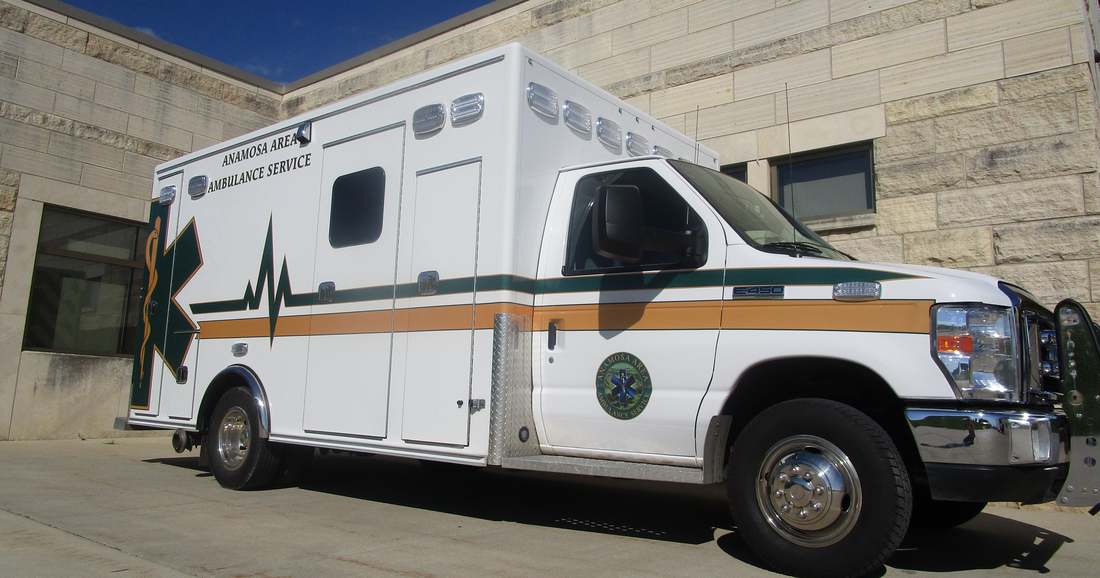 Anamosa Area Ambulance Service is a premier emergency medical service that provides professional paramedic care to approximately 250 square miles in and around Anamosa, covering parts of both Jones and Linn counties. A highly trained team of professionals routinely handle 911 dispatched emergency calls and non-emergent transfers.