UnityPoint Health St Lukes Hospital Emergency Department
Today's Hours: Open 24 hours

Hours of Operation
Monday:

Open 24 hours

Tuesday:

Open 24 hours

Wednesday:

Open 24 hours

Thursday:

Open 24 hours

Friday:

Open 24 hours

Saturday:

Open 24 hours

Sunday:

Open 24 hours
View Map
Don't Delay Emergency Care
We are fully equipped to provide care for all patients, in all situations, all the time. St. Luke's Emergency Department is open 24/7. If you or a loved one experience symptoms of heart attack or stroke, do not hesitate to call 911 or visit the emergency department. Any delay could result in long-term health effects or even death.
Not every illness or injury requires a trip to the Emergency Room, and because health matters don't always occur during convenient times, our Urgent Care and Express Care Clinics offer locations throughout the Cedar Rapids metro area to treat your family's minor illnesses or injuries when your primary physician is not available. For your convenience, we update our Urgent Care wait times online.
When You Should Go to the ER
Don't hesitate to come to the ER if you or a loved one experiences any of the following:
Symptoms of a heart attack, including severe chest pain, sweating and shortness of breath.
Profuse bleeding or blood loss that continues even after direct pressure has been placed on the wound.
Severe abdominal pain.
Sudden dizziness, weakness, loss of coordination, balance or vision problems, which are signs of stroke.
High fever and vomiting that continues nonstop for several hours.
Signs of meningitis: severe headaches, neck/joint pain and stiffness, vomiting, high temperature, sensitivity to light (adults); high-pitched whimpering/crying, lethargy, fussiness, restlessness, high fever, vomiting, cold extremities, refusing food, pale or blotchy skin (babies, small children).
Seizures lasting longer than five minutes.
Injuries occurring from an accident or fall - intense back or neck pain, obvious compound fractures and/or dislocations of bones, deep cuts and severe burns.
Helpful resources:
Reserve Your Emergency Room Spot Online
Life's surprises don't make appointments, but you can. The next time a minor illness or injury has you thinking about a trip to the Emergency Room, reserve your spot in line, online. You can avoid potentially long wait times and crowded waiting rooms by selecting a time that's convenient for you and wait from the comfort of your home.
St. Luke's Emergency Services
When you have a medical emergency, every minute counts. Call 911 and tell first responders to take you to St. Luke's. Our Emergency Room is open 24/7. Our ER team is specially trained to respond rapidly, appropriately and efficiently to any health care emergency.
Medication Matters Card
About the Card
Time is of the essence during a medical emergency. During a trip to the ER you may be unable to speak, or be too confused, sick or injured to accurately share your medical history with healthcare providers.
This information is critical in order to treat your emergency properly — it can mean life or death. We want you to be prepared for the unexpected and that's why we created the Medication Matters card. It's a way you can take control before an emergency strikes and provide accurate and up-to-date medical information to first responders and our ER team.
We encourage you to fill out the Medication Matters card. Then place it in your purse, wallet or on your refrigerator and let your family know where you keep it — that way it's easy to find in an emergency.
For additional copies, you may also call (319) 369-7388.
Tips on How to Best Use the Card
List everything you take; prescriptions, over-the-counter products, dietary supplements, herbal remedies, eye drops, inhalers and oxygen.
Describe the purpose of each product.
Carry the card with you at all times in your wallet or purse or attach it to your refrigerator where family or first responders can find it in an emergency. Then tell family where it is located in the event you are unable to speak.
At your doctor's office, present the card for updating.
At the pharmacy, ask your pharmacist to review the card when a new prescription is added.
At the hospital, ask your nurse to review the card when you are admitted and again when you are sent home.
Ask your doctor or pharmacist about your medicines and the best way you should take them or if there are any special concerns you need to be aware of regarding drug interactions.
Did you know...
St. Luke's beats the national average when it comes to fast heart attack care? It's a nationwide goal for ERs to open blocked heart arteries in 90 minutes or less. Last year St. Luke's average was 57 minutes and its fastest time was 15 minutes.
St. Luke's has earned the Chest Pain Center Accreditation with primary percutaneous coronary intervention (PCI) and Resuscitation from the American College of Cardiology based on rigorous onsite evaluation of the staff's ability to evaluate, diagnose and treat patients who may be experiencing a heart attack. St. Luke's is the first hospital in Iowa to achieve this accreditation.
For patients in rural areas, critical condition or who need transportation to distant facilities, our LifeGuard Air Ambulance is available around-the-clock to help transport patients in Iowa and surrounding areas to St. Luke's.
LifeGuard Air Ambulance
About Our Aviation Partner – Med-Trans
In 2013 St. Luke's entered into an agreement with the Med-Trans Corporation to become the new aviation partner for LifeGuard Air Ambulance.
Med-Trans provides training, maintenance, pilot coverage and back-up aircraft as needed for the LifeGuard program. Med-Trans Corporation is a leading provider of air ambulance programs throughout the United States. Med-Trans offers an array of customized air medical program designs including hybrid models, community-based models or traditional hospital-based models. The company's extensive fleet rapidly delivers teams of highly trained professionals to patients, striving to provide the patient with the best possible outcome.
Going the Distance to Save Lives
LifeGuard Air Ambulance has been serving the Cedar Rapids community and Eastern Iowa with around-the-clock emergency and critical care transportation for patients in Iowa and surrounding areas. Our highly experienced crews have flown thousands of flights for over 40 years. LifeGuard responds to a variety of emergency situations, including:
Patients in rural areas
Accident victims
High-risk infants in need of specialized care
Patients needing transport to distant facilities
Fast Response
Speed, advanced on-board medical equipment and the expertise of the crew all add up to a better chance of survival and recovery. LifeGuard Air Ambulance is staffed 24 hours a day for transport to the hospital of the patient or family's choice, or to the nearest appropriate facility.
To reach LifeGuard's dispatch, call (800) 223-6627.
LifeGuard Air Ambulance is Accredited by CAMTS
St. Luke's Hospital LifeGuard Air Ambulance recently received a three-year accreditation from the Commission on the Accreditation of Medical Transport Systems (CAMTS).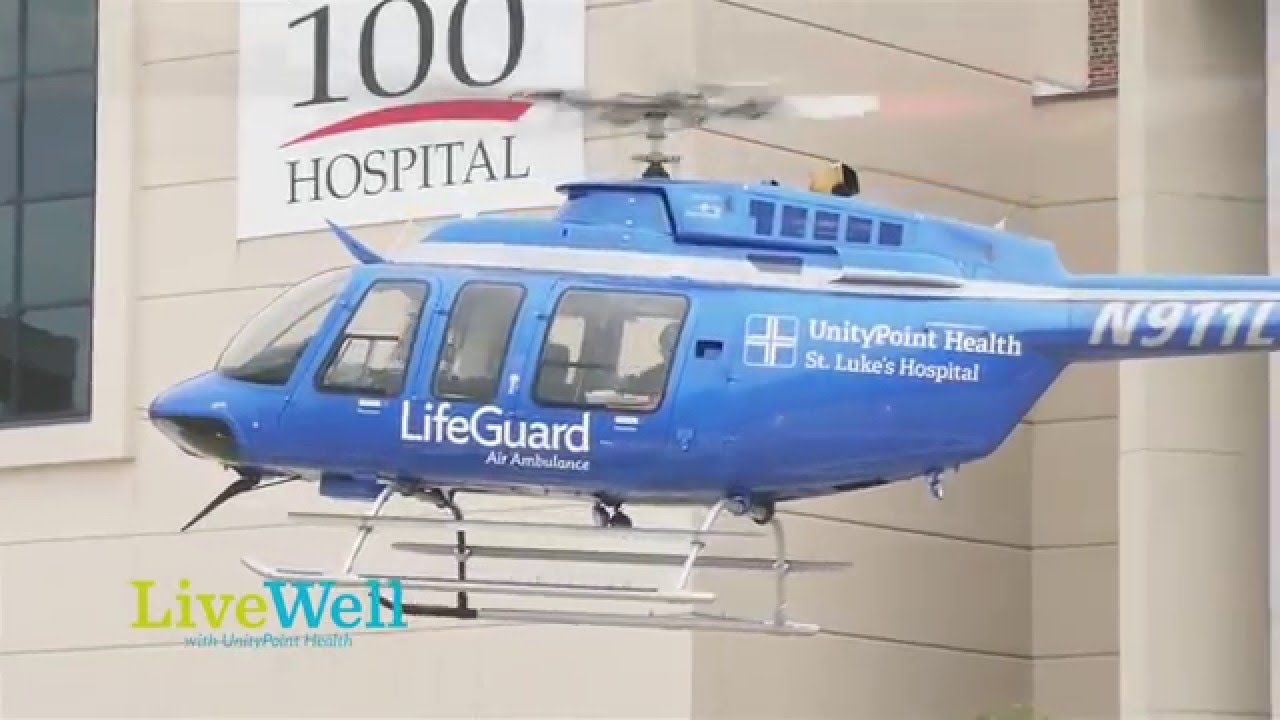 1970s
• 1979: First patient transported in the LifeGuard UH-1 "Huey" helicopter. Pilot flies from airport and picks up two Area Ambulance Service Paramedics at Mercy Hospital.
1980s

• 1981: St. Luke's Hospital hires two full-time pilots with the help of the St. Luke's Foundation. Pilots work either 48 or 72 hour shifts. LifeGuard is based at St. Luke's Hospital in Cedar Rapids, Iowa. Two Area Ambulance Service Paramedics travel to St. Luke's by ambulance to go on flights.
• 1982: First part-time pilot is hired.
• 1984: Nurses are added to the flight crew with one Paramedic from Area Ambulance. Neonate transporter is added to the capabilities with a NICU (Neonatal Intensive Care Unit) Nurse and a Respiratory Therapist.
• 1985: UH-1 "Huey" helicopter is replaced with the purchase of a Long Ranger 3. Flights now include Flight Nurse and an Area Ambulance Paramedic team full time. Pilots go to 12-hour shifts with the hiring of a third and fourth pilot.
1990s
• 1990: St. Luke's Hospital hires Paramedics to staff LifeGuard with Flight Nurses.
• 1997: St. Luke's replaces the Long Ranger 3 helicopter with a Bell 407 helicopter.
2000s

• 2006: LifeGuard celebrates 25 years of being based at St. Luke's Hospital.
2010s

• 2013: St. Luke's entered into an agreement with Med-Trans Corp. to become the new aviation partner for LifeGuard Air Ambulance.
• 2017: LifeGuard starts carrying blood on board.