LifeGuard Air Ambulance
UnityPoint Health - St. Luke's Hospital Emergency Department

Going the Distance to Save Lives
LifeGuard Air Ambulance serves the Cedar Rapids community and Eastern Iowa with around-the-clock emergency and critical care transportation for patients in Iowa and surrounding areas. Our highly experienced crews have flown thousands of flights for over 40 years. LifeGuard responds to a variety of emergency situations, including:
Patients in rural areas
Accident victims
High-risk infants in need of specialized care
Patients needing transport to distant facilities
Fast Response
Speed, advanced on-board medical equipment and the expertise of the crew all add up to a better chance of survival and recovery. LifeGuard Air Ambulance is staffed 24 hours a day for transport to the hospital of the patient or family's choice, or to the nearest appropriate facility.
To reach LifeGuard's dispatch, call (800) 223-6627.
LifeGuard Air Ambulance is Accredited by CAMTS
St. Luke's Hospital LifeGuard Air Ambulance recently received a three-year accreditation from the Commission on the Accreditation of Medical Transport Systems (CAMTS).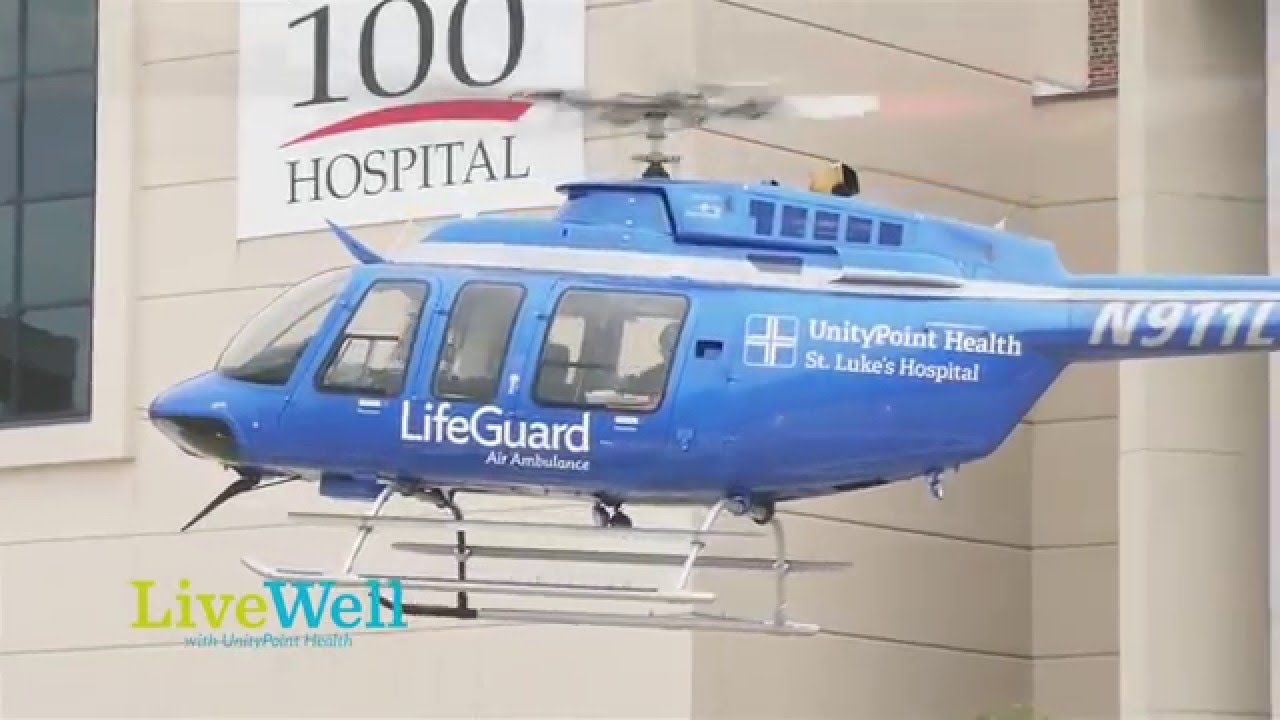 1970s
• 1979: First patient transported in the LifeGuard UH-1 "Huey" helicopter. Pilot flies from airport and picks up two Area Ambulance Service Paramedics at Mercy Hospital.
1980s

• 1981: St. Luke's Hospital hires two full-time pilots with the help of the St. Luke's Foundation. Pilots work either 48 or 72 hour shifts. LifeGuard is based at St. Luke's Hospital in Cedar Rapids, Iowa. Two Area Ambulance Service Paramedics travel to St. Luke's by ambulance to go on flights.
• 1982: First part-time pilot is hired.
• 1984: Nurses are added to the flight crew with one Paramedic from Area Ambulance. Neonate transporter is added to the capabilities with a NICU (Neonatal Intensive Care Unit) Nurse and a Respiratory Therapist.
• 1985: UH-1 "Huey" helicopter is replaced with the purchase of a Long Ranger 3. Flights now include Flight Nurse and an Area Ambulance Paramedic team full time. Pilots go to 12-hour shifts with the hiring of a third and fourth pilot.
1990s
• 1990: St. Luke's Hospital hires Paramedics to staff LifeGuard with Flight Nurses.
• 1997: St. Luke's replaces the Long Ranger 3 helicopter with a Bell 407 helicopter.
2000s

• LifeGuard celebrates 25 years of being based at St. Luke's Hospital.
2010s

• 2013: St. Luke's entered into an agreement with Med-Trans Corp. to become the new aviation partner for LifeGuard Air Ambulance.
• 2017: LifeGuard starts carrying blood on board.
About Our Aviation Partner — Med-Trans
In 2013 St. Luke's entered into an agreement with the Med-Trans Corporation to become the new aviation partner for LifeGuard Air Ambulance.
Med-Trans provides training, maintenance, pilot coverage and back-up aircraft as needed for the LifeGuard program. Med-Trans Corporation is a leading provider of air ambulance programs throughout the United States. Med-Trans offers an array of customized air medical program designs including hybrid models, community-based models or traditional hospital-based models. The company's extensive fleet rapidly delivers teams of highly trained professionals to patients, striving to provide the patient with the best possible outcome.