Surgery
UnityPoint Health - St. Luke's Hospital - Cedar Rapids
St. Luke's surgical center provides the expertise you expect, performing advanced surgical techniques such as robotic surgery, rapid recovery joint replacement and open-heart surgery on patients throughout the Cedar Rapids area.
Because we strive to give our patients the highest level of surgical care – the healthcare we'd like our loved ones to receive – it's no wonder St. Luke's is known as the best surgery center in Cedar Rapids, caring for more surgery patients than any other area hospital.
Preparing for Your Surgery
We want to help you feel prepared and comfortable throughout your treatment. Be sure to discuss the details of your procedure with your doctor. If you have any questions or special requests regarding your time at St. Luke's, please call us at (319) 369-7827 so we can work with you and your doctor to make sure your needs are met.
Tips for Preparing for Surgery
Pediatric Pre-Surgery Education
If your child is scheduled to have surgery, this is a great video for them and parents to watch. It answers the question, "what can my child expect for surgery?" At St. Luke's Hospital, we want our youngest patients to understand what surgery day will look like for them.

Ear, Nose & Throat Surgery
St. Luke's Hospital offers a wide range of Ear, Nose and Throat (ENT) procedures in partnership with the experienced team of otolaryngologists at Physicians' Clinic of Iowa, who specialize in the medical and surgical treatment of ENT disorders and diseases in both adults and children.
Specialties
Create eardrum opening
Remove tonsils
Remove adenoids
Repair nasal septum
Repair eardrum
Probe eardrum structures
Excise/repair mouth lesion
Nasal/sinus endoscopy surgery
Inspire implant for obstructive sleep apnea
Robotic Surgery in Cedar Rapids
You can heal faster and go home sooner when your surgeon uses minimally invasive robotic techniques. St. Luke's is Iowa's leader in robotic surgeries, where the region's top surgeons choose our state-of-the-art robots for procedures such as prostate removal (prostatectomy), hysterectomy and uterine fibroid removal (myomectomy), among others. For these patients, the pinpoint precision of robotic surgery leads to faster recovery times and better overall results. We call ourselves Iowa's robotic surgery leader for several reasons:
St. Luke's is an epicenter in the Midwest for gynecological surgery and is the busiest
St. Luke's is the first hospital in the state to acquire the most advanced da Vinci surgical robot: The da Vinci Xi Surgical System
St. Luke's also offers partial knee replacement using the Mako SmartRoboticsTM system
St. Luke's is the first hospital in the state to perform surgeries using the Single Port SP Robot, the only FDA-approved robot for urologic surgeries
How Does It Work?
Robots in the Operating Room
There are several types of robots in use at St. Luke's. For urological, gynecological and some general surgeries, the da Vinci Xi Surgical Robot allows doctors to operate with greater precision and minimal discomfort for the patient.
The Robotic Surgery Process: Robotic vs. Conventional Laparoscopic Surgery
Robotic techniques can overcome many limitations posed by conventional laparoscopic surgery.
While the procedures vary, the process of robotic surgery typically involves the following:
The surgeon sits at a special console throughout the robotic surgery.
A very small 3D camera and dime-sized surgical instruments are placed inside the patient through tiny incisions near the abdomen. The camera gives the surgeon a magnified 360-degree view of the operative field and offers incredible clarity with high-definition 3D pictures, resulting in better visualization and precision.
Using the console's hand and foot controls, the surgeon remotely moves robotic arms attached to surgical instruments. Fully articulating robotic arms mimic the motions of hands for better dexterity and control, whereas conventional laparoscopic instruments are scopes and long sticks that can't go around corners.
A certified nurse assists directly at the operating table to confirm the correct placement of the surgical instruments.
Many patients are back to doing what they love within a week after surgery.
Benefits of Robotic Surgery
Compared to traditional techniques, the very small incisions created by robotic surgery drastically reduce patients' time in the hospital and their risk of infections. The use of high-definition 3D cameras allows surgeons close-up views of areas they aren't able to see during open surgery. Fully articulating robotic arms mimic the movement of hands, allowing surgeons to have greater dexterity and control than is possible with conventional laparoscopic instruments.
Inside the OR
The diagram below illustrates the operating room layout for the da Vinci Surgical robot.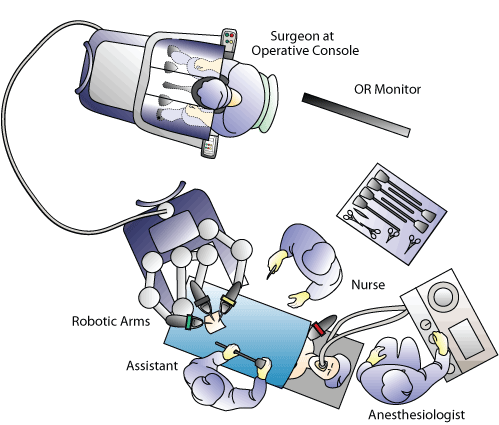 St. Luke's da Vinci® Robotic Technology
da Vinci Xi
Committed to bringing Eastern Iowan's the best surgical experience, St. Luke's invested in the newest robotic technology available. St. Luke's is the first hospital in Cedar Rapids to acquire the most advanced da Vinci surgical robot. The da Vinci Xi Surgical System was recently installed in St. Luke's operating rooms.
This is the fourth generation da Vinci robot, which has improved reach inside the body and provides surgeons an extended range of motion. These added benefits will aid surgeons performing several robot-assisted cancer surgeries at St. Luke's – with a primary focus on colon, prostate and general surgeries.
The Xi System immersive 3D-HD vision system provides surgeons a highly magnified view, virtually extending their eyes and hands inside the patient. The new surgical robot has an expandable technology platform designed to accommodate and seamlessly integrate a range of current technologies in areas such as imaging, advanced instruments and anatomical access. Since the robotic surgery program began in 2005 there have been over 8,000 robotic surgeries performed at St. Luke's.
The da Vinci surgical robot allows surgeons to operate through tiny openings – about the size of a dime. The surgeon uses a special console with hand and foot controls to move the robotic arms, which hold the instruments to operate. A small, 3D-HD camera helps surgeons see and perform intricate surgical procedures. The robot translates the surgeons' natural hand motions at the control console into corresponding movements of the robotic instruments.
da Vinci SP
St. Luke's is the first hospital in the state to perform surgeries using the Single Port SP Robot. The state-of-the-art technology of the SP robot paired with its innovative design – which enables surgeons to enter the body through one small abdominal incision before deploying the robot's surgical instruments – improves patient outcomes and recovery time. Currently, the SP Robot is the only FDA-approved robot for urologic surgeries.
Procedures
Robotic surgery is performed for a variety of conditions.
Colorectal
Colon cancer
Rectal cancer
Diverticulitis
Inflammatory bowel disease (ulcerative colitis and Crohn's disease)
Gynecologic
Hysterectomy for benign or malignant disease (common symptoms include fibroids, abnormal bleeding or endometriosis)
Adhesions
Myomectomy
Tubal Reanastomosis
Various Pelvic Relaxation Procedures
Urologic
Find out more about surgeons offering robotic surgery by specialty.
Inside St. Luke's OR Videos
Due to mature content, some videos are age restricted.*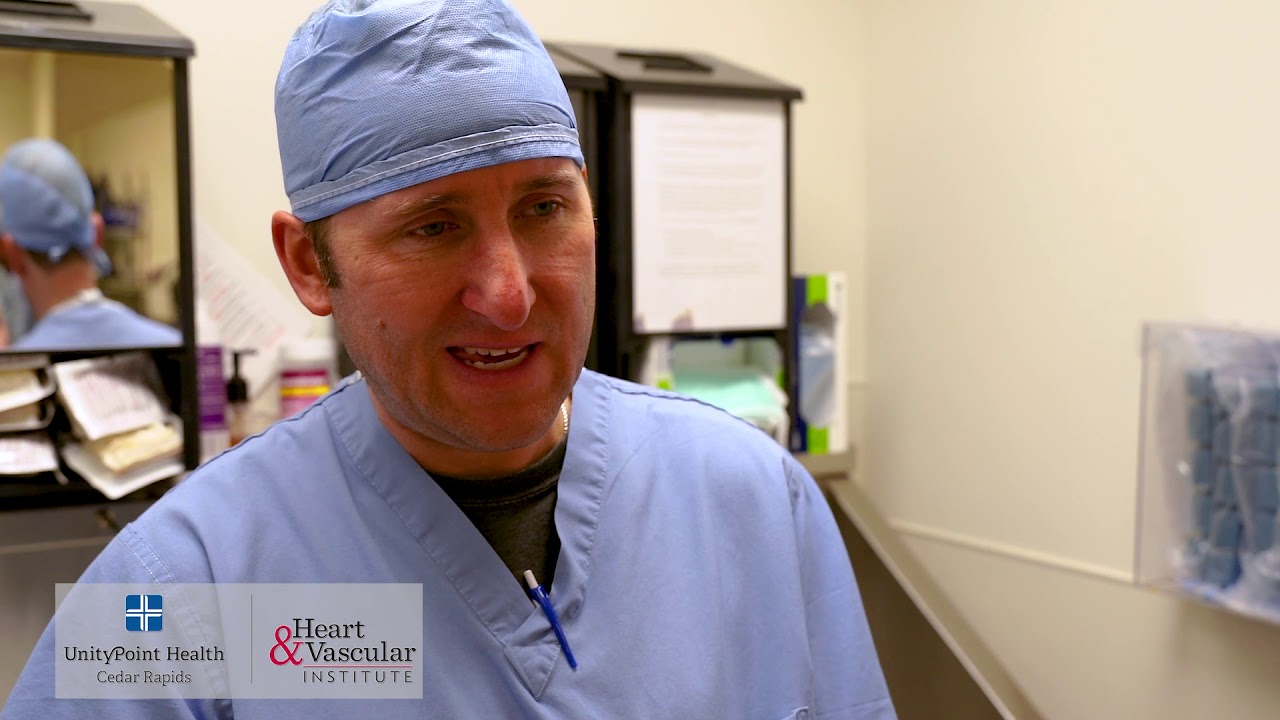 Inside St. Luke's OR: Open Heart Surgery

Triple Bypass Open Heart Surgery

*What is Robotic Surgery?

*Robotic Hysterectomy

Robotic Knee Replacement Surgery

Introducing the da Vinci SP