Birth and Newborn Services
UnityPoint Health - Meriter Hospital

Birth & Newborn Services
Welcome to UnityPoint Health – Meriter – Birth & Newborn Services! At our birthing center you will find experienced and caring physicians, midwives, nurses and support staff who will help you welcome the newest member of your family. We believe in a family-centered approach to your care. Our team is here to respond to your needs with the highest level of skill, professionalism and compassion.

We make every effort to make your stay is as comfortable as possible so that you and your family can be afforded the privacy and ability to experience the birth of your choice.

Preparing for Childbirth
Every pregnancy and birth is a unique, life-changing event. That is why UnityPoint Health – Meriter is committed to providing you with the information you need, the best possible care, and a comfortable environment where you are treated with warmth and respect.
Your Hospital Stay
In the Birthing Center, we want to make your entire childbirth experience comfortable, personal and memorable.
Take a virtual tour of our Birthing and Family Care Centers.
All of our new families start their journey on the labor and delivery unit in the Birthing Center. Tucked away in each room is everything our staff needs to welcome your baby into the world. Special equipment is immediately available if needed. Should the need arise, Cesarean Birth operating suites are located in the Birthing Center for immediate access.
After delivery and recovery, you and your family will be moved to a private suite in our Family Care Center.
Arriving at the Hospital – Directions & Parking
Valet Services are conveniently offered at the front entrance of the hospital weekdays, 6:00 AM – 4:30 PM.
6:00 AM - 8:00 PM - Park in any visitor area in the ramp. (If you do not feel comfortable walking from the ramp, you can park temporarily in the drive-in front of the main lobby doors. Your spouse or support person can move the car after you are admitted.) Go to the 4 North triage area where you will be admitted.
8:00 PM - 6:00 AM- The main lobby doors are locked during these hours. Park and take the elevators to the 2nd floor to enter the hospital lobby. From there, you will be directed to the Birthing Center.
Rooming-In
One of the advantages of family-centered care is that your baby stays with you from the moment of birth. You will discover your baby's preferences and begin a feeding relationship. By spending time together, you will discover the uniqueness of your new baby. Your nurse will be there to support you and assist you in caring for your baby.
Benefits of Rooming-In
Better Breastfeeding.
Being with your baby allows for a better breastfeeding experience. You can breastfeed more often, learn your baby's hunger cues, increase milk production and get more practice with different techniques. This helps foster more questions and conversation with your nurse and lactation consultant.
Understand Your Baby.
Your baby has unique cues and ways of communicating his or her needs, whether baby is tired, stressed or hungry. The more quickly you learn to understand your baby, including in the overnight hours, the sooner your family will adjust to a new life together.
Bonding.
Your first few days with your baby are precious. We encourage you to spend as much time as possible holding baby skin-to-skin. This not only allows for bonding with baby, it helps baby regulate body temperature and stress, may improve brain development and healthy weight, may reduce postpartum depression and encourages breastfeeding and milk production.
Sleep.
It may seem like you'll get more rest if baby is in a nursery. However, studies have shown you get the same amount of rest if baby shares your room, especially in the early days when baby wakes often to eat. Sharing a room will help your baby develop a more regular sleeping routine, which may lead to a better routine for the whole family.
Going Home
We want to make sure you are prepared to take care of your infant when you go home. Keeping your baby with you gives you more time to practice news skills like swaddling, bathing and diaper changes in an environment where you can freely ask advice from your care team. You'll be more confident in your abilities when you leave.
You and your OB provider will decide together when you are ready to go home. Patients who have a vaginal birth generally go home the second day after giving birth. Patients who have a cesarean birth usually go home about three days after giving birth. Factors that could extend or shorten your stay include complications, personal preference and insurance coverage.
Information for Patients & Visitors
Parking Pass
You will receive one parking pass that can be delegated to a family member or friend. To get the pass, go to the Guest Services office in the lobby.
They are open Monday - Friday, 7:00 AM - 10:00 PM and Saturday, Sunday and Holidays, 9:00 AM - 9:00 PM. Other visitors can also park in the ramp, for a small fee. Parking is free on holidays.
Visitors
Due to COVID-19 UnityPoint Health - Meriter has made changes to our visitor policy. For the most updated information regarding visitors, please visit our
Patients & Visitors Page
.
Meal Service
Our Food & Nutrition team strives to provide high-quality food to promote health and healing. Meal service consists of a house select meal delivered to your room three times a day. A diet clerk will visit you before your second meal to "personalize" your meals and accommodate your preferences, desired portion sizes or any allergies you may have. If your provider has ordered a special diet, the menu may be modified to adjust for changes in calorie, texture, fluids or other nutrients.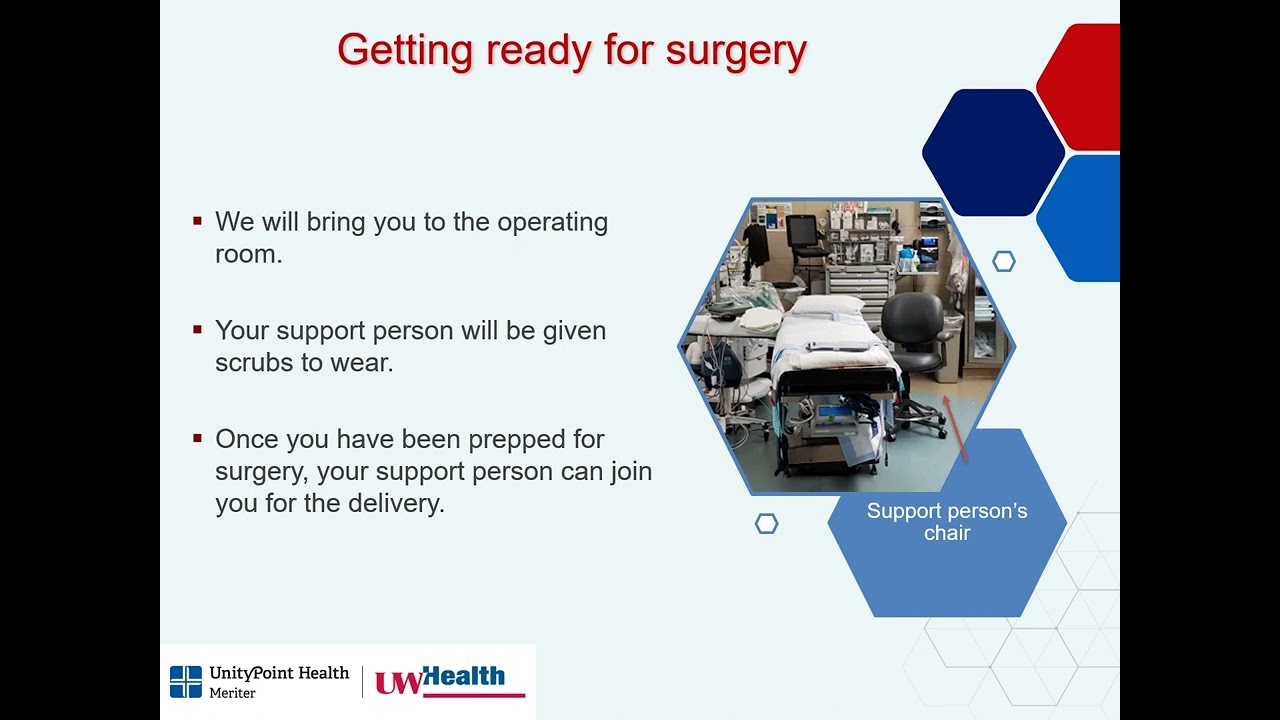 Water Birth
UnityPoint Health – Meriter offers water birth as an option for labor and delivery. Water birth can provide an excellent alternative birth option for healthy patients who are expecting an uncomplicated birth.
Breastfeeding & Lactation Lounge
Our expertly trained Lactation Consultants, nursing staff and educators are committed to helping you have a positive breastfeeding experience. We offer a wide variety of services for before and after delivery including:
Prenatal breastfeeding class
Breastfeeding educational materials and aids
Prenatal assessment for patients with previous or anticipated breastfeeding problems
In-hospital consultations for patients and newborns
Outpatient consultation for nursing parents and babies
Telephone consultation from UnityPoint Health – Meriter Breastfeeding Helpline
Office clinic visits for hands-on help
A private Lactation Lounge for visitors to use for nursing and pumping (located in 3 Atrium above Dr. Joe Coffee Kiosk)
Lactation Lounge
While patients and visitors are welcome to breastfeed anywhere within our hospital and clinics, those looking for a private space are invited to use our Lactation Lounge. The Lactation Lounge is conveniently located in 3 Atrium near the After-Hours Clinic, surgical waiting area and Dr. Joe. The room features a pump, comfortable chair, small table and electrical outlets. A bathroom is also located nearby.
Lactation Services Offered
Inpatient Visits
Following the birth of your baby, our nurses are there to answer questions you may have and can help educate you on how best to meet your breastfeeding goals. If you are struggling with breastfeeding, our lactation consultants are there to support you and your nurse. You may ask your nurse to speak with a lactation consultant at any time during your hospital stay. Our consultants are available for inpatient visits seven days a week on our post-partum floors and in our NICU.
Breastfeeding Helpline
Our helpline answering machine is on 24 hours a day, and we return calls between 8:00 am and 4:00 pm for any questions or concerns which may arise after you return home. Please feel free to call at
(608) 417-6547
.
Outpatient Visits
If breastfeeding questions or concerns arise after you return home, our consultants can help with any breastfeeding challenges you may face, including positioning, latch-on, engorgement and low milk supply. Our goal is to provide you with the help you need to reach your breastfeeding goals. Call
(608) 417-6547
to schedule a one-on-one outpatient visit. This visit involves a fee so check with insurance first.

Additional Patient Resources
Birth & Newborn Services Contact Information
Obstetric & Gynecology Specialists
Maternity News & Articles