38-Year-Old Patient's Breast Self Exam Leads to Life-Saving Care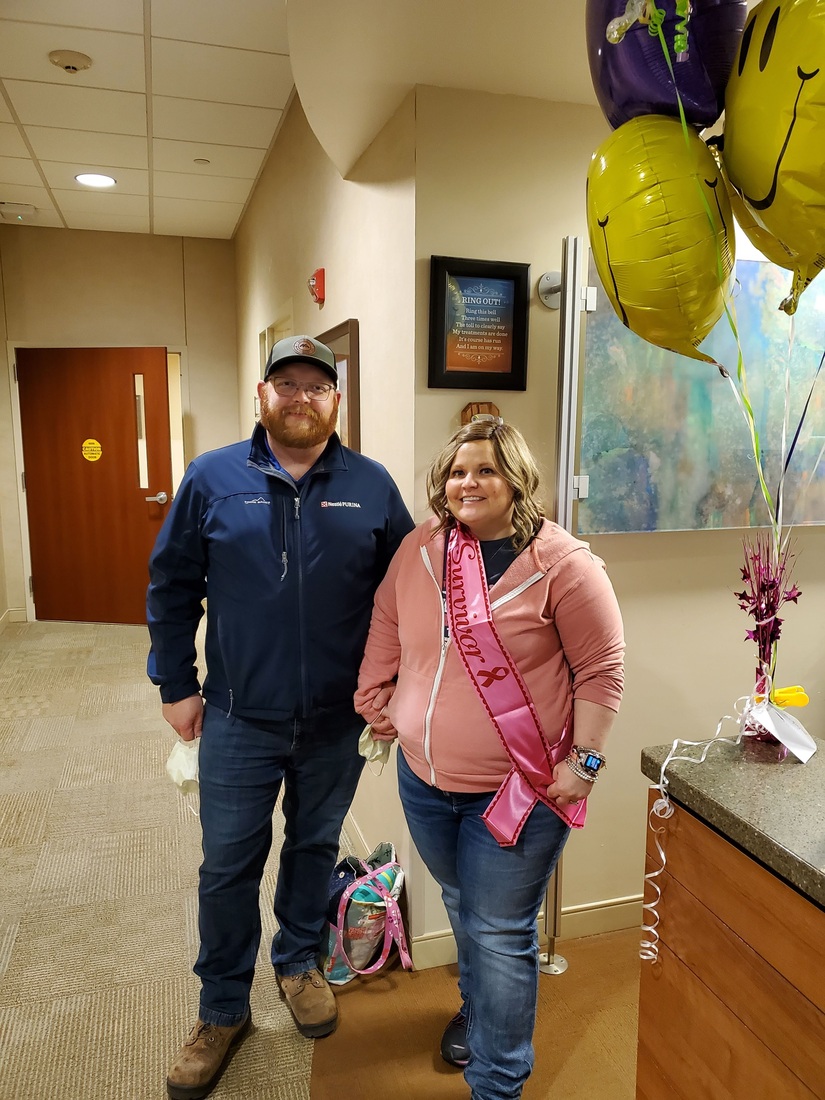 No stranger to breast cancer, Sara Kingland, had a strong family history. Both her mom and aunt were diagnosed with breast cancer in their late thirties, which led Sara to having genetic testing for BRCA genes and a baseline mammogram prior to starting a family with her husband, Ben.
"I tested negative for the BRCA genes and I had a clean baseline mammogram. With that peace of mind, I went on living my life and have three healthy kids. All the while remaining diligent about self-exams," says Sara.
It wasn't until June 2021, when Sara noticed a painless rigid area in her left breast.
"It felt like a hard spider web, nothing like a marble or what you might expect to be looking for. I knew it wasn't normal and should have it checked out," shares Sara.
Unable to get into her normal primary care provider, Sara saw Dr. Benjamin Paul at UnityPoint Clinic Family Medicine in Humboldt who placed an order for Sara to get a mammogram at the Norma Schmoker Women's Center.
"I didn't have a huge sense of urgency since I didn't have the gene and was only 38 years old at the time, so I procrastinated setting up the appointment," says Sara. "It was probably three weeks or so, until I went in for a mammogram."
After her mammogram, Sara was asked to come back in for an extra imaging and an ultrasound and later a biopsy that same week.
"I knew something was up when I came in for additional images and they brought in the rad tech with the most experience to assist. I remember talking with my radiologist, Dr. (Alan) Stone, who reassured me that I was in good hands."
Sure enough, the biopsy revealed an invasive lobular carcinoma that was ER, PR positive and HER2 negative. This means the cancer began in the milk-producing glands and had both estrogen and progesterone receptors; however, did not have high levels of growth-promoting protein. Knowing the breast cancer type, helps determine the best treatment plan.
"I first saw the results on my patient portal and received a call from Dr. Paul who confirmed the news. I had joked with him that I read the big scary words on the portal. He asked what questions I had and referred me to the High-Risk Breast Clinic."
When sharing the news with her husband and kids, she was met with only positive vibes and support.
"Ben (husband) said he would do whatever he could to make it better and was super supportive. And, telling the kids was easier than anticipated," says Sara. "They just thought I'd have to take yucky medicine that makes me lose my hair and have to wear a wig."
Sara continued her journey at the UnityPoint Clinic High-Risk Breast Clinic with Dr. Laura Miegge.
"I met with Dr. Laura who asked me 'where have you been?'" says Sara. "With my family history, despite negative genetic testing, I was considered extremely high risk and should have been a part of this clinic ten years ago when I moved to the area."
Quickly building trust with Dr. Laura, Sara had a Breast MRI which showed the tumor was much bigger than originally indicated on the mammogram and what had been biopsied. She also underwent more genetic testing only this time it would check for 16 genes, but once again came back negative.
After the Breast MRI and genetic testing, Sara had consults with her medical oncologist, Dr. Sarah Tofilon, and radiation oncologist, Dr. Nicholas Olson at the Norma Schmoker Cancer Center. With the discrepancies of size and interest in a specific surgery, Sara felt supported by her care team to seek out a second opinion in Iowa City.
"I was adamant that I did not want a mastectomy, so I went to Iowa City for a oncoplastic reduction. However, it was convenient to coordinate care and be able to have my chemo and radiation treatments close to home at the Norma Schmoker Cancer Center. The biggest change my kids noticed at home, other than losing my hair, was I was home more."
Sara adds, "They were able to go to school and daycare when I received my treatments, and I was even able to drive myself to and from most of my appointments."
One month from completing sixteen rounds of chemo, Sara started radiation.
"The machine (True Beam Linear Accelerator) is new and amazing. It was so precise, and my skin felt like a sunburn at worst," explains Sara.
Just shy of turning 39 years old, Sara finished her treatments.
"My biggest regret is not having been to the High-Risk Breast Clinic sooner. I hope women who hear my story and who have any family history inquire about a referral the High-Risk Breast Clinic. I wish I had a Breast MRI in addition to my baseline mammogram."
If you have family history or other risk factors for Breast Cancer, talk to your primary care provider about being referred to the High-Risk Breast Clinic. Additionally, as we enter October, Breast Cancer Awareness month, may it serve as a reminder to schedule a mammogram if you're due for one and to stay on top of monthly self-breast checks. As always, if something doesn't seem right schedule an appointment with your primary care provider.