Patients and Visitors
UnityPoint Health - Marshalltown Hospital
People are amazing — we help keep them that way.
In Marshalltown, we offer so much more than exceptional healthcare. We also provide patients and visitors with the comforts of home, the convenience you need and helpful, compassionate service.
With those things in mind, we've put together some useful information to help support and care for our patients, their family members and visitors. If you don't find the information you're looking for here, our hospital volunteers or staff members will be glad to help you.
Hospital Amenities & Services
Cafeteria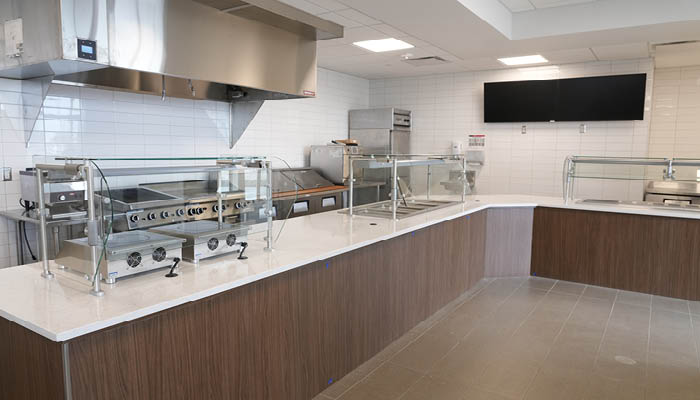 The hospital's cafeteria is typically open for visitors and staff dining, and it's located on the main level, between the emergency department and the main entrance.
Hours:
Monday – Friday, 7 a.m. – 6 p.m. (6-7 p.m. badge access for employees only)
Breakfast: 7 a.m. – 9:45 a.m.

Traditional breakfast items, made-to-order omelets, oatmeal, etc.

Lunch: 11 a.m. – 1:30 p.m.

Deli station with specialty sandwiches
Grill station with made-to-order items
Grab-n-go with fresh-made salads, sandwiches, heat-and-eat meals and more
Salad bar – self-serve with fresh ingredients, plus seasonal salads such as potato salad, pasta salad, etc.

Beverages, snacks, desserts
Breaks: 9:45-10:30 a.m. and 1:30-2:30 p.m.
Monday – Sunday (Dinner)
Guests and employees are welcome to use our Room Service menu. To order, dial the seven-digit number 104-1600. Meals are typically delivered within 30-45 minutes.
Weekends and Holidays (Lunch)
Lunch: 11:15 a.m. – 1:30 p.m.
Free Wireless Internet
Connect to the "UnityPoint Guest" network (if you have issues, make sure "DHCP" is enabled), then open your web browser.
Enjoy – with no passwords, fees or limits!
Your Safety
Fall Prevention Program
In Marshalltown, our goal is to make your hospital stay as safe and pleasant as possible. To meet this goal, we have developed a fall prevention program that includes identification of patients at risk for falls and steps to prevent falls.
Patients who have certain illnesses, physical limitations, weaknesses or other medical conditions that increase the risk of falls will be identified. This alerts the staff involved in your care throughout the hospital that you are at risk to fall.
We need your help to safeguard you and your family member against falls. Please follow these guidelines while you are in the hospital.
Ask the nurse or physical therapist if you can be out of bed up to the bathroom alone and follow their instructions.
Ask for help before getting out of bed if you feel dizzy, weak or if you need help managing your IV poles or other equipment.
Tell the doctor or nursing staff if you have a history of falls.
Wear non-skid slippers when getting out of bed, if you do not have any, ask the nursing staff to get a pair for you.
Keep your bedside free of clutter and items on the floor.
Use the call light in the bathroom if you need assistance getting back to bed.
Notify nursing staff if a spill occurs on the floor.
Ask to have objects such as bedside tables, phone and call lights within easy reach if you are not able to be up.
If you require glasses or wear hearing aides, please use them.
We are here to help you in all aspects of your care, including your personal care needs. Please call us if you need help with anything.
Our staff is committed to making the patient care environment safe and as pleasant as possible for our patients. Be sure to ask the staff questions if you have them. Asking questions and speaking up makes patient care safer for everyone.
Patient Safety & Infection Control
A patient's safety is a priority at UnityPoint Health – Marshalltown. Physicians, nurses, therapists, other caregivers and volunteers will work to provide safe care while you are here and to protect you against accidental injury. We encourage all patients and families to help create a safe environment and offer suggestions that could protect patients.
The single most important way you can help is to be an active member of your health care team. Our patients and families are encouraged to SPEAK UP if there are questions or concerns.
Notice the medications you are given and ask for information about them
Ask all healthcare workers who have contact with you if they have washed their hands or used a hand disinfectant
Find out why tests and treatments are needed – and what the results are
Follow the instructions given to you by caregivers
There is no smoking within the hospital
No matches or lighters are allowed in your room