UnityPoint Health - John Stoddard Cancer Center - Radiation Oncology
Today's Hours: 8:00 AM to 4:00 PM
Hours of Operation
Monday:

8:00 AM - 4:00 PM

Tuesday:

8:00 AM - 4:00 PM

Wednesday:

8:00 AM - 4:00 PM

Thursday:

8:00 AM - 4:00 PM

Friday:

8:00 AM - 4:00 PM

Saturday:

Closed

Sunday:

Closed
View Map
Radiation Oncology and Brachytherapy Center
As the state's first hospital-based radiation oncology department at Iowa Methodist Medical Center, UnityPoint Health – John Stoddard Cancer Center Radiation Oncology and Brachytherapy Center continues to be one of the most technologically advanced radiation oncology departments in Iowa.
We view the family as an important part of the care we provide. Our ultimate goal is to provide accurate, precise and timely service to cure or relieve discomfort for the patient diagnosed with cancer.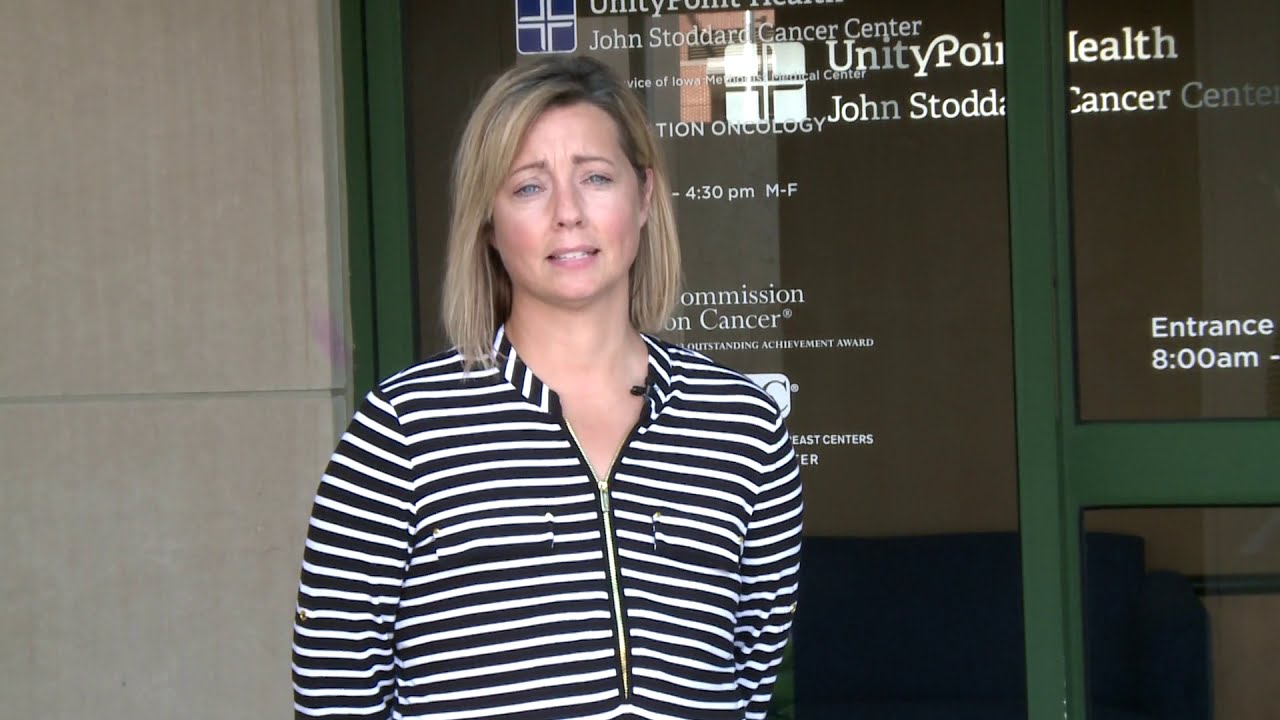 Stoddard Cancer Center Radiation Oncologists
Our multidisciplinary team is available 24 hours a day, seven days a week to accommodate patients and referring physicians in the event of an emergency. Approximately 90 percent of our patients are served on an outpatient basis and we strive to achieve a no wait policy for our patients. Our physicians are dedicated to educating patients and their family about the treatment process every step of the way.
Radiation Therapy
Radiation therapy works by focusing a beam of high-energy radiation or implanting radioactive sources in the area of tumor growth. Radiation can be used alone or in combination with other treatment, such as surgery and/or chemotherapy. In other cases, radiation therapy is employed as a supportive measure to reduce pain, pressure or bleeding. In addition, numerous benign tumors (non-cancerous) can be treated with radiation therapy.
External Beam Radiation
One of the common forms of radiation therapy used at Stoddard Cancer Center is external beam radiation therapy. This technique involves directing a "beam" of radiation from outside of your body to the cancerous organ and/or tissue within your body. External beam radiation is applied by a linear accelerator, a high-energy X-ray machine. The linear accelerator directs the radiation at the tumor. The procedure itself lasts only a few minutes. It is administered over a period of six to eight weeks, typically five days a week. Recent advances in radiation therapy can more accurately target the tumor with higher doses of radiation, while minimizing damage to healthy tissue. External beam radiation therapy poses no risk of radioactivity to you or others with whom you have contact. You can continue normal activities with family and friends.
Hyperthermia Therapy
Hyperthermia is a therapy used to heat tumors. Research has shown that in some tumors, heat can damage cancer cells and increase the effect of radiation therapy.
Using focused microwave energy, the tumor is heated to approximately 108°F. Performed superficially or via interstitial probes, heat can damage cancer cells at levels that are usually safe for normal cells, and can be used to attack cancer in four major ways:
Heat damages or weakens the cells of the tumor.
Heat increases blood flow through the weakened tumor, which can allow radiation therapies to permeate the tumor, not just attack it from the outside.
Increased blood flow raises oxygen levels in tumors so that the cancer can be more effectively treated by radiation therapy.
When the body senses fever it can stimulate the natural immune system. For these reasons, hyperthermia is usually used in combination with radiation therapy.
Hyperthermia treatments are typically given several times a week, either before or after radiation therapy. Each treatment session lasts for approximately one hour. This type of treatment has shown to be most effective in treating some tumors that are recurrent or progressive despite conventional therapy. Hyperthermia can potentially be used to treat cancers which invade the skin or cancers which lie close to the surface of the skin. These can include recurrent chest wall cancer, recurrent head and neck cancer, recurrent melanoma and recurrent sarcoma.
Accelerated Partial Breast Irradiation (APBI)
Patients can undergo APBI using one of three catheters: Contoura™, MammoSite® and SAVI™. The size of a patient's breast, as well as the size and location of the tumor, determines which applicator is best to use. After the catheter in the patient is connected to the remote afterloader, the radioactive source-a capsule on the end of a cable that's coiled up inside the afterloader-spools out and enters the balloon catheter inside the patient's breast. Once inside the breast, the source delivers radiation for a specified amount of time based on the size of the tumor, typically approximately five minutes. Finally, the cable coils back into the afterloader, removing the radioactive source from the catheter, and treatment is finished. The twice-daily treatments are usually performed at six-hour intervals.
Candidates for this procedure have early-stage breast cancer (stage I or stage II) and have had a lumpectomy at Stoddard Cancer Center. If it is discovered that the woman's tumor is too close to the surface of the skin, or if the lumpectomy cavity is not uniform, the cancer center will administer external radiation from the high-dose-rate machine.
High Dose Rate (HDR) Brachytherapy
High Dose Rate (HDR) Brachytherapy is a form of radiotherapy where a radioactive source is brought to a tumor target via a catheter that is placed within a natural or created channel. HDR treatments are typically outpatient procedures that are much more efficient and effective than traditional therapies. The ease of catheter placement and fast delivery of the dose makes this a viable treatment option.
A typical HDR treatment lasts from 8 to 20 minutes. Stoddard Cancer Center has one of the state's only high dose rate HDR units allowing these types of treatments to be given on an outpatient basis. Patients experience fewer side effects because less radiation reaches surrounding healthy organs and tissue. Treatment is tailored to each patient based on treatment site.
Benefits
Reduces treatment time to days instead of weeks.
Provides fewer side effects by placing radiation directly into the tumor.
Offers greater control and accuracy of treatment, including dosing, source of radiation location and time it stays at each location.
Requires minimal recovery time, allowing you to go home within hours after treatment with few restrictions.
Preserves internal tissues, as no radioactive seeds migrate into other organs.
Able to shape radiation dose to fit the tumor.
Allows completion of radiation before chemotherapy begins, if required.
HDR has been a proven standard of care for breast, cervical, endometrial, esophageal, prostate, rectal and lung cancer treatments. Having one of only a few HDR units in the state of Iowa for the past ten years, Stoddard Cancer Center has cared for hundreds of patients who would have otherwise had weeks of additional radiation treatment or required a hospital stay.