UnityPoint Health - Grinnell Regional Medical Center (GRMC) is currently the only hospital with an obstetrics unit in Poweshiek, Marshall, Iowa and Tama counties.
Our commitment to stabilize and grow our maternal health service line for our region remains steadfast because we believe it is fundamental to our communities and to our mission.
The Delivering Our Future Campaign is an opportunity for our friends to philanthropically support GRMC's plans to renovate and optimize the existing space of our obstetrics (OB) unit, including an increase in the number of labor, delivery, recovery and postpartum rooms.
A Defining Moment
Pregnant women living in rural America face unprecedented barriers to maternity care. More than 100 rural hospitals throughout the country have closed since 2010. Of those that remain, 20% are at risk of closing, and many are choosing to shut down their OB units due to the growing shortages of physicians, nurses and anesthesia staff.
In Iowa there were 79 hospitals with OB units in 2013; there are only 56 today, a decrease of nearly 30%.
Hospital and/or OB unit closures mean laboring women in rural areas face longer journeys, which lead to an increase in births outside of the hospital, births in hospitals without OB care or births in an emergency department. These situations put the mother and the baby at risk.
Committed to Grow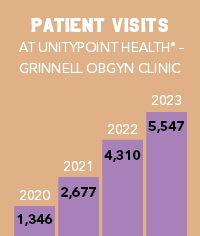 Patient visits to our
OBGYN Clinic
in 2022 increased by more than 60% over the preceding year, and 2021 visits were nearly double those in 2020. The upward trending number of expecting moms receiving prenatal care in our clinic supports the expected increase in babies to be born at GRMC.
We must respond to this need for important OB services within the hospital setting. Growing the OB unit is critical to meeting the needs of the parents and babies in our rural region of central Iowa.
Last renovated in 2000 with the support of John and Jewel Kintzinger, there are currently only three labor and delivery rooms. With increasing frequency, our labor and delivery rooms are consistently full. With the growth of our OBGYN Clinic space and resulting patients receiving their care here, more labor and delivery rooms are needed.
"Having maternity services available locally not only serves parents-to-be, but also extended family members, business owners and the communities at large in the GRMC service area. "

Echo Jansen, GRMC donor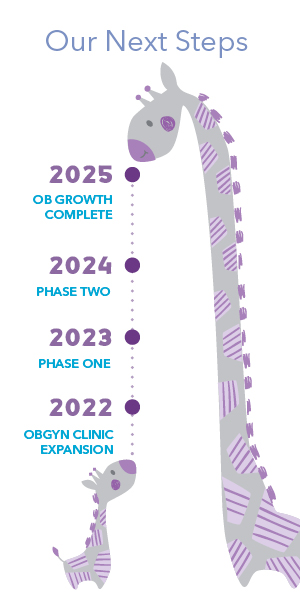 A Labor of Love
The plans to accommodate this growth include the addition of a new, fully-equipped labor, delivery, recovery and postpartum (LDRP) room to meet our immediate needs. The cost for this first phase is $534,000.
Phase two includes additional renovations to the OB unit, with an estimated cost of $2 million.
To make this possible, we need your philanthropic support.
As a private non-profit and non-tax supported medical center, GRMC relies on support from the community to help with extraordinary projects to improve patient care or provide critical services – projects just like the growth of our OB unit.
You can help the parents and babies who live in our rural communities have access to the care they need and deserve - close to home.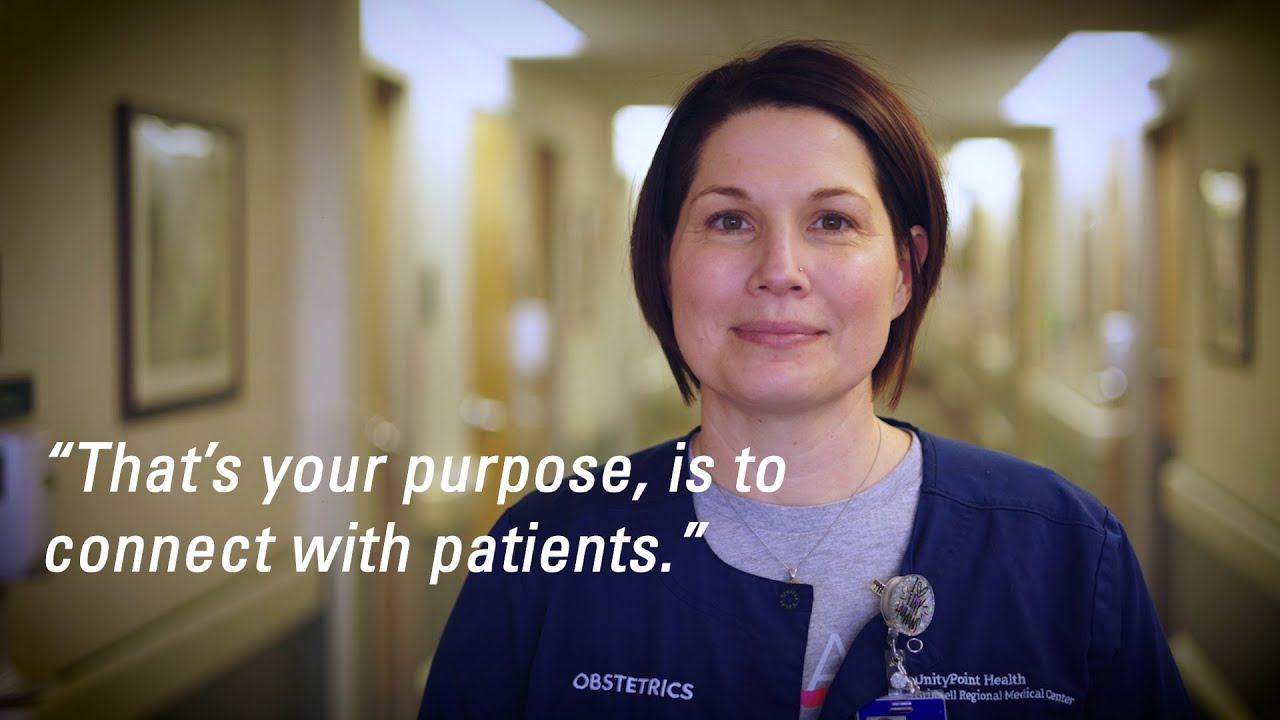 UnityPoint Health – Grinnell Regional Medical Center was selected by the American Hospital Association (AHA) to be featured in their "We are Hospitals" video as the voice of rural health care. Our team members were able to speak on a variety of topics including rural maternity services. Take one minute to listen and watch as Cherish Hansen, RNC-MNN, shares what drives her and makes working as an OB nurse so special. We are proud of the work our Grinnell teams do every day to provide exceptional maternity services to our rural communities.

This architectural rendering shows the new LDRP room from the patient's point of view. To the left of the bed is the changing table and the doors to the hallway. Directly ahead is the infant warmer and the wall behind it provides a sink and storage. The door to the right of the infant warmer opens to the ADA compliant bathroom. The larger room size allows for the door to swing open wide enough for easier access to the bathroom.

This architectural rendering of the new LDRP room shows the patient bed positioned in front of a wall that provides access to required gasses such as oxygen. Current codes have increased the number of gasses to be available in LDRP rooms. To the right of the bed is the fetal monitor. To the left of the bed is a couch which provides more seating for family members. A recliner is in the corner for the new mom to sit in while bonding with her baby.
A Foundation to Grow On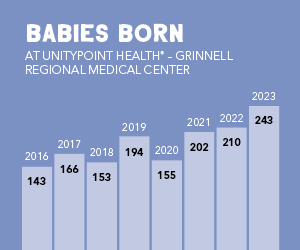 In 2022, 210 babies were born at GRMC, and the trend is expected to continue to rise.
Ensuring each baby has the best care possible before leaving our facility is the focus of our entire OB team, as evidenced by our five-year designation as a Silver Safe Sleep Hospital by Cribs for Kids® and being named to the Hepatitis B Birth Dose Honor Roll by the Immunization Action Coalition. GRMC provides a wide array of education and support opportunities for the parents-to-be, including lactation specialists, parenting classes, postpartum home visits and outpatient clinic consultations.
Our team of medical professionals specialize in exceeding your expectations for maternity care.
"The OB nurses are absolutely wonderful. They were very caring, very prompt and really helped me to recover well. My OB doctor was so great with her care and compassion and really made me feel like she was invested in me and my baby's well-being."
OB Patient
Help Us Grow
Be part of every GRMC baby's first hours of life and donate to the Delivering Our Future campaign. Your support is critical, and we ask you to consider helping in one or more of the following ways.
1

Determine the impact you wish to make with your gift.
When you are ready to commit your support to this project, we are ready to help you make a transformational gift in a manner that meets your philanthropic goals.

Some options to consider:
a. A gift via check, credit card or stock

b. A two- or three-year commitment to maximize your support.

2

Connect the GRMC Foundation to your friends and family.
Our supporters are ambassadors of GRMC in the community. You are influential in growing awareness and momentum for this project and our mission.

3

Share your why.
Each donor has their own personal reason to give. When donors share their why it often motivates others in the community to give. Contact the GRMC Foundation to share your why and inspire others to donate.
Contact Us
Contact Donna Fischer at (641) 236-2079 or donna.fischer@unitypoint.org for more information and support options.