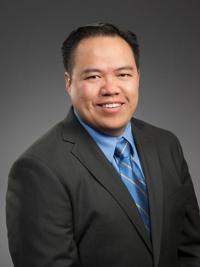 Gender: Male
Languages Spoken:
Office Hours
Sun: Closed
Mon: 7:30AM - 5:00PM
Tue: 7:30AM - 5:30PM
Wed - Fri: 7:30AM - 5:00PM
Sat: Closed
About Kenneth L Ligaray, MD
Education
Med School College
University of the Philippines

Residency

University of Illinois at Chicago

Fellowship

St Louis University School of Medicine
Board Certifications
Endocrinology Diabetes and Metabolism


American Board of Internal Medicine
Biography
About This Provider
"I will do my best to offer you care and I will strive to make you happy and free from complications."
Medical Interests
Dr. Ligaray has special interests in diabetes management and thyroid disorders. He helps patients treat and manage a variety of concerns, including high blood sugar, high blood pressure, high cholesterol, pituitary and adrenal gland disorders, low testosterone and osteoporosis.
Medical Philosophy
Dr. Ligaray was drawn to endocrinology because it allows him to explain complicated conditions in a way patients can easily understand. By taking the time to listen to his patients' individual concerns, he determines how best to help them feel better. He strives to empower patients by educating them about their condition and treatment options to help them make informed health care decisions.
Personal Interests
During his free time, Dr. Ligaray enjoys spending time with family, participating in his children's school PTA and volunteering at church. He is fluent in Tagalog and Cebuano.
About Endocrinologists
Endocrinologists work with disorders caused by glands and hormones that make up the endocrine system. Endocrinologists often work with patients who have diabetes, as well as those with thyroid, adrenal and pituitary disorders.
About The Diabetes Care Team
The Diabetes Care Team is an interdisciplinary team of providers with specialized training in diabetes management. The team works with patients to create personalized treatment plans that integrate the medical, nutritional and behavioral aspects of diabetes.