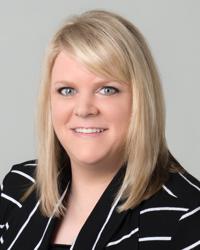 Katie Maybanks, ACNP
Cardiology
Structural Heart Disease Cardiology
---
Hospital Affiliations:

Jones Regional Medical Center
St. Luke's Hospital

Gender: Female
Languages Spoken:
About Katie Maybanks, ACNP
Focus Areas
Cardiology
Structural Heart Disease Cardiology
Biography
Year started at St. Luke's? I began at the heart clinic as an RN in 2006. After I received my nurse practitioner license in 2015, I was a hospitalist for a short time, but returned to cardiology in 2016.
Why did you choose to work with cardiology patients? As an RN in cardiology, I gained so much knowledge and really became passionate about heart care. My time as a hospitalist defined that passion. When I returned to cardiology, I was the first structural nurse practitioner there. Structural cardiology deals with structural abnormalities of the heart, such as valve disorders and congenital heart defects. I prepare patients for procedures, provide post-care in the hospital and follow them in the outpatient setting.
Why did you choose to work for St. Luke's? Thankfully, I was recruited to the heart clinic as an RN. St. Luke's helped me become a nurse practitioner. They do a really good job trying to advance and retain staff. They're invested in you. There's comfort in knowing you have a home base. 
What's your proudest moment at St. Luke's? The moments that reinvigorate me are the times patients show gratitude or family members take time to let you know how patients are doing. I've also received a couple of Guardian Angel Awards, and that's always a really special moment, when a patient writes something and tells people about you. 
I also like to be a mentor. Having new nurses say, 'thanks, I didn't know that' or someone show appreciation after helping them makes you keep wanting to do it. It keeps me going.
What's the biggest thing you have learned from caring for patients/what do our patients teach you? They constantly teach me to listen and be a partner in their care. If you spend extra time getting to know patients in the beginning, you've set the tone for the rest of the relationship.
What do you believe makes St. Luke's stand out in terms of heart care and other services? I think our investment in patients, truly providing patient-centered care makes St. Luke's stand out. I'm proud to work for a place that truly does have the patient's best interest at its core. And that's coming from the top down. From our administrators to the providers I work with every day, to the nurses, to all our team members – we're always focused on the patient.
We're also constantly learning. We're always sending each other articles, information on new guidelines and updates. The doctors help educate us on innovations that are coming out. They keep us up-to-date and advance heart care in a very thoughtful way that's best for patients.
What are words you live by as a St. Luke's team member? Why? Spreading kindness is a big thing. I teach my children that. I tell them the best thing you can do every day is be a kind person, and know everyone is important.
How do you use your skills outside of work? Anytime you tell your family or friends you're in healthcare, you're always going to help guide them or give them information to be able to make their own decisions. There are also times when you are a first responder to accidents, or there is someone in the grocery store who passes out. So you don't 'turn it off' when you're outside the clinic. I believe I have an obligation to help, not just because I'm in healthcare – it's also being a good human.
Describe your family: My husband, Jon, is a Cedar Rapids native, so he brought me here from the Quad City area. We have two sons, and they are my whole world outside of work.
What do you like to do in your free time/for fun? I enjoy spending time with my family – we do everything together. My oldest enjoys sports, so we spend a lot of time outdoors and we love it. We also enjoy traveling to my son's soccer games and taking weekend adventures in different towns. We have an amazing group of family and friends who we spend time with both at home and meet up with when we travel.
What are some fun facts about yourself? (1) I love making 30-minute meals and challenge myself to do that. I grew up on Rachel Ray in college, so I enjoy timing myself when I cook. (2) My family is passionate about raising awareness about autism, and how everyone is unique and important.