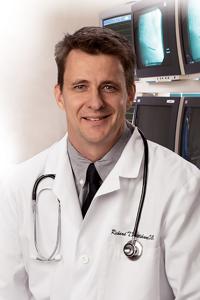 Richard T Kettelkamp, DO
Cardiology
Interventional Cardiology
Structural Heart Disease Cardiology
---
Hospital Affiliations:

Jones Regional Medical Center
St. Luke's Hospital

Gender: Male
Languages Spoken:
About Richard T Kettelkamp, DO
Education
Med School College
Des Moines University- Osteopathic Medical Center

Residency

University of Missouri

Internship

University of Iowa Hospitals & Clinics / University of Missouri
Board Certifications
Cardiovascular Disease, Interventional Cardiology


American Board of Internal Medicine
Focus Areas
Cardiology
Interventional Cardiology
Structural Heart Disease Cardiology
Biography
Podcast Episodes Featuring Dr. Kettelkamp
LiveWell Talk On… podcasts from UnityPoint Health – Cedar Rapids are designed to educate, inform and empower listeners to live their healthiest lives. Listen on Apple Podcasts, Spotify, Pandora or wherever you get your podcasts.
Ep. 4 - Heart Health and Heart Screenings
Ep. 26 - Varicose Veins
Ep. 103 - Know Your Numbers to Prevent Heart Disease
Ep. 208 - St. Luke's Heart and Vascular Services Expansion
Ep. 247 - Structural Cardiology
Videos Featuring Dr. Kettelkamp
Heart Healthy Minute: What is TAVR (Transcatheter Aortic Valve Replacement)
Patient Testimonials:
Saved After Sudden Cardiac Death - Norm's Story
About Dr. Kettelkamp
What led you to pursue a career in cardiology? I've always found cardiology extremely interesting, particularly because there's always new technology being developed. It's also an area where you can have a significant impact on somebody's life. During my training, fellowship and residency I explored other areas of medicine, but in cardiology you make life or death decisions. It's gratifying to help patients survive and witness their recovery.
What kind of training is required to be a Structural Cardiologist? After college, you go to medical school and complete a residency in internal medicine. After that, there's a three-year residency or fellowship in general cardiology. Then you sub-specialize in interventional cardiology, followed by coronary vascular intervention and finish with a one-to-two-year fellowship in structural training. That's about 17 years down the road after high school, so it's a long haul – a lot of specialized training.
Year started at St. Luke's? I joined Cardiologists, PC in 2006, just after fellowship training. That cardiologist practiced merged with St. Luke's Hospital in 2010 and is the largest and most experienced heart care team in Eastern Iowa.
Describe a memorable moment at St. Luke's? Almost every day there's someone who comes into the ER with heart attack symptoms. One situation in particular, a patient had collapsed on the job, a coworker started CPR, and the person received CPR for 45 minutes in route. Once the patient arrived, we opened a serious blockage, then initiated therapeutic hypothermia, which lowers the body temperature to reduce the impact on the brain. The next day the patient came out of sedation, started talking to one of their kids, and was neurologically intact. It was miraculous.   
What's the biggest thing you have learned from caring for patients/what do our patients teach you? Patients want us to help them make decisions, but ultimately treatment is up to them. It's our job to educate and advocate for our patients, but it's not our place to push our beliefs on them. We should help facilitate their decision, but it's their decision. I had a reminder about that a while back, with a patient who had severe aortic valve stenosis (narrowing of the aortic valve). I began telling the patient about their condition and how we treat it. We talked about TAVR and how things are done, and I remember the patient waving their index finger saying, "Now wait a second, son, I'm 95. I live with back pain 24 hours a day, I have no living relatives, and all of my friends have passed. What makes you think I want to do anything?"
What do you believe makes St. Luke's stand out in terms of heart care and other services? There's no doubt - our care and people are what make St. Luke's stand out, especially the experience and talent of the people on the Heart Care and Telemetry inpatient unit and everyone in the Heart and Vascular Center. Our providers are skilled in all aspects of cardiology and are second-to-none. We have structural imaging cardiologists and electrophysiologists who are the best in the country. We have structural cardiologists, interventional cardiologists, vascular therapy specialists, a heart failure clinic – we cover the whole gamut of heart care. The entire time I've been in practice, St. Luke's has always fostered and supported the desire to be a center of excellence, and we've achieved that and will continue to do so. We're clearly the most advanced and specialized cardiology practice in the area. There's no question about it; we're at the cutting edge of all the newest advancements, as well as the "tried and true" procedures.
What are words you live by as a St. Luke's team member? Why? If it's a decision made with in the practice or about adopting new technology, ultimately the question I always consider is, "Is it good for the patient?" Everything I do is predicated on how it will impact patient care. As long as it's good for the patient, it's the right decision.
Have there been times when you've had to use your skills outside of work? On a flight with my family, someone needed a doctor. It wasn't a cardiac issue, but I was able to offer advice about whether or not we needed to divert our flight. More recently, someone collapsed at my daughters' school; and invariably someone at a dinner party has an ache or pain they want to ask you about. These types of things happen all the time, and you jump into action to help.
Describe your family: My wife and I have been married for 29 years, and she is fantastic. She owns two shops in town, Scout and Scribe, and she's extremely talented. We have a 20-year-old son who's a college sophomore studying pre-med, and twin daughters who are high school sophomores.
What do you like to do in your free time/for fun?
I mountain bike. I tell my patients to exercise every day, and I follow my own advice. I also like woodworking. My wife and I have done numerous home remodels, and we're working on a building now.
What are some fun facts about yourself? (1) I've biked RAGBRAI several years with my son; we started when he was nine years old. A couple of times we went for the whole week, but other times we would sneak in a few days. It really makes you appreciate how pretty Iowa is. (2) I love to snow ski; we try to go somewhere every year to ski. I've been on the slopes since I was three years old. (3) I graduated from Linn-Mar High School.
Anything else you would like to share? The community of Cedar Rapids, and St. Luke's in particular, is second to none. Something people may not know is when the Affordable Care Act was being developed, they talked to experts across the country. They looked at communities that provided the highest quality of care at the lowest cost, and Cedar Rapids, Iowa, was one of 12.