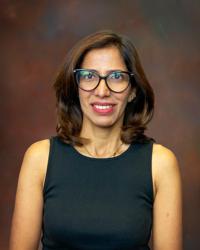 Hospital Affiliations:
Gender: Female
Languages Spoken:
About Pritee Taxak, MD
Education
Degree
John Hopkins University: MD - Body Imaging, Radiology
University of Louisville Radiology
Joan C Edwards School of Medicine: Doctor of Medicine (MD) - Medicine

Internship

University of Louisville Department of Medicine
Biography
The future of medicine lies in imaging. As a radiologist, I plan to be an innate part of this future. I have always believed that intellectual evolution comes from an open mind and the quest of knowledge.   
I am committed to offering the highest quality medical care by focusing on blending the latest in radiological technology with specialized expertise to diagnose and treat patients. I am specialized in all aspects of thoracic, abdominal, pelvic CT and body MRI, including hepatobiliary, pancreatic, cardiac, gastrointestinal, genitourinary, female pelvis and prostate MR.   
I hope to provide multidisciplinary collaboration with other services, including internal medicine, cardiology, hepatology, urology, oncology and surgery.  
The medical field is about putting patients' needs first and providing them with the best care possible. This feeling of helping my patients in some of their hardest times is incredibly gratifying. The desire to replicate this feeling strengthens my commitment to grow as a physician.