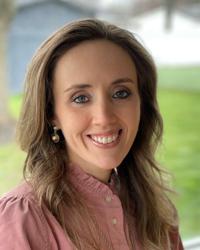 Marlee Hansen, DDS, MS
Dentistry
Pediatric Dentistry
---
Accepting New Patients
UnityPoint Provider
Hospital Affiliations:
Gender: Female
Languages Spoken:
About Marlee Hansen, DDS, MS
Education
Dental School
Ohio State University: DDS

Residency

Nationwide Children's Hospital, Ohio State University Pediatric Dentristy

Undergraduate Education

University of Iowa Integrated Physiology
Board Certifications
Board Eligible


American Board of Pediatric Dentistry
Biography
Why did you become a physician/provider? Initially, I didn't have clearly defined reasons, but now I feel lucky I decided to go down this path. I love being an advocate for families. I like to respond to their concerns and help them feel relieved and confident that we have a good plan.
What qualities best describe the care you provide to your patients? Patient and family centered: I try to individualize care and find something that will work for each child to get them where they need to go. I empower parents to make decisions. 
Being a healthcare provider, what drives/motivates you each day? I'm driven by quality and safety and always looking for ways to improve care and the experience families have. I encourage everone to give feedback!
Personal Interests: Camping, visiting national parks, walking, reading and family time.
Clinical Interests: Individualized treatment plans, trauma, management of patients with special health care needs
Procedures: Traditional dental treatment (fillings, crowns, extractions, some root canal treatments), minimally invasive dental treatment, management of dental trauma, dental treatment in the operating room