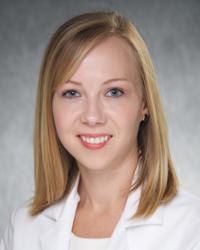 Kate Jarvis, MD
Behavioral Medicine
Family Medicine
Psychiatry
---
Accepting New Patients
UnityPoint Provider
Hospital Affiliations:
Gender: Female
Languages Spoken:
About Kate Jarvis, MD
Education
Medical Education
University of Iowa College of Medicine

Residency

University of Iowa Family Medicine & Psychiatry
Board Certifications
Family Medicine


American Board of Family Medicine
Focus Areas
Behavioral Medicine
Family Medicine
Psychiatry
Biography
Why did you become a mental health services provider? I have always had a strong interest in helping others from the time I was in grade school. I was inspired by my grandma who was a nurse and always knew what to recommend to make us feel better.
What qualities best describe the care you provide to your patients? I like to use shared decision making when working with patients so we can come up with a plan of care that they feel confident in and comfortable with.  
Being a healthcare provider, what drives/motivates you each day? I look forward to hearing what is going well and what isn't going well. I love being able to make changes, no matter how big or small, that can really make a difference in the care a person receives. 
What is the most important message you would like to share with your patients? I think it is important for patients to know they are not alone and there are people available, including me, who want to help.
What would you like your patients to know about you? I am from rural Illinois and a big family. I value a strong, trustworthy patient-physician relationship.
Are there any fun facts that you would like the community to know about you? I grew up on a dairy farm in Northern Illinois. I milked the neighbors' cows for money for college. Then I worked as a nursing aide and a pharmacy technician to be able to get to where I am today. I love to sew anything from doll dresses to small quilts. I always have some sort of craft project going.
Personal Interests: Cooking, sewing, crafts and spending time with family.
Psychiatric Medication Management, Obesity Medicine, Preventive Medicine