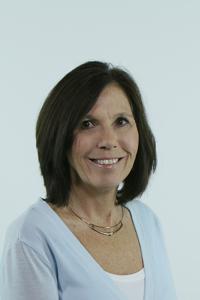 Accepting New Patients
UnityPoint Provider
Hospital Affiliations:
Gender: Female
Languages Spoken:
About Diane M Hoover, ARNP
Education
Med School College
University of Iowa College of Nursing/ Coe College / Finley Hospital School of Nursing
Biography
How many years have you been practicing and how many of those have been at St. Luke's? I began my healthcare career in the medical Intensive Care Unit at another hospital in 1982 until joining UnityPoint Health's Emergency Department (ED) in 1985. I received my nurse practitioner (NP) degree in 1997 and joined St. Luke's Heart Care Clinic in 2004, but I also continued working as part of the LifeGuard transport team and in the ED until 2013. 
What led you to pursue a career in healthcare/cardiology? I went into nursing because my older sister did, and a friend of mine encouraged me to be a nurse practitioner. At the time I became an NP, there were fewer opportunities for NPs and PAs (physician assistants) than there are today. I was lucky there was an opening in cardiology because throughout my time in the ED, I had experience and enjoyed helping patients who came in with heart attacks.
Why did you choose to work for St. Luke's? I live in rural Delaware County and commute 60 miles each way to work every day. I chose to drive to Cedar Rapids and join St. Luke's because of its reputation and because I knew all the doctors from having worked in the ED.
What's your proudest moment at St. Luke's? There are a couple of memorable situations. One was at the time I was working for both LifeGuard and the Heart Care Clinic. We picked up a patient who was having a cardiac event and flew with them to the hospital. A week later I saw the patient for their follow-up care and knew everything that had happened. It was great continuity of care!
The other incident that comes to mind is when hypothermia was a newer treatment for cardiac arrest (when the heart stops beating). This method is used lower the patient's core temperature to preserve their brain activity. St. Luke's had just implemented the protocol, and I was part of the first team to use it. I remember this family distinctly because we were able to save the patient's life. I'll never forget that moment. I continued to see the patient over the next 20 years and watch their children grow up.
What's the biggest thing you learned from caring for patients/what do our patients teach you? One of the things I've learned from patients is how important it is to take time to explain things in language they understand. I try to simplify information and bring in heart models to show them exactly what is happening with their heart or the procedures they are having done. I'll even remind them what happened after procedures, because it can be overwhelming when they are going through it.
What do you believe makes St. Luke's stand out in terms of heart care and other services? St. Luke has always been the leader in heart care. We were the first to perform open-heart surgery and we have the largest and most specialized team of cardiologists.
What are words you live by as a St. Luke's team member? Why? There's not one phrase I use, but I do like to use humor. I like to see patients laugh, and I think it eases any anxiety they may be feeling.
How do you use your skills outside of work? In the past, I spent time volunteering for my local EMS (Emergency Medical Services). I'm always ready to jump into action and do CPR or control bleeding if I come across an accident or see someone who needs assistance.
Describe your family: I'm married and have two sons, two stepsons and one stepdaughter, as well as six grandsons and three granddaughters. Our family is spread out – some live on the east and west coasts, and others live nearby.
What do you like to do in your free time/for fun? Spending time with family and grandchildren is very important in my life. I also enjoy kayaking, boating, playing pickleball and hiking.
What are some fun facts about yourself? (1) I played the trumpet at Western Dubuque high school. We had about 230 band members and one of the best band directors in the state of Iowa. He took us to several large parades, like the Macy's Thanksgiving Day Parade and Jimmy Carter's inauguration. (2) I grew up on a cattle farm in Dubuque County and I'm a middle child in a family of six children.