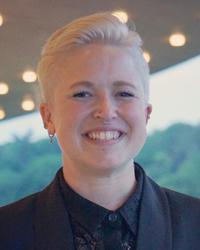 Chantal Rozmus, DO
Behavioral Medicine
Psychiatry
---
Accepting New Patients
UnityPoint Provider
Hospital Affiliations:
Gender: Female
Languages Spoken:
About Chantal Rozmus, DO
Education
Medical Education
Des Moines University: DO

Fellowship

University of Iowa Child and Adolescent Psychiatry
Board Certifications
Psychiatry


American Board of Psychiatry and Neurology
Biography
Why did you become a mental health service provider?  I knew I wanted to be a doctor when I was in eighth grade - I genuinely woke up one morning, thought "I think I'll be a doctor when I grow up" and never had a backup plan. I initially went to medical school in hopes of being a family medicine provider, however when I did clinical rotations, I was happiest on days I saw patients with mental health concerns.
What qualities best describe the care you provide to your patients?  I care deeply about my patients and am radically genuine when I get to see them. The time I have with patients is only a snapshot of their lives, so in order for me to provide the best care possible, I work with each patient as a team. 
Being a healthcare provider, what drives/motivates you each day?  The relationships I make with my patients as well as coworkers.
What is the most important message you would like to share with your patients?  You are the expert on YOU. My job is to work alongside you, the patient, to help you become the best version of yourself. 
What would you like your patients to know about you?  I practice harm reduction with substance use disorders. I enjoy working with LGBTQ+ patients (I am safe and accepting of everyone). One of my favorite parts of my job is having shared decision making conversations with my patients.
Personal Interests: Bird watching, live music
Psychiatric medication management
Child and adolescent psychiatry
Correctional psychiatry
Eating disorders
Personality disorders