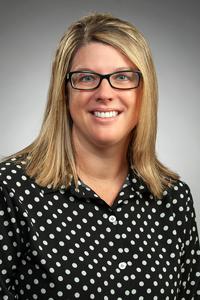 Accepting New Patients
UnityPoint Provider
Gender: Female
Languages Spoken:
Office Hours
Sun: Closed
Mon - Thu: 7:00AM - 5:30PM
Fri: 7:00AM - 5:00PM
Sat: Closed
About Abbie Treiber, APNP
Biography
About This Provider
"I am excited to combine my nursing expertise, experience and medical knowledge to guide patients in their health care decision."

Medical Philosophy
Abbie's patients appreciate her great personality. She is serious when appropriate, but also likes to build long-term relationships with her patients through humor and laughter. Abbie looks at the entire patient and the health system to guide them through a complex healthcare process, so they get the correct treatment for their specific needs.

Medical Interests
Abbie has a strong background in cardiac and medical/surgical areas. In fact, prior to becoming an Internal Medicine Nurse Practitioner at the Monona Clinic, Abbie spent 12 years caring for patients in the UnityPoint Health – Meriter – Heart & Vascular Unit and three years working with the Meriter Hospitalists. Abbie enjoys caring for patients with a variety of conditions and complex illnesses. She also has an interest in palliative care, acute needs and routine screenings. Abbie is excited to use her vast nursing experience to take her patients' care to the next level.

Personal Interests
When away from the clinic, Abbie likes to spend time with family and friends. She loves being outdoors and is always learn new things and reading.

About Nurse Practitioners
Adult nurse practitioners are registered nurses with advanced training, national certification and state licensure as independent health care providers. Nurse practitioners work in collaboration with physicians and other members of the health care team. They diagnose and treat patients as well as provide necessary referrals and prescriptions. NPs have an important role to play within the health care system – the core philosophy of the field is individualized care. Nurse practitioners focus on patients' conditions, as well as the effects of illness on the lives of the patients and their families. NPs make prevention, wellness and patient education their priorities.