St. Luke's receives Magnet® redesignation for a fourth time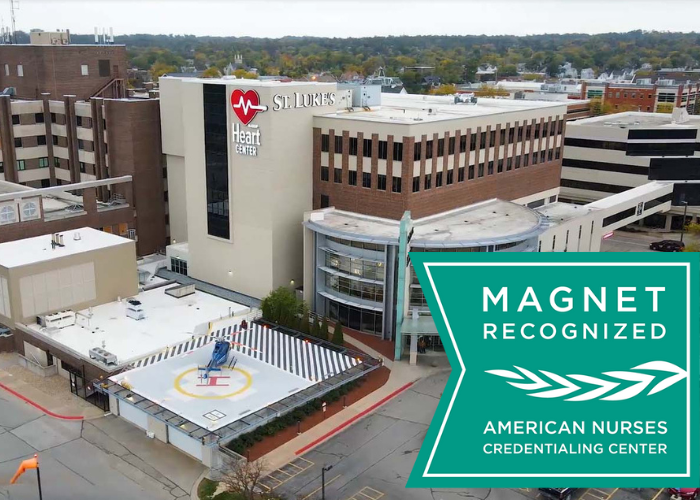 Cedar Rapids—UnityPoint Health – St. Luke's Hospital has once again achieved Magnet® designation from the American Nurses Credentialing Center (ANCC), signifying successful implementation of the national Magnet standards for nursing excellence. This is the fourth time St. Luke's has received this national recognition, which is considered the gold standard for nursing and patient care excellence.

Only about 2% of hospitals have received this designation four times and less than 10% of registered hospitals have earned Magnet status. St. Luke's is the only hospital in Cedar Rapids to have earned this prestigious honor. St. Luke's earned its first Magnet designation in 2009. It received redesignation in 2014, 2018 and 2023.

"I am extraordinarily proud of our team," said Carmen Kleinsmith, UnityPoint Health – St. Luke's senior vice president and chief nurse executive. "This recognition further validates the exceptional care our nurses deliver every day at St. Luke's, together with our many healthcare team members across every part of our organization. Receiving a fourth redesignation demonstrates our sustained commitment to the Magnet Framework of Excellence and the strong cultural foundation we have built over many years to sustain achievement of high-quality care for our community."

The Magnet program was formed in 1990 based on findings from a 1983 study conducted by the American Academy of Nursing's Task Force on Nursing Practice in Hospitals. The study identified characteristics that created an environment conducive to attracting and retaining well-qualified nurses who promoted quality care. These characteristics became the framework for the Magnet nursing excellence program.

The Magnet Recognition Program provides a roadmap for nursing excellence, which is based on evidence and research. It is a voluntary credentialing program for hospitals recognizing excellence in nursing. According to ANCC, Magnet hospitals consistently outperform non-Magnet organizations with better patient outcomes and higher patient satisfaction rates. Magnet-recognized hospitals also report increased nurse retention and job satisfaction.

"At St. Luke's we encourage and welcome all team members, at all levels of the organization, to influence decisions that affect their practice. We are better together – one team focused on continually improving our performance, giving our very best to our patients and our community," said Kleinsmith.

St. Luke's is one of only four hospitals in Iowa that has achieved Magnet status.

We invite you to learn more about our organization and find a career you will love!