UnityPoint Health - Trinity volunteers are an engaged group dedicated in helping provide exceptional health care to the Quad Cities community. Volunteer services strives for a positive and meaningful volunteer experience. As a volunteer, you are also included in Friends of Trinity, a group with a mission to support UnityPoint Health – Trinity through volunteering and fundraising efforts.
Ways to Volunteer
Hospital team members request volunteer assistance based on specific departmental needs. Opportunities exist during all times and at all our locations, but the majority of positions occur during the hours of 8 a.m. to 4 p.m., Monday through Friday.
Student VolunTeen (14-18 years of age)
Students/teens in good academic standing are welcome in our volunteer program. Please indicate on your application that you are a student (VolunTeen).
Apply Now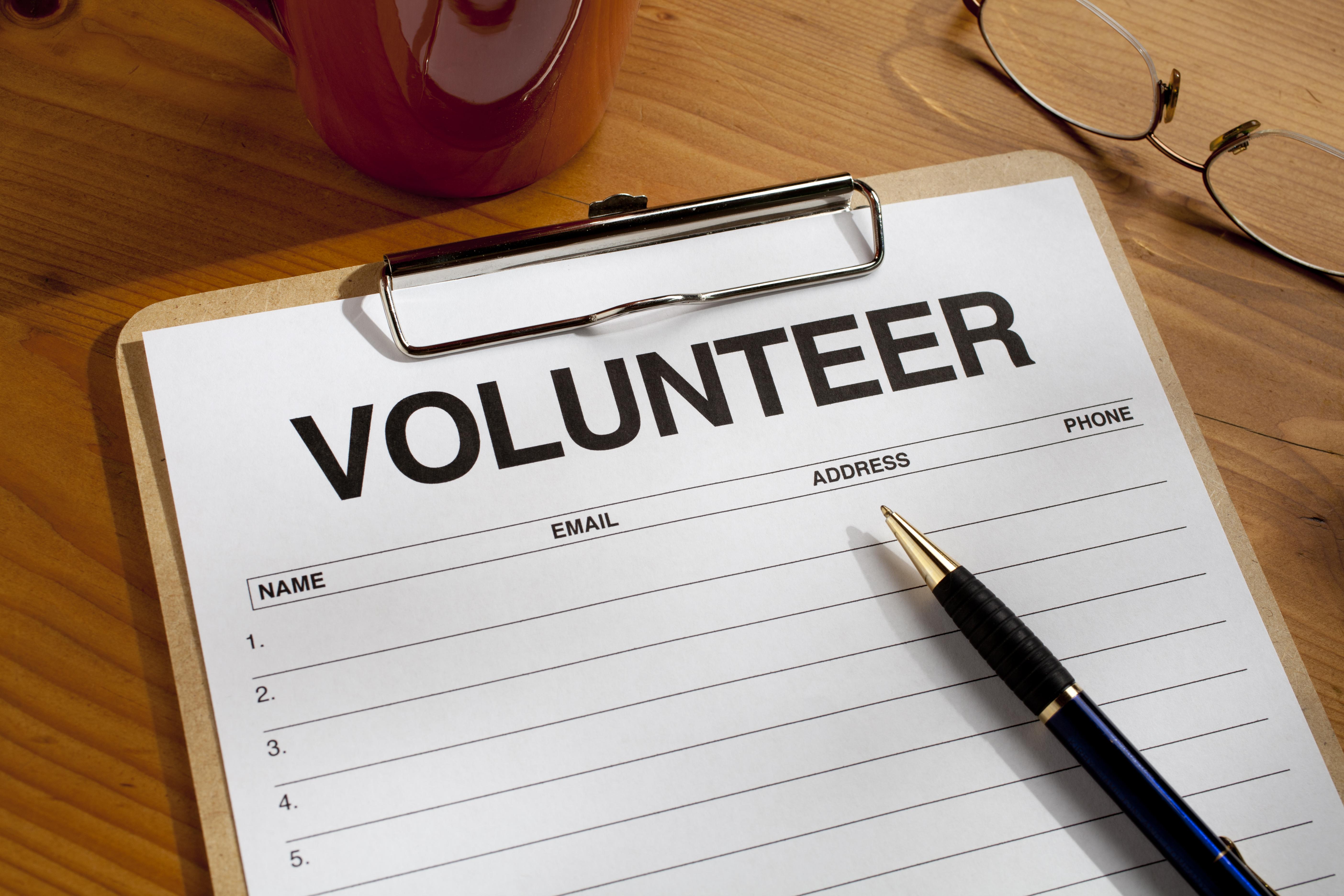 To apply to become a UnityPoint Health - Trinity volunteer, all prospective volunteers must:
Complete a volunteer application (online)
Take a TB test
Complete a background check
Be vaccinated against COVID-19
Complete an online orientation session or attend an in-person two-hour orientation
Volunteer for a minimum of two four-hour shifts per month
Agree to participate in annual re-orientation for active volunteers
If you have any questions about volunteering or the application process, please contact our office at (309) 779-2211.
Support Our Volunteers
Volunteer services are supported by the generosity of local donors.
Trinity's Caring Canines Program
What is Trinity's Caring Canines Program?
Caring Canines is a Trinity program that uses specially trained and qualified dogs to provide an opportunity for patients to benefit from pet therapy through interaction. Studies have demonstrated that exposure to therapy dogs can relieve stress, lower blood pressure and relieve depression.

Volunteer owners bring their dogs to Trinity to give patients an opportunity to pet them and enjoy their company. If the dog is small enough patients can, with permission, hold them in their laps or pet the dog when carefully placed on the bed.
Want to become a Caring Canines Volunteer?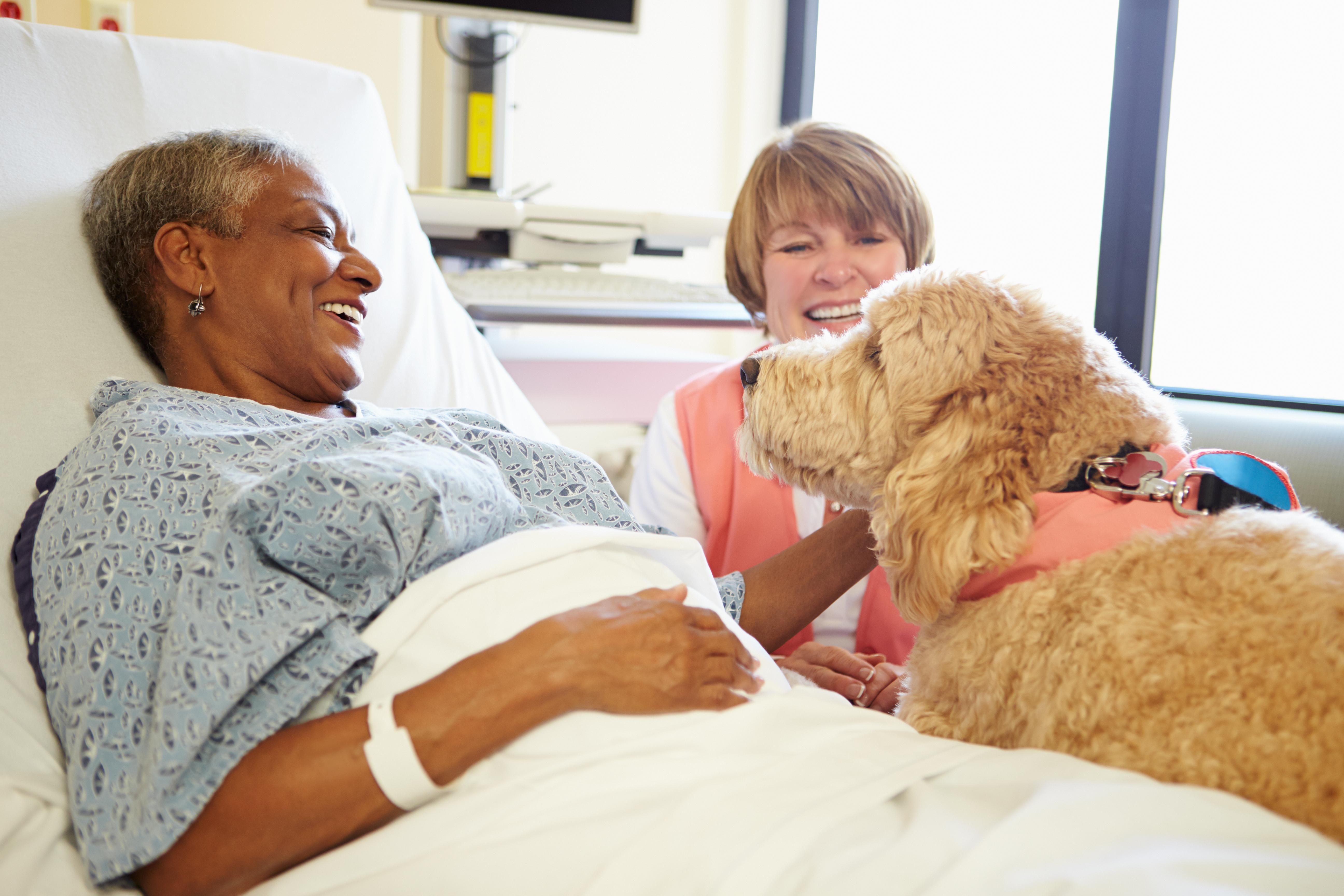 Trinity Volunteer Services team members interview and screen each Caring Canine candidate and owner for the following:
Your dog MUST:
Be at least one year old, domesticated, obedient, trained and housebroken
Have written proof that it has received a certificate of completion in a 6-week obedience training program
Have yearly documentation of well pet visit from your veterinarian, including current vaccination records and yearly negative fecal exam
Have received initial certification from one of our therapy dog observers/testers with annual renewal required
Be clean and well groomed
All Caring Canine teams must be certified or registered through a therapy group such as Alliance of Therapy Dogs or TD International
If not provided by the therapy dog organization, proof of liability insurance is required
Any other requirements set by the hospital
Dog Owner/Handler MUST:
Interview and be accepted by Trinity's volunteer department
Complete Trinity volunteer orientation, receive a TB test, provide proof of COVID-19 vaccination and pass a background check
Provide proper documentation and certification that all canine requirements are met
Agree to participate in annual re-orientation for active volunteers
Visit the hospital with your caring canine at least twice per month
Complete the online application. A team member will reach out to gather some additional information about your favorite canine and help you get started
Friends of Trinity
The Friends of Trinity are community members who volunteer and promote fundraising activities to support the UnityPoint Health — Trinity mission to improve the health and wellbeing of the communities we serve.

Since 1993, Friends of Trinity has distributed over $4 million in grants and over $11,500 each year in scholarships. The grants have support major investments such as:
$250,000 Catheterization Lab Suite in Trinity Heart Center at Trinity Rock Island
$120,000 Fetal Heart Monitors for Trinity Moline and Trinity Bettendorf
$500,000 Patient Lift-Assist Equipment
$250,000 Trinity Rock Island lobby remodeling
$250,000 Trinity College of Nursing and Health Sciences equipment for enhanced student learning experience
The grants also supported purchases that make a huge impact, including:
New wheelchairs to provide safe transportation of patients
Clothes for patients in need
Educational events to expand staff knowledge in the newest technology and treatment efforts
Uniforms and caring cards for the beloved Trinity Caring Canine program
Materials to support volunteers who make comforting prayer shawls for Trinity patients
Friends of Trinity plan and promote several events and programs throughout the year including:
Operating Trinity Gifts and Floral (our volunteer-run gift shops)
Blossoms and Brunch Spring Garden Party
Book fairs, uniform and jewelry sales and other unique one-time events
As a member of the Friends of Trinity group, you have the opportunity to make a difference and improve the health and wellbeing of the community. New members are welcome at whatever level of time and/or financial support you can give.
Become a Member
Becoming a member is easy! Provide your contact information to volunteer at one of our Friends of Trinity fundraising events.
---
Donate
Make a donation today. Prefer to mail in your donation? Please send to: UnityPoint Health - Trinity Attn: Trinity Health Foundation 2701 17th Street Rock Island, IL 61201
---
Support Friends of Trinity Endowment Fund
Your gift supports programs, services, equipment and scholarships supported by Friends of Trinity. You may designate your gift to Caring Canines and other Friends of Trinity programs. Donations are tax-deductible to the extent allowed under IRS guidelines. Interested in learning more about what we do and how we support the community? Call (309) 779-2211 or email us at tqcvolunteers@unitypoint.org.