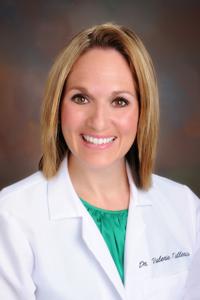 Valerie K Tallerico, DPM, FACFAS
Foot And Ankle Surgery
Podiatry
---
Accepting New Patients
UnityPoint Provider
Gender: Female
Languages Spoken:
Office Hours
Sun: Closed
Mon - Thu: 8:00am – 5:00pm
Fri: 8:30am – 5:00pm
Sat: Closed
About Valerie K Tallerico, DPM, FACFAS
Education
Med School College
Des Moines University

Residency

University of Pittsburgh Medical Center
Board Certifications
American Board of Foot and Ankle Surgery
Biography
Two Foot and Ankle Clinics are available for your convenience: One is located on the campus of UnityPoint Health - St. Luke's and one at St. Luke's Sunnybrook Medical Plaza.
As a past competitive gymnast, Dr. Valerie Tallerico, DPM, FACFAS, understood the importance of how having healthy feet and ankles was vital for being a successful athlete. As an Exercise Science and Human Physiology major at Creighton University, she often worked with athletes who were unable to compete because of lower extremity injuries. From early on, Dr. Tallerico was able to see the profound impact that injuries of the foot and ankle can have on peoples lives.
Those combined experiences now help her Foot and Ankle practice at UnityPoint Clinic in Sioux City. Dr. Tallerico and her practice partner, Dr. Kosta Antonopoulos, DPM, FACFAS, provide comprehensive foot and ankle care from two clinics in Siouxland.
Dr. Tallerico offers a wide range of services for those with conditions impacting the foot and ankle, including, office care, treatment and minor procedures to, surgical care and reconstruction. She serves patients of all ages and treats common conditions such as bunions, hammer toes, flat feet, and high arch feet, along with complete care for trauma of the foot and ankle, including fractures, sprains, Achilles ruptures, and more. Dr. Tallerico also provides wound care services.
"My past experience as a competitive athlete and working with many athletes sparked my desire to pursue medicine, specifically Podiatry- Foot and ankle Care," she says. Dr. Tallerico is double Board Certified by the American Board of Foot and Ankle Surgery and the American Board of Podiatric Medicine and Surgery. "Daily, I see how injuries that affect the ankle and foot are limiting the quality of life of my patients. That motivates me to do all I can to help them get back to a more active lifestyle and return them to a more satisfying quality of life."
She says she loves working in Siouxland with Dr. Antonopoulos who is a native of Sioux City. "We enjoy interacting with patients while helping and healing them, so they get back to participating and loving their everyday activities," she says. "Whether it's from simple treatments to more complex surgical options, the best part of this job is seeing patients leave the clinic excited to get back to enjoying life."