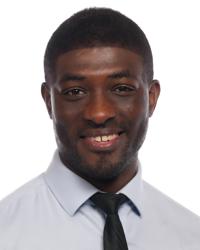 Accepting New Patients
UnityPoint Provider
Hospital Affiliations:
Gender: Male
Languages Spoken:
About Uwem Ekwo, MBA, MD
Education
Undergraduate
University of The Gambia

Med School

American University of Integrative Sciences: Doctorate

Degree

American University of Integrative Sciences: Bachelor of Medical Science

Graduate

University of Northern Iowa: Master's of Business Administration

Residency

Iowa Lutheran Family Residency Family Medicine
Board Certifications
Family Physicians


American Academy
Biography
Why did you become a physician?
I became a doctor to provide care for patients who otherwise would not have access to it.
As a provider, what is your medical philosophy?
Everyone deserves your best.
What type of care/clinical interests are you most passionate about?
I'm most passionate about comprehensive care centered on empathy.
Why did you choose your specialty?
I chose inpatient and outpatient medicine to provide broad-based care to patients who need it the most.
What is the most important thing patients should know about you and your practice?
I believe being around a doctor is a safe space. It is a space to always improve and heal.
What are your personal interests?
I like reading, kayaking, tennis and history. plus I'm an art enthusiast.
The procedures I have the most experience with are joint injections, abscess incision and draining, casting, punch and shave biopsies, and laceration repairs.