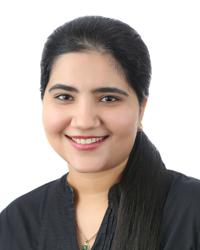 Hospital Affiliations:
Gender: Female
Languages Spoken:
About Suman Khicher, MD
Education
Med School
Dr. S.N. Medical College (India) Rheumatology

Residency

Detroit Medical Center / Wayne St. Univ. Internal Medicine

Fellowship

Detroit Medical Center / Wayne St. Univ. Rheumatology and Geriatrics
Board Certifications
Internal Medicine


American Board of Internal Medicine
Biography
Why did you become a physician/provider?
My decision was fueled by the captivating challenges within the medical domain and an unwavering aspiration to make a positive difference in people's lives.
As a provider, what is your medical philosophy?
My philosophy encompasses patient-centered care, evidence-based practice, a holistic approach, continuity of care and ethical practice.
What type of care/clinic interests are you most passionate about?
I'm deeply fascinated by the intricate complexities of autoimmune diseases, musculoskeletal disorders, inflammatory arthritis and systemic autoimmune diseases, and I'm committed to exploring innovative approaches that enhance the understanding and management of these conditions for the benefit of my patients.
Why did you choose your specialty?
It stems from a genuine interest in unraveling the complexities of diseases, a desire to foster enduring patient relationships, a commitment to improving quality of life, a passion for staying abreast of treatment advancements and an appreciation for the power of interdisciplinary collaboration.
What qualities best describe the care you provide your patients?
As a physician, my patient care is characterized by qualities such as compassion, effective communication, competence, collaboration, ethical behavior, personalized approach, continuity of care, commitment to patient safety and a lifelong dedication to learning.
Being a healthcare provider, what drives/motivates you each day?
I'm driven by a passion for helping others, making a meaningful difference, finding personal fulfillment, seeking intellectual stimulation, building meaningful relationships, and embracing ongoing professional and personal development.
What is the most important thing patients should know about you and your practice?
I'm dedicated to providing compassionate, patient-centered care. I prioritize open communication, active listening and a personalized approach to address their unique needs and concerns. I'm committed to staying up to date with the latest advancements in rheumatology, ensuring patients receive the most effective and evidence-based treatments available. Building strong, long-term relationships with my patients is of utmost importance to me, as I strive to improve their quality of life and support them throughout their journey with rheumatic conditions.
Autoimmune diseases
Inflammatory arthritis
Musculoskeletal disorders
Emerging therapies