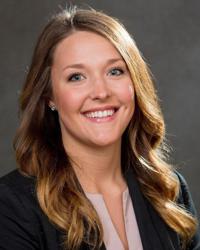 Accepting New Patients
UnityPoint Provider
Hospital Affiliations:
Gender: Female
Languages Spoken:
About Ramey Creery, OTD, OTR/L
Education
School of Pharmacy and Health Professions
Biography
Why did you choose your specialty?
As an occupational therapist, I focus on many of the bodily functions, activities, habits, roles and routines – whether basic or complex – that most people take for granted, until they lose control over them. I love that I have the opportunity each day to meet patients where they are at in their rehabilitation journey to work towards meaningful goals.
What qualities best describe the care you provide for patients?
I place value in taking a whole-person approach and strive to provide patient-centered care.
What is the most important thing you want patients to know about you and your practice?
I rely on my patients to share their expertise about their own bodies and interests in order to offer them the personalized support they need to regain control of basic bodily functions and activity participation.
Do you have any personal interests you would like to share?
I enjoy spending time with my family and in nature.
Pelvic Health
Neurological Rehabilitation