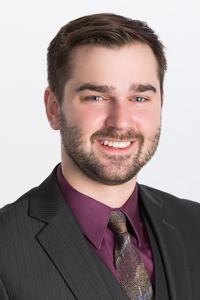 Accepting New Patients
UnityPoint Provider
Gender: Male
Languages Spoken:
Office Hours
Sun: Closed
Mon - Fri: 8:00AM - 5:00PM
Sat: Closed
About Nicholas Lynn, PA-C
Education
Board Certifications
Physician Assistant


National Commission on Certification of Physician Assistants
Biography
Why did you become a physician/provider? When I was younger I was diagnosed with a rare blood disorder. I spent part of my childhood going to doctor visits or in the hospital. It was that experience that drove me to enter the healthcare field to help give back.

What qualities best describe the care you provide to your patients?Compassionate, upbeat, supportive

Being a healthcare provider, what drives/motivates you each day?Knowing that each day I go into work I have the opportunity to help someone.

What is the most important message you would like to share with your patients?  I've looked forward to the day where I could begin practicing medicine for years. I am extremely excited to grow as a provider in Monticello and build relationships with people in the community.

Are there any fun facts that you would like the community to know about you? My initials are NFL, which is fitting because I'm a huge football fan and always up to talk sports.

"