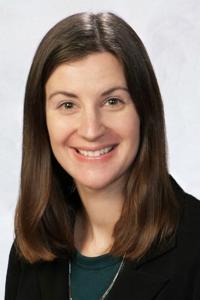 Accepting New Patients
UnityPoint Provider
Gender: Female
Languages Spoken:
Office Hours
Sun: Closed
Mon - Fri: 8:00AM - 5:00PM
Sat: Closed
Biography
Why did you become a provider?
I became a family nurse practitioner to care for people of all ages, promote wellness, and a healthy lifestyle.
As a provider, what is your medical specialty?
I treat every patient as an individual with unique circumstances and believe in empowering patients to make healthy lifestyle choices that work for them.
What type of care are you most passionate about? 
Pediatrics, women's health, diabetes, and wellness.
Why did you choose your specialty?
I chose family medicine because I enjoy working with people of all ages and backgrounds.
What qualities best describe the care you provide your patients?
I provide patient-centered care and seek opportunities to empower patients to lead a healthy lifestyle and maintain wellness. Providing education about small changes can have a great impact on an individual's life. 
What motivates you each day?
I am motivated to help patients of all ages reach their own goals at any stage in life.
What is the most important thing patients should know about you and your practice?
My goal is to establish long-term relationships with patients to enhance wellness and manage chronic illness. I provide patient-centered care that is individualized to meet the needs of each patient.