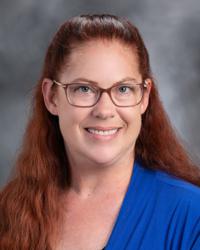 Marie E Volbrecht, Phd
Neuropsychology
Physical Medicine And Rehabilitation
Psychology
---
Accepting New Patients
UnityPoint Provider
Gender: Female
Languages Spoken:
About Marie E Volbrecht, Phd
Education
Med School College
University of South Dakota

Fellowship

Sioux Valley Hospital

Internship

West Los Angeles VA Medical Center
Board Certifications
Board Certified


American Board of Professional Neuropsychology
Focus Areas
Neuropsychology
Physical Medicine And Rehabilitation
Psychology
Biography
Podcast Episodes Featuring Dr. Volbrecht:
Ep. 184 - Brain Injuries
Marie Volbrecht, PhD, ABN completed her undergraduate degree in psychology, with emphases in criminal justice and statistics, at Winona (Minnesota) State University. She obtained her MA in theoretical psychology from Northern Arizona University and earned her PhD in clinical psychology from the University of South Dakota. She completed a GRECC internship with a focus on neuropsychology at the West Los Angeles VAMC and completed postdoctoral supervision focusing on neuropsychology in a rehabilitation setting at Sioux Valley Hospital in South Dakota. She remained at that facility as the neuropsychologist in PM&R for five years and then transitioned into an outpatient private practice doing neuropsychological evaluations and teaching neuroanatomy and neuropsychological evaluation to doctoral students at USD. Her private practice also served as a training site for doctoral students interested in going on into neuropsychology. 
In 2013, she was offered the opportunity to help develop a post-acute TBI rehab program and moved to Minnesota to pursue this opportunity. In 2017, she joined St. Luke's PM&R, coming full circle back to her roots in rehab. Dr. Volbrecht is a licensed psychologist in both Minnesota and Iowa and a health service provider in Iowa. She is also board certified as a neuropsychologist by the American Board of Professional Neuropsychology (ABN). 
She evaluates children as young as 4 years of age, adolescents, adults, and older adults in both an inpatient and outpatient capacity with a focus on the inpatient population. Patients with a wide range of diagnoses are seen including TBI, stroke, MS, encephalopathy, post-tumor resection/chemo, as well as many others. Inpatient consultation to other units in the hospital usually focuses on a person's capacity for decision-making. Dr. Volbrecht enjoys the challenges and unpredictability that this vast variety of patients and diagnoses allows her to work with in this position.
In the past, she has served her profession by working as the treasurer and Application Committee chairperson for ABN. She has a special interest in biomedical ethics and serves on St. Luke's Ethics Committee. In addition, she is currently assisting with a plan to implement CBIS training for all PM&R staff by working toward obtaining a CBIST certification. (This is scheduled to be complete and running by Spring 2019).