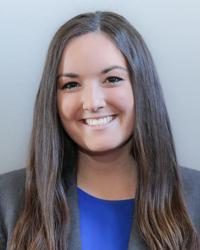 Hospital Affiliations:
Gender: Female
Languages Spoken:
About Mariah Fritz, PA
Education
Undergraduate
Central College: Bachelor of Arts

Med School
Biography
Why did you become a provider?
I became a physician assistant because I grew up watching my dad impact the lives of his patients as a chiropractor. I knew I wanted to grow up and help people just like he does every day. I love having the opportunity to serve my home community and help those receive medical care who are in need.
As a provider, what is your medical philosophy?
It's to treat every patient equally and being able to assess, diagnose and treat everyone to the best of my ability. I feel everyone is deserving of healthcare regardless of their race, gender, socioeconomic status, religion, etc. 
Why did you choose your specialty?
I choose to work in the ER because I love the idea of seeing so many different medical problems on a day-to-day basis. I love the age variety of patients I will have the opportunity to care for as well. 
What qualities best describe the care you provide your patients?
The qualities that best describe the care I provide to my patients are that I am a good listener, I'm empathetic, I'm personable, and I am determined to help find a solution to a patient's medical question/concern. 
What are your personal interests?
I love spending time with my fiance, family, and friends. I love country music and attending country music festivals in the summertime. I love the warm weather and spending time outdoors exploring! 
Dermatology, women's health, cardiology, gastrointestinal and wound care