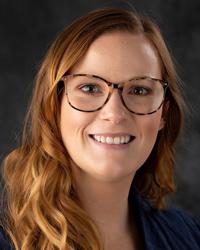 Accepting New Patients
UnityPoint Provider
Gender: Female
Languages Spoken:
Office Hours
Sun: Closed
Mon - Thu: 7:00AM - 8:00PM
Fri: 7:00AM - 5:00PM
Sat: Closed
About Krista Begalske, ARNP
Education
Internship
Mayo Clinic

Medical Education
Board Certifications
American Academy of Nurse Practitioners
Biography
Krista joined Community Memorial Hospital in the beginning of 2019. She has a Master Degree of Science in Family Medicine from Allen College in Waterloo and completed her internship at Mayo Clinic. A firm believer in holistic healing, Krista has a background in mental health and enjoys helping patients of all ages live their life to the fullest. In her free time, Krista enjoys spending time outside with her family and friends, as well as reading and baking.
Why did you become a physician/provider?
I became a medical provider because I felt a call to make a difference in others lives.  Before becoming a provider, I worked as a critical care nurse. While I enjoyed this, I wanted to advance my education in order to have a greater understanding of the complexities of managing illness in all ages. 
What is your medical philosophy? 
I am committed to providing the utmost quality of care for each patient, taking into consideration his or her individual physical, social, and mental health needs. 
What type of care are you most passionate about? 
I enjoy caring for all patients, but I really enjoy caring for children. I also enjoy working with patients with mental health concerns.
Why did you choose your specialty? 
I chose family medicine because I want to care for people throughout their whole lifespan and to build trusting provider-patient relationships with my patients. Being a family nurse practitioner allows me to provide care through a holistic approach. 
What qualities best describe the care you provide your patients? 
Compassionate, patient advocate, straight-forward, and personable. 
What motivates you each day?
Knowing that I am helping people each day whether it be with preventive care or managing chronic conditions. 
What is the most important things patients should know about your practice?
I will strive to provide the best care possible to each of my patients through a holistic approach.