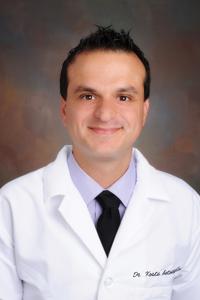 Kosta P Antonopoulos, DPM, FACFAS
Foot And Ankle Surgery
Podiatry
---
Accepting New Patients
UnityPoint Provider
Gender: Male
Languages Spoken:
Office Hours
Sun: Closed
Mon - Thu: 8:00am – 5:00pm
Fri: 8:30am – 5:00pm
Sat: Closed
About Kosta P Antonopoulos, DPM, FACFAS
Education
Med School College
Des Moines University

Residency

University of Pittsburgh Medical Center
Board Certifications
American Board of Foot and Ankle Surgery
Biography
Two Foot and Ankle Clinics are available for your convenience: One is located on the campus of UnityPoint Health - St. Luke's and one at St. Luke's Sunnybrook Medical Plaza.
Growing up, the "change of seasons" had nothing to do with a calendar for Dr. Kosta Antonopoulos, DPM, FACFAS. His seasons passed as football gave way to basketball and basketball gave way to soccer.
"I grew up playing a variety of sports as a child and then at North High School," says the Sioux City native and UnityPoint Clinic Foot & Ankle surgeon. "I continued to participate in as many sports as possible in intramurals while I was an undergraduate at the University of Iowa."
His active upbringing has fueled his passion for serving those with injuries or disorders impacting people's feet and ankles.
"Through my involvement in sports and then in my specialty studies, I gained an appreciation for the profound impact the foot and ankle can have one someone's quality of life and their level of activity," Dr. Antonopoulos says.
As a foot and ankle surgeon, Dr. Antonopoulos provides comprehensive care—including diagnostics, clinic care and surgery—for conditions affecting the foot and ankle for patients of all ages. He is dual Board Certified by the American Board of Foot and Ankle Surgery and the American Board of Podiatric Medicine. Dr. Antonopoulos and his practice partner, Dr. Valerie Tallerico, DPM, FACFAS, practice from two clinic locations in Sioux City.
"We are proud to provide such a wide range of care," Dr. Antonopoulos says. "We have access to some of the most advanced technology available in providing surgical reconstructive care for those with serious foot, ankle and lower extremity conditions. We hear from patients all the time that we have greatly improved their quality of life by restoring function and reducing the pain and discomfort they had been experiencing."
Some of the common conditions Dr. Antonopoulos manages include non-surgical and surgical options for ailments including bunions, hammer toes, flat feet, high arch feet, and complete care for trauma of foot and ankle, including fractures, sprains, Achilles ruptures, tendon injuries and more. In addition to traditional Foot and ankle services, Dr. Antonopoulos has expertise in caring for wounds of the lower extremities.
Dr. Antonopoulos says it is a dream come true to be in Siouxland offering care to patients ranging from young athletes to older adults.
"We consider Siouxland our home," he says. "I am happy to be back practicing in the place that I grew up. We are committed to doing what it takes to get our patients back to being themselves again. We treat all of our patients as we would treat our family."