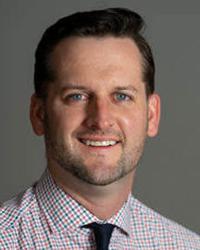 Hospital Affiliations:

Jones Regional Medical Center
St. Luke's Hospital

Gender: Male
Languages Spoken:
About John Hart, MD
Education
Medical Education
University of Iowa, Carver College of Medicine: MD

Residency

University of North Carolina Hospitals, Chapel Hill NC Orthopaedic Surgery

Fellowship

University of Colorado School of Medicine Sports Medicine

Undergraduate Education
Board Certifications
Orthopaedic Surgery


American Board of Orthopaedic Surgery
Biography
Patient Testimonial: I just completed 9 months (since April, 2022) with Dr. John Hart, getting previous severe breaks in right hand, wrist & arm (all from 1 fall) functional. Finally, 2 weeks ago, everything was working well! I was so excited to start living more normally, once again. 5 days ago, I broke right shoulder, so I'm starting my next lengthy, healing journey, once again. I'm SO THANKFUL to have Dr. John Hart be my Bone Specialist! He is so Knowledgeable, Helpful, Kind & Respectful to me, PLUS now he is on TV in PCI's commercial, which means, "I have a TV STAR for my bone specialist"! :) PCI's commercial, is my favorite commercial! Dr. Hart is like "an Angel On Earth To help me through my most difficult times"! Dr. Hart is not only a "Superior Bone Specialist", but he is, also, a "Superior Human Being" by the kindness he's shown to me! I, also, appreciated the Great Therapy at PCI with Ann Paulson, Rock Valley Therapists! She was, also, like an "Angel On Earth" to help me so splendidly! I am in process of attempting to switch my Primary Care Doctor to one at PCI, if my insurance will agree to it. I want all my doctors to be at PCI because of all the kindness, respect & superior care I've received from Dr. John Hart & Ann Paulson. I'm soon 85, live Independently & alone. Thank You to PCI for having such a Great Place, where people can receive the Superior Care & Respect, they deserve! I Truly Appreciate It!
--Sherron W.
Sports Medicine
Shoulder and Knee Arthroscopy
Outpatient Shoulder and Knee Replacement
Cartilage Restoration and Orthobiologics