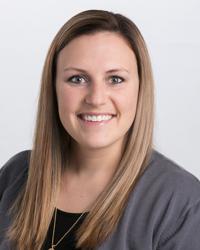 Hope Breitbach ARNP
Child Abuse Pediatrics
Pediatrics
---
Hospital Affiliations:
Languages Spoken:
About Hope Breitbach ARNP
Education
Medical School
Graceland University: MSN, FNP

Undergraduate

Mount Mercy University: BSN - Nursing
Board Certifications
ARNP


American Academy of Nurse Practitioners
Biography
Why did you become a physician/provider?
I became a provider to help take care of patients when they are at their most vulnerable times. When people become sick or experience a negative event that brings them into healthcare, I want to be the provider that can calm their nerves, treat them with respect, and leave them better off than when they came.
As a provider, what is your medical philosophy?
My medical philosophy is to care for the entire patient and their family. This includes taking their physical, emotional, mental and spiritual health into account when providing care. We are not just physical beings, we have many more layers and I want patients to know I will be considerate of them as a whole.
What type of care/clinical interests are you most passionate about?
Pediatrics
Why did you choose your specialty?
I chose to work at the Child Protection Center to be able to care for the children in the community who have been exposed to adverse childhood experiences. This includes physical, emotional and sexual trauma as well as being exposed to domestic violence and drugs. I want the children who come through our doors to know that they are heard, that we can be trusted, and that we are looking out for their best interest.
What qualities best describe the care you provide your patients?
I enjoy listening. I believe many people just need to be heard, especially when they present to providers in healthcare. Passionate - this has been a word to describe me since I was a little girl. At the age of 5, I knew that I was going to be a nurse or doctor because I enjoyed taking care of others. That passion has not waivered, and I am even more determined to provide wonderful care to every patient that presents to the clinic.
Being a healthcare provider, what drives/motivates you each day?
My family is a large motivation for me. I have two young boys (4 years and 1 year old) who know that "mommy takes care of sick people." It is an honor to be able to show them that healthcare employees are here to help when we are sick or hurting. I also am driven by the patients that trust me with their care. To know that they leave the clinic better off than when they came drives me to be better every single day.
What is the most important thing patients should know about you and your practice?
We are here to help, and we are here to listen.
Personal Interests
Enjoying time with my family, exercising and listening to music.
Abuse (Physical, Emotional and Sexual)
Pediatrics