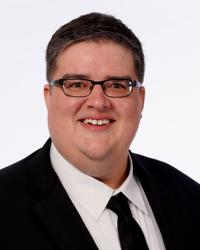 Hospital Affiliations:
Gender: Male
Languages Spoken:
About Gabriel Eljdid, DO
Education
Medical School
A.T. Still University - Kirksville College of Osteopathic Medicine

Residency

University of Missouri - Columbia
Biography
Why did you become a physician/provider?
I always wanted a career that was hands-on and included my interests in science. Although I did not follow the most direct route to become a physician, I found a career that matched my interests while also finding a way to help improve the lives of others.
As a provider, what is your medical philosophy?
I hope to continue to provide high-quality, evidence-based, patient-centered care for my patients at UnityPoint.
What type of care/clinical interests are you most passionate about?
I am most passionate about general, hospital-based medicine, although I do have an interest in palliative medicine.
Why did you choose your specialty?
I chose family medicine as a specialty because it covers a wide breadth of topics in medicine. Additionally, I think the background in family medicine helps provide even more skill in providing patient-centered care.
What qualities best describe the care you provide your patients?
I strive to provide care that is empathetic and patient-oriented while being-evidence based.
Being a healthcare provider, what drives/motivates you each day?
My biggest moticators are making differences in my patients' lives and getting to know my patients beyond their medical concerns.
What is the most important thing patients should know about you and your practice?
I want my patients to know that medicine is team-based, and they are part of the team. They should not be afraid to ask questions or voice concerns.