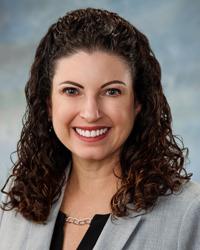 Erin J Kennedy, MD
Occupational-Environmental Medicine
---
Accepting New Patients
UnityPoint Provider
Hospital Affiliations:
Gender: Female
Languages Spoken:
About Erin J Kennedy, MD
Education
Undergraduate
Coe College: Bachelor's

Med School

University of Iowa Carver College of Medicine

Residency

University of Iowa Occupational and Environmental Medicine Training Program
Biography
What type of care/clinical interests are you most passionate about?
One responsibility I particularly enjoy is monitoring for changes to OSHA/MSHA/federally required medical surveillance of workers. When federally required medical surveillance is updated, I enjoy creating services that allow our clients to remain in compliance. I also enjoy educating other providers, staff and our clients about these changes. 
As a provider, what is your medical philosophy?
Occupational medicine is a unique field. It offers services that must consider the interests of multiple stakeholders (patient, employer, insurance company, attorney, community) which can be, at times, at odds with one another. Navigating competing interests of multiple parties can be tricky. Each day I strive to understand the interests of my patient and other stakeholders so that I can offer evidence-based opinions and care.
Why did you become a physician?
I grew up in a family of healthcare professionals. As a child, I enjoyed my parents' bedtime stories as they described their attempts to advance the health of their patients. I don't recall ever having considered an occupational path outside of the practice of medicine.
Why did you choose your specialty?
A person's occupation is an integral part of their identity. Unfortunately, a person's desired occupation can be compromised by injury and illness. Even a transient alteration in a person's physical capacity can cause tremendous anxiety. It's very rewarding to assist individuals as they restore their physical capacity following injury through treatment and, when necessary, assist as they reimagine their identity in a new occupation. 
What are your personal interests?
In my free time, I enjoy spending time with my husband, two daughters and multiple pets (dog, cat, guinea pigs). My daughters and I are frequently engaged in creative activities, including painting and sewing. I enjoy regular physical activity that includes kickboxing, running, hiking and weight training.
As a specialist in the field of occupational and environmental medicine, I enjoy a well-rounded practice. I offer preventive medicine services that include employer-­requested pre-placement and fitness for duty evaluations, OSHA-required surveillance evaluations (hearing conservation, respirator-user, lead, silica, asbestos, chromium, etc), and Commercial Driver Medical Evaluations. I'm a certified Medical Review Officer through MROCC. I offer causation opinions, treatment and permanency evaluations for workplace injuries. Lastly, I'm a certified Independent Medical Examiner through the ABIME performing case reviews and IMEs of complicated and litigated work-injury claims.