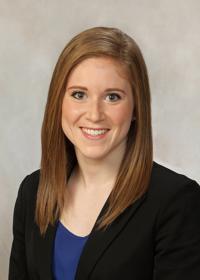 Erica Craw, Family Medicine, PA-C
---
Hospital Affiliations:
Gender: Female
Languages Spoken:
About Erica Craw, Family Medicine, PA-C
Education
Med School College
Des Moines University MS in PA Studies
Board Certifications
Physician Assistant


National Commission on Certification of Physician Assistants
Biography
Patient Testimonials
"I really wouldn't want to see anyone else. I have and will continue to refer people to her. Really like and appreciate her!"
"Best experience I have had in a long time. I am very pleased, Erica is very easy to talk to and ask questions. Seriously could not be happier with the way I was treated."
"I've always had a really good experience with Erica! I've recommended her to a few people and they all love her too."
"Can't wait to continue my care with Erica, she is a fantastic provider and I am excited to have finally found a general care physician to assist in my needs outside of OB."
Why did you become a physician/provider? I have admired the medical team since I was very young. I have also cultivated a passion for both science and interpersonal relationships. My choice to become a physician assistant was an incredibly fulfilling way to incorporate two of my greatest interests: service to people and lifelong learning!
What qualities best describe the care you provide your patients? My approach to healthcare can be described as lighthearted, flexible, personalized,  comprehensive, and most importantly compassionate!
Being a healthcare provider, what drives/motivates you each day? As a physician assistant, I am given the privilege of helping patients build healthier lives. Each time a patient of mine walks into the clinic, he or she is placing trust in me. With this in mind, Iam motivated to ensure that patients feel comfortable returning to my office whenever care isneeded. This is accomplished by caring for a patient as if he or she were family and providingthe best care to every patient, every time.
What is the most important message you would like to share with your patients? What would you like your patients to know about you? As a primary care provider, I put a lot of heart into what I do. I firmly believe that in order toprovide a personalized care plan, I must first get to know the patient! I promise to cultivate acompassionate and professional interpersonal relationship with each of my patients because itensures the best care, every time. In addition to this, I love being able to follow patients from thecradle through adulthood and appreciate the milestones right along with them! I truly enjoygetting to know people, and I am thrilled at the chance to help my patients create happier,healthier lifestyles.