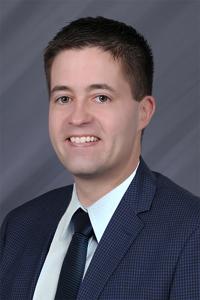 Eric Neverman, DO
Family Medicine
Internal Medicine
Pediatrics
---
Gender: Male
Languages Spoken:
About Eric Neverman, DO
Education
Med School College
Des Moines University

Residency

University of Missouri - Columbia
Board Certifications
American Board of Pediatrics
Focus Areas
Family Medicine
Internal Medicine
Pediatrics
Biography
*Dr. Neverman is only accepting new pediatic patients at this time.
Join me for Walk with a Doc! See the walk schedule

Why did you become a provider?
To help people understand their medical conditions and work with them to achieve optimum health.
What qualities best describe the care you provide to your patients?
Evidence-based healthcare delivered in personalized manner.
Being a health care provider, what drives/motivates you each day?
I enjoy leaving work knowing that I've helped make a difference in my patients' lives.
What is the most important message you would like to share with your patients? What would you like your patients to know about you?
My ultimate goal is to partner with each patient over the long term to help them stay healthy and to achieve the best possible outcome when they are ill.
Are there any fun facts that you would like the community to know about you?
I grew up on a farm near Jesup and am very excited to be back in Iowa working in a rural community!

For more information, view Dr. Neverman's research publications.