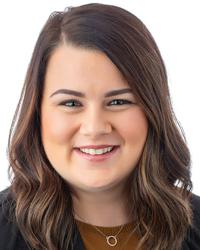 Hospital Affiliations:
Gender: Female
Languages Spoken:
About Christina Murray, ARNP
Education
Undergraduate
Northeast Iowa Community College: Bachelor of Science - Nursing

Graduate

Allen College: Master of Science - Nursing
Board Certifications
Family Nurse Practitioner


American Academy of Nurse Practitioners
Biography
Why did you become a provider?
It has been a dream of mine for as long as I can remember to be a nurse practitioner. I have always had an interest in the human body and how the many different systems work. My experience as a nurse has made it clear how difficult health care can be for patients to navigate and has truly challenged me to think outside the box to provide patients with the best outcome possible. I felt that becoming a family nurse practitioner really aligned with my desire to influence patients' lives in a positive way by providing them with the knowledge, tools and resources to promote health and wellness.
As a provider, what is your medical philosophy?
Positive health outcomes are the result of treating each patient with a holistic approach, providing quality education regarding their health and encouraging patients to be involved in every healthcare decision.
What type of care/clinical interests are you most passionate about?
Chronic disease management and preventative health 
Why did you choose your specialty?
I have worked my entire nursing career in family medicine, and when I decided to go back to school to become a nurse practitioner, I knew family medicine was where I wanted to be. I love being able to get to know my patients on a much deeper level than most other specialties do. This is so important for building a trusting patient-provider relationship and being able to provide patients with holistic care.
What qualities best describe the care you provide your patients?
My patients can expect compassionate, evidence-based care that is individualized to their needs.
Being a healthcare provider, what drives/motivates you each day?
Being able to provide patients with the knowledge, tools and resources to be able to take an active role in managing their health.
What is the most important thing patients should know about you and your practice?
Your health and wellness are my priority as your family practice provider. I am grateful to have the opportunity to care for you, and cannot wait to get to know you!
What are your personal interests?
Spending time with family and friends, boating, volleyball, shopping, the Iowa Hawkeyes and the Kansas City Chiefs.