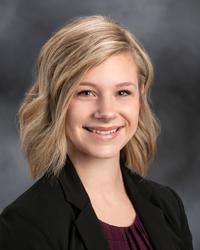 Breanne Pink, ARNP
Maternal And Fetal Medicine
---
Accepting New Patients
UnityPoint Provider
Hospital Affiliations:
Gender: Female
About Breanne Pink, ARNP
Education
Degree
Allen College : Masters of Science - Nursing
Board Certifications
Nurse Practitioner


American Association of Nurse Practitioners
Biography
Why did you become a physician/provider? I chose to continue my education because I wanted to take the next step in my nursing career. I wanted to have an impact on the patient at the provider level. Fostering a relationship where the patient is in control of their own health and well-being was also a driving force.
As a provider, what is your medical philosophy? I believe communication and collaboration are the foundation for a solid patient-provider relationship. Within the specialty of Maternal Fetal Medicine, I collaborate with a variety of disciplines. This ensures quality healthcare for the patients. Communication with patients, other providers, and other staff is crucial to make sure the patients have the best outcome, every time. 
What type of care/clinical interests are you most passionate about? I have a clinical interest in diabetes, specifically gestational diabetes. This can be an overwhelming diagnosis for a majority of mothers, so walking along side them for the duration of their pregnancy is very rewarding. I am passionate about empowering my patients. I want them to know this is their health and their baby. They are in control of their healthcare, and I am here to educate them and to help them make informed decisions regarding their health. 
Why did you choose your specialty? Working as a labor and delivery nurse before becoming a nurse practitioner led me into the high risk obstetric world. When UnityPoint opened the Maternal Fetal Medicine clinic, we began to see patients with many co-morbidities delivering at St. Lukes. My favorite mothers to care for were those that required high risk obstetric care. 
What qualities best describe the care you provide your patients? I strive to provide compassionate care to every patient, every appointment. I approach each appointment with an open mind, and value the patient's input on the situation. My focus is always the patient as a whole, not just the problem they present with.
Being a healthcare provider, what drives/motivates you each day? My patients are my motivators each day. I want each patient to leave their appointment feeling informed and empowered by the knowledge they received. 
What is the most important thing patients should know about you and your practice? I treat patients the way I would want to be treated. My patients are always my first priority, and I am always available to them.
Personal Interests:
Fitness, Interior decorating, Spending time with my husband and sons.