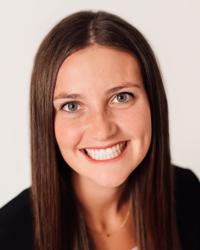 Hospital Affiliations:
Gender: Female
Languages Spoken:
About Becca Driscoll, PA
Education
Degree
Des Moines University: Master of Science - Physician Assistant Studies
Iowa State University: Bachelor of Science in Biology
Biography
What type of care/clinical interests are you most passionate about?
Preventative care, as well as acute concerns and procedures.
What qualities best describe the care you provide your patients?
I enjoy seeing patients benefit from my care during their most vulnerable times.
What is the most important thing patients should know about you and your practice?
Every plan of care will be individualized based on specific patient factors. I'm always willing to explain and help patients understand their situation, and they should feel free to ask questions if things are not clear.
What are you personal interests?
I like running, baking organizing and spending time outdoors.