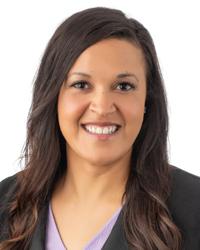 Alexa Ginther, ARNP
Orthopedic Sports Medicine
---
Accepting New Patients
UnityPoint Provider
Hospital Affiliations:
Gender: Female
Languages Spoken:
About Alexa Ginther, ARNP
Education
Undergraduate
University of Nebraska Medical Center

Medical Education
Biography
Why did you become a physician/provider?
I wanted to have a positive impact on the lives of those within my community and help people achieve optimal health so they are able to live their best lives.
Why did you choose your specialty?
I grew up playing sports and, through that, developed a passion for physical health and wellness. 
What qualities best describe the care you provide your patients?
I strive to be collaborative and compassionate.
Being a healthcare provider, what drives/motivates you each day?
I enjoy being able to make a difference and have a positive impact on those within my community.
What is the most important thing patients should know about you and your practice?
I want my patients to know that together we are a team. I want them to be active participants in developing their treatment plan. I will listen to their suggestions and concerns, and together we will come up with a plan that ultimately leads them to their health goals.