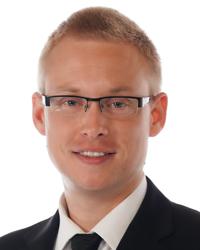 Accepting New Patients
UnityPoint Provider
Hospital Affiliations:
Gender: Male
About Alec Steils, ARNP
Education
Undergraduate
Wartburg College

Med School

Allen College: Bachelor of Science in Nursing

Graduate School

Morningside College: Master of Science in Nursing - Family Primary Care Nurse Practitioner Program

Residency

UnityPoint Clinic & Buchanan County Health Center
Biography
Q. Why did you become a physician/provider?
A: I have always been passionate about pathophysiology and caring for others. I became a provider to help others through evidence-based medicine to improve quality of life.
Q: As a provider, what is your medical philosophy?
A: Evidence-based medicine and patient-centered care are the foundation of my medical philosophy. I believe each patient deserves a medical plan based upon their goals and the most current evidence available.
Q: What type of care/clinical interests are you most passionate about?
A: I am most passionate about pulmonology and internal medicine, especially caring for complex patients to achieve symptom control and improve quality of life.
Q: Why did you choose your specialty?
A: I chose pulmonology because of the variety of patients I am able to care for from outpatients in the clinic and inpatients in the hospital to improve their health and quality of life through education and medical therapies.
Q: What qualities best describe the care you provide your patients?
A: I hope each patient feels my time with them is focused on understanding their goals and symptoms to best target medical therapies to improve their quality of life. I want each patient to understand their disease process and have the power to make informed decisions about their health.
Q: Being a healthcare provider, what drives/motivates you each day?
A: I am motivated to help each individual patient achieve their health goals through education, medical therapies and collaborative care. Medicine is a rewarding pursuit that I am so fortunate to practice each day to improve the health of my patients and community.