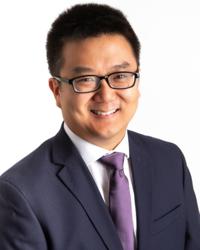 Albert Park, MD
Physical Medicine And Rehabilitation
---
Accepting New Patients
UnityPoint Provider
Hospital Affiliations:
Gender: Male
Languages Spoken:
Office Hours
Sun: Closed
Mon - Fri: 8:00AM - 5:00PM
Sat: Closed
About Albert Park, MD
Education
Undergraduate
University of Pennsylvania, Philadelphia, PA

Medical School

Case Western Reserve University, Cleveland, Ohio

Residency

Spaulding Rehabilitation Hospital | Harvard Medical School Physical Medicine and Rehabilitation
Board Certifications
Physical Medicine and Rehabilitation


American Board of Physical Medicine and Rehabilitation
Biography
Albert Park, MD, specializes in physical medicine and rehabilitation. Dr. Park helps patients maximize recovery after a stroke, spinal cord injury, or brain injury. He also addresses other musculoskeletal concerns, such as shoulder, hip, back, or knee pain. Harvard-trained in a variety of nonsurgical approaches, Dr. Park is dedicated to educating patients about the rehab process so they can work together to improve patient health. Dr. Park is accepting new appointments at UnityPoint Multi-Specialty Clinic with locations in Rock Island and Bettendorf.
Dr. Park shares why entered the field.
"My loved one's journey through rehabilitation after a severe stroke inspired to become a physical medicine and rehabilitation specialist so that I could help others maximize their functioning and improve their quality of life. 
I wake up energized and motivated every day to help my patients meet their personal goals, whether that is to walk again after a catastrophic event like a spinal cord injury or to help relieve their back or joint pain."
Dr. Park shares what patients can expect when interacting with him.
"I will strive to provide the best care so that we can reach your goals together. I will always explain the science and rationale behind my recommendations. When you have a working understanding of the science behind your injury, you are better equipped to minimize recurrence of the injury. Ensuring clear understanding will also allow you to be a full participant in your treatment and to collaborate with your healthcare team." 
Brain injuries, stroke, electrodiagnostic (NCS/EMG), spinal cord injury, botulinum toxin injections, joint injections, musculoskeletal pain, spasticity.