Baby Born at 28-Weeks Due to Rare Condition

No one thinks they will deliver a baby 12 weeks early. But Jenny Gezella did. From a rare pregnancy complication to a hurricane, nothing about baby Beckham's arrival into this world was "normal."
"In June of 2017, I was 27 weeks pregnant and figured I was fine to fly from Florida to see family in the Wisconsin area before giving birth to my first baby," Jenny Gezella says.
But the trip ended much differently than she ever expected. Just days into the visit, Jenny noticed bleeding and went to UnityPoint Health – Meriter.
"They booked me and thought I was going into labor. But, after a couple days there were no sign of labor or contracting, nothing," Gezella says.
She stumped the doctors. An ultrasound showed the baby Beckham's vitals were strong. But, Gezella was still experiencing bleeding.
"I think every specialist was in my room. After being in the hospital nearly a week, they found a small blood clot on the back-uterus wall that wasn't impacting the baby. Even though they thought they found the source of the bleeding, they didn't want me to go home until it stopped," Gezella says.
After 10 days in the hospital, doctors assured Gezella's husband he could fly home to Florida. In the meantime, Gezella started feeling some discomfort in her chest. At first it was dismissed as heart burn, but one doctor challenged that theory.
"The doctor came in and said he wanted to run some tests. He came back an hour after the tests and said I'm going to run some tests again. Because, if that's your blood I just took, I don't know how you're still standing," Gezella says.
The diagnosis – HELLP syndrome, which is a rare pregnancy complication affecting the blood and liver.
"It meant my body was shutting down and not able to carry the baby anymore. My care team gave me a steroid shot for the baby, and at a little over 28 weeks, they prepared me for labor not knowing if I or the baby was going to make it," Gezella says.
When Gezella woke up after delivery, she heard baby Beckham was doing well and took his own first breaths. Gezella, too, made it through and didn't need a blood transfusion, as doctors had expected.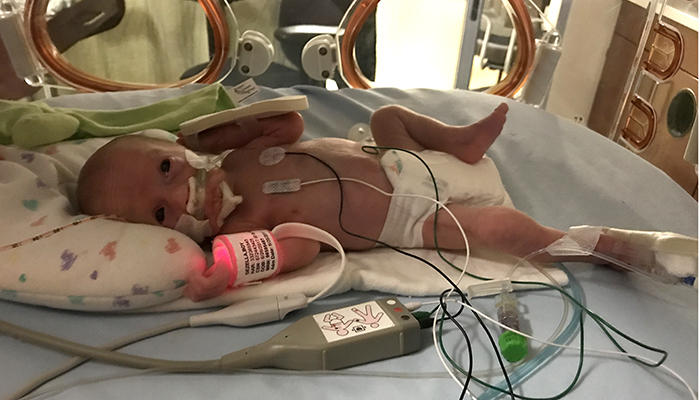 With the delivery behind them, a new journey began – a three month stay in the neonatal intensive care unit or NICU. From the very start, the nursing team did everything they could to make the family feel right at home, even though they were visitors to the community. The hospital even helped Gezella find a condo just across the street from the NICU.
"We had an awareness that Jenny's situation was different," NICU nurse Kim Thimmig says. "She was in this city, far from home and she was often alone since her husband was flying back-and-forth. We made sure to get to know Jenny as a person, which was easy because she was at the hospital every day from 7 a.m. to 8 p.m."
"When I was at the hospital, it really felt like a family. They knew, no matter what, even if it was hard to see, that I wanted to be there for everything. One of the nurses would always ask me what time I wanted to eat lunch and she'd schedule around it so there was always someone with Beckham. They made me feel good. They talked to me about things and included me on decision-making," Gezella says.
Beckham was a strong baby, but it took time for his lungs to develop.
"The one big battle was breathing on his own. He never needed oxygen, ever. He would go in strong spurts and all the sudden have a little episode where his oxygen levels would drop. He was just on his own time schedule," Gezella says.
Beckham couldn't go home until his breathing was rock solid. That took time. When Beckham passed all his tests and was ready to go home, he and his mom ended up staying in the Madison condo instead of flying home to Florida.
"We couldn't go home because of Hurricane Irma. The care team packed some supplies for me, gave me recommendations on how to rent baby items and walked us over to the condo. I wasn't prepared to take him home to the rental unit," Gezella says.
Despite an early birth, being far from home and even a hurricane, Gezella says she wouldn't change anything.
"I've thought about it so much. At times, the insurance company would ask, do you want to be transferred to Florida? I always said no. I don't think I would have had better care anyplace. I truly believe I had the best care team possible and everything happens for a reason," Gezella says.