Allen Child Protection Center
Information
Number of patients waiting reflects the current number of patients waiting to be seen. This number changes frequently and is not exact.
Hours and Directions
Hours of Operation
Monday:

8:00 AM - 4:30 PM

Tuesday:

8:00 AM - 4:30 PM

Wednesday:

8:00 AM - 4:30 PM

Thursday:

8:00 AM - 4:30 PM

Friday:

8:00 AM - 4:30 PM

Saturday:

Closed

Sunday:

Closed
View Map
Child Protection Center
The Allen Child Protection Center (ACPC) provides assistance for children or dependent adults who may be victims of abuse, or have witnessed a violent crime. The ACPC uses a multi-disciplinary team approach and works closely with the Iowa Department of Health & Human Services (IHHS) and law enforcement. The center provides forensic interviews, medical evaluations, family advocacy services and mental health counseling.
Referrals
Referrals to the ACPC are made through IHHS and law enforcement. Medical providers may also make referrals for consultations unrelated to suspicions of abuse. The center's staff are happy to answer questions and provide more information to individuals or community groups. Please contact the ACPC for more information. If you have a suspicion of child abuse, contact IHHS.
Family Resiliency Program
ACPC is proud to be a No Hit Zone.
A "No Hit Zone" is an environment in which no adult shall hit another adult, no adult shall hit a child, no child shall hit an adult and no child shall hit another child.
Events & Training
Community Presentations
Allen Child Protection Center (ACPC) staff provide presentations about the ACPC to community organizations, groups, and any other interested party who wish to know more about our services for fundraising or awareness purposes. Presentations include an overview of our services, information about the children and families we serve, and ways the community can become involved in our vision to end child abuse. For more information or to set up training sessions and presentations, please contact the ACPC at (319) 226-2345.
Minimal Facts Interviewing
Minimal facts interviewing training teaches professionals likely to receive a report of child abuse how to appropriately gain information from the child without compromising the investigation. Participants will learn to do's and don'ts associated with interviewing children, how their information is applied to the investigation, information about child protection centers, and risk factors and warning signs for abuse. The training is taught by trained forensic interviewers and is based on knowledge of child development and participation in child abuse investigations.
Our History
The Allen Child Protection Center first opened its doors in May 2010 for forensic interviews. In July 2011, the center started conducting medical evaluations. The center continued to grow and in October 2012, the ACPC received accreditation from the National Children's Alliance. In 2022, the ACPC was re-accredited under new, rigorous standards. The center has mental health therapists trained in evidence-based mental health treatment methods to help patients and families. Also in 2017, the center opened a satellite location in Cerro Gordo County to provide services for families in northern Iowa closer to their homes.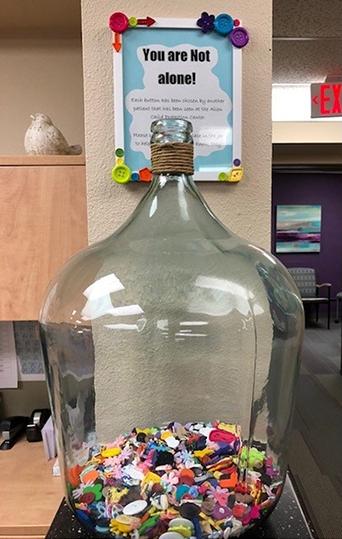 Button Jar
ACPC patients have the opportunity to pick a unique button to put in the button jar. The button jar represents all the patients seen at the ACPC and provides a visual message for patients and their families that they are not alone.